2017 was a great year of giving at Ciena
Mark Stevens, Ciena's Director of Corporate Social Responsibility, looks back at 2017 and how Ciena and its employees have transformed their approach to giving through the Ciena Cares program and the difference this has made to the community.
Pictured above is our Montreal team, captured during one of the many events that allowed Ciena Montreal to wrap up its 2017 Centraide (United Way) campaign, raising $104,619, beating their ambitious $100K objective with the help of our Ciena Quebec colleagues and the Ciena Cares Program. We are particularly proud of what we have been able to achieve through our suppliers, partners and customers in the last year.
It's 2018 already, so I thought it would be good to look back at our year of giving in 2017, to see what this has meant to the folks in Ciena, but more importantly, what it has meant for the community.
So, let's start at the beginning (2017, that is), when we reinvented the Ciena Cares program with a new framework, offering new opportunities to connect and give, increased financial matching from the company, a step-change in volunteering flexibility, matched with treasure and a commitment to a more structured response to disaster relief.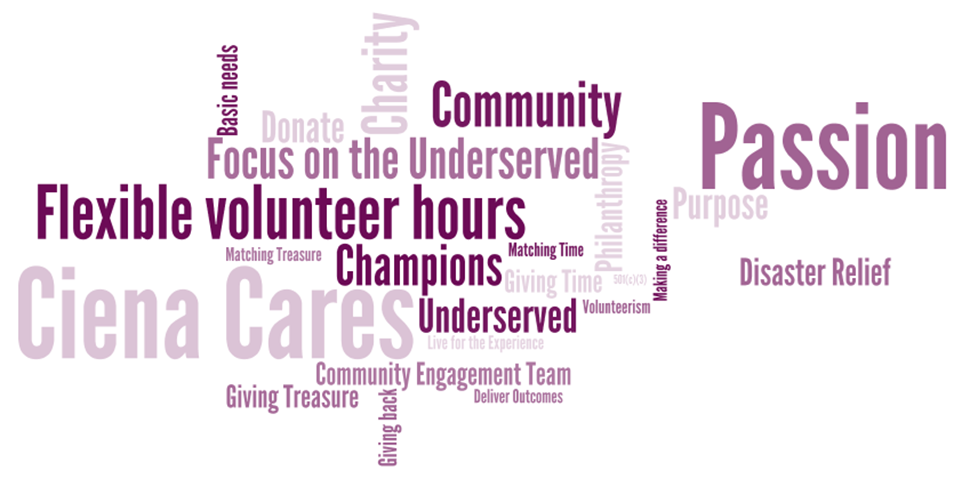 We introduced the concept of Ciena Cares Champions for the first time, indeed we were oversubscribed with applications to become one of our 32 Champions across the globe. Each champion is supported by an amazing group of people who comprise their local Community Engagement Team, focused on selected local charities, who make a real difference in the communities, where we live and work.
"Ciena Cares giving means that my company shares in my values & empowers me to make an impact in my community" - Cassie Dymecki (Denver Ciena Cares Champion)

2017 was a challenging year, due to the unpredictability of disasters, but our employees' response to our new approach has been fantastic and energizing. They embraced the new ways and have lifted our giving considerably, leveraging the new capability and extending their reach as individuals and teams.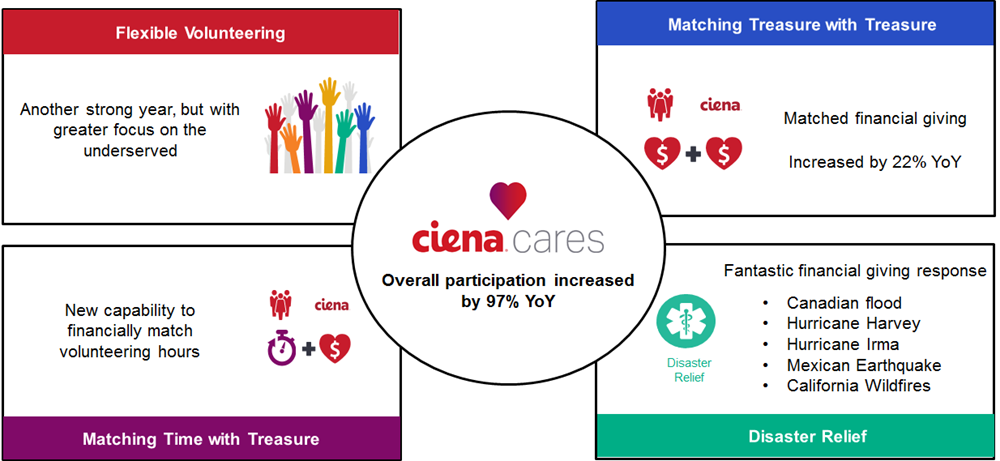 Our community outreach also extended to support joint customer and partner oriented, community programs, making a real difference in financial and social terms to the chosen causes.
However, it's the difference it makes in action, that is most important, so, don't take our word for it, take a look at a small sample of what our community folks are saying about us below: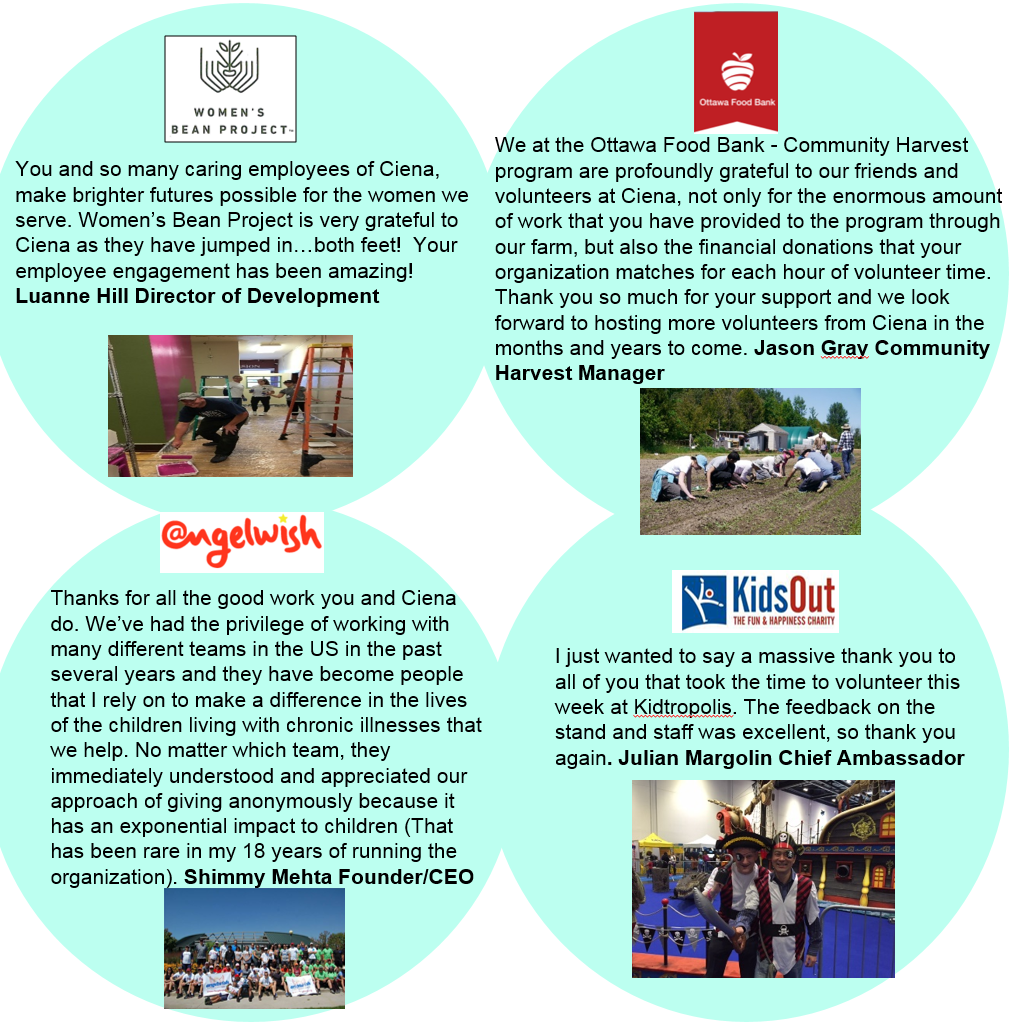 2017 was an amazing year. We knew we had a great team at Ciena, but seeing the engagement of so many, in support of others, was wonderful and it gives me a really-warm feeling (at this wintry time for those of us up north), that we will have a great year ahead. Thanks to all who made a difference in 2017.
Finally, no surprise, our New Year's resolution is to do more. Keep on giving!
If you'd like to learn about Ciena's community projects, take a look at our Ciena Cares Instagram or our Ciena Facebook page, where we'll be posting updates throughout the year on the impact we're making.