Want your utility network functions to operate like your smartphone? Now they can.
The demand for smarter networks at the edge has changed how network functions should be delivered. Mitch Simcoe explains why utilities should be leveraging virtualization to get critical operational benefits.
It's hard to believe that the smartphone has been around since 2007, when the iPhone was introduced. While it made for a great phone, its real power was the ability to go into an App Store and select different apps from multiple vendors and download them with ease. Ask yourself the question: how many individual physical devices, pieces of paper and cards did you carry around before the advent of the smartphone? I did a simple exercise to come up with my list and here is what I came up with: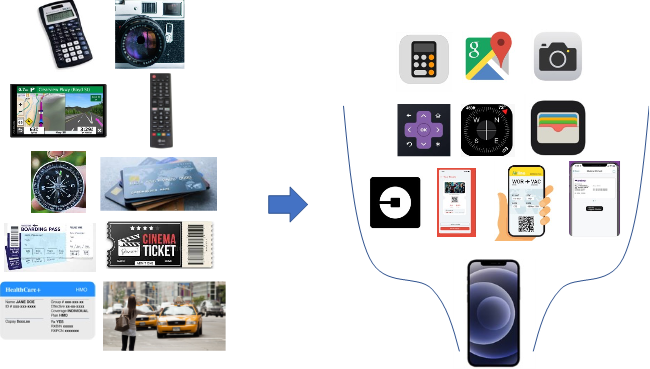 I'm sure if I put my mind to it, I could add to this list.
This approach becomes even more valuable when you can select among multiple vendors for each of these apps and change them out or replace them should they no longer meet your needs. For GPS Navigation, I like the ease of saying "Hey Siri, directions to the airport" and it opens Apple Maps automatically. Yet often I find Google Maps provides a better user interface. I started with Uber for ridesharing when it became available, yet I later switched to Lyft when they offered frequent flyer miles. If another ride-sharing app came along, it would be easy to switch.
So, what does this have to do with the network?
Well, anyone who manages a utilities' IT network will see similarities in managing their network functions to their life before the smartphone.
Pick any utility substation or branch location and you're likely to see any number of separate physical network devices:
Firewall
Encryption device
SD WAN
IP router
Load balancer
Packet – optical for the WAN
These devices often need frequent upgrades and diverse replacement cycles that require a physical visit to the site. Utility sites are often in remote locations so the operating expense (opex) to perform these upgrades can be onerous. In addition, replacing or upgrading physical devices can cause major disruptions to substation operations
One particular area of concern for utilities these days is network security, which is essential to the utility mission of keeping the lights on. Especially as we have seen in 2021 with the numerous ransomware attacks on critical infrastructure. Security devices such as firewalls and encryptors are some of the key tools in the utility security toolkit.
What happens when these devices are end of life (EOL) and need to be replaced? The easiest approach would be to replace the EOL device with a new physical appliance.
Physical IT and network devices are limited in their flexibility and can raise operational costs. The need to replace or repair physical devices, or the choice to change vendors, means dispatching IT staff to service equipment at every location, often on different cycles. The time utilities spend troubleshooting (and the inevitable disruption to business) takes focus away from delivering a utility's mandate of keeping the lights on.
Virtualization is the answer
So, what if there was a way to manage these network functions in the same way you download apps to your smartphone? This is why many enterprises and now utilities are investing in virtualization.
Virtual Network Function (VNF)s consolidate network and business applications onto a single device with greater computing power. What was separate physical network devices with their own compute and software can be consolidated onto a single compute server module with software for each network function. In the same way that your smartphone is the compute and the apps are the software, virtualization extends this approach to network functions.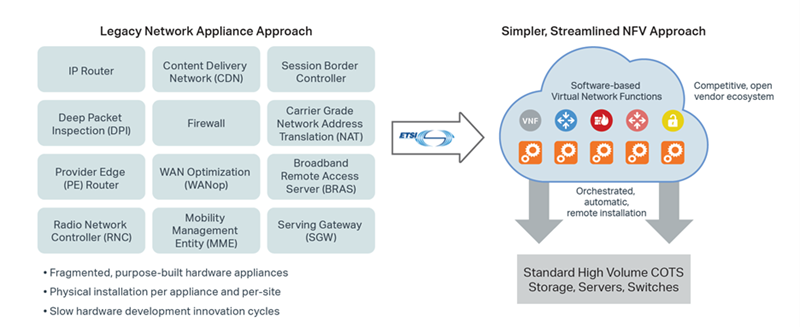 The making of a simpler NFV architecture
A strategy to implement this vision is Ciena's Virtual Edge Solution which enables utilities to dynamically turn up and host virtualized services such as IP router, firewall, encryption, WAN optimization, and many more to support their evolving needs.
The Ciena Virtual Edge Solution is based on the Ciena D-NFVI (Distributed - Network Function Virtualization Infrastructure) software that can be hosted on the cost-effective, MEF CE 2.0-certified 3926 Service Virtualization Switch—a carrier grade Ethernet Network Interface Device (NID) equipped with an integrated x86 NFV Server. Ciena's 3926 Platform enables a scalable low latency solution for a multi-service substation WAN – temperature hardened and compact for deployment / location flexibility.What are the benefits of Ciena's Virtual Edge solution for Utilities?
Utilities' IT staff can experience the benefits of Ciena's Virtual Edge Solution through:
Fewer devices to maintain, upgrade and replace
Reduction in space and power
Less frequent interruptions to service
Automation and analytics resulting in higher quality of experience
Full life-cycle Systems integration support by a team with unique in-field experience to reduce complexity and risk
Remote troubleshooting substation IT issues via software
Choices from multiple VNF vendors with the flexibility to change vendors at any time
Integration of the packet-optical WAN network device
The demand for smarter networks at the edge has changed how network functions should be delivered. Older legacy appliances and networks do not scale or provide a platform to match the weath of new utility application opportunities. Just as the smartphone has reduced the number of individual devices we need to carry around, virtualization enables utilities to consolidate their network appliances at the edge and simplifies the deployment and operation of those network functions. It's as if you could run your network the way you use your smartphone.