Why Zero-Touch Provisioning (ZTP) is critical for 5G success
To achieve a leadership position in the emerging 5G market, you need to upgrade transport infrastructure at hundreds or thousands of sites quickly, reliably, securely, and cost-effectively. The road may seem complex, but with ZTP, you can rapidly roll out 5G services to a broader coverage area and achieve significant first-mover advantage, says Dave Parsons, Packet Networking Solutions and Enablement Director, EMEA, Ciena.
This blog is the third post in our Uncovering the path to 5G connectivity series that covers key strategies to accelerate and de-risk the evolution towards 5G, deliver new services, and stay ahead of your competitors. Don't miss part 1 and part 2.
Taking those important first steps towards 5G services means delivering capacity and coverage upgrades quickly, reliably, securely, and at the lowest possible cost. Traditional, manual equipment installation and configuration hinders upgrade schedules and requires scarce, highly trained field personnel. After all, with multiple truck rolls, and onsite engineers needed to turn new equipment up, multi-site upgrades tend to be slow, costly, and highly error prone.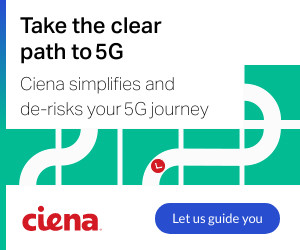 These challenges will be compounded for operators planning to deploy a massive number of new cell sites to improve service coverage for 5G New Radios (NR). In many cases, this strategy will increase deployment and upgrade requirements by an order of magnitude, from hundreds of sites today, to thousands, and higher, in the future.
Solve the puzzle of agile 5G upgrades with zero-touch provisioning (ZTP)
The key to boosting 5G capacity and coverage is to upgrade and roll out thousands of new cells quickly and cost-effectively. This is best achieved by taking manual installation and configuration processes out of the equation – not only for base-station deployment, but also for rolling out and upgrading your transport equipment across a large number of sites.
The best way to do this is with ZTP, which makes it possible to simply plug in new transport equipment at a cell site, with no manual configuration provisioning required. Instead, the Network Operating Centre (NOC) securely pushes a validated configuration profile over your network to the newly installed equipment, allowing the device to configure itself and turn itself up automatically.
More efficiency, faster deployment, and greater reliability for 5G upgrades
ZTP streamlines your 4G to 5G upgrade projects by eliminating the need for multiple truck rolls and highly trained field personnel to cell sites to reduce your deployment workloads, schedules, and costs. Additionally, it helps you accelerate your deployments based on faster, easier infrastructure installations and associated configuration for reduced time-to-market and accelerated 5G revenues.
Equally importantly, ZTP eliminates manual configuration provisioning errors during the deployment of new transport equipment, ensuring that all your sites are turned up rapidly and securely.
Let proven ZTP-capable 5G infrastructure be your guide towards a 5G-connected future
While ZTP may be a no-brainer for large-scale 4G to 5G network upgrades, you need technology and an automated configuration and turn-up capability you can trust. That's why the best way to reduce risk for your deployment is to choose networking solutions with a massive installed base and proven ZTP success in several large, tier-1 deployments the world over. Ciena has guided several tier-1 mobile network operators to boost the capacity at thousands of cell sites across their networks guiding them on the path toward to effective 4G to 5G evolution.