SCTE Expo 2019 – the importance and opportunities of latency, PNM and 5G
Did you miss SCTE Cable-Tec Expo in the 'Big Easy'? Were you running from meeting to meeting and missing sessions? Ciena's Darren McKinney has you covered. As expected, 10G was the overarching theme throughout the event – the message was clear – MSOs and the cable industry are 'all in' on 10G. There were a few aspects of moving to 10G that stood out: the importance of low latency, the need for more proactive network maintenance (PNM), and the 5G 'opportunities' for MSOs.
The cable industry's vision for delivering 10G will be achieved with a collection of architectures and technologies including distributed access architectures (DAA), converged interconnect networks (CIN), and advanced digital coherent optics. 10G will provide symmetrical speeds 10x faster than the 1Gbps service now available to many consumers and businesses. The other key tenants to 10G are enhanced reliability, better security and lower latency – all were covered at SCTE Cable-Tec Expo, however, the need for lower latency really stood out.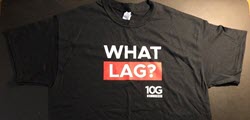 'What Lag?' is a tagline used at the SCTE Expo this year to promote the low latency benefits of 10G. Lag is a term commonly used in online gaming that refers to the quality of experience for gamers – the lower the Lag the better! Network latency is a significant factor in Lag – many games have lag compensation algorithms to create a more level 'playing field' among gamers.
Beyond gaming – latency is critically important as we look ahead to immersive AR/VR applications, autonomous vehicles, remote medical procedures, and the list goes on. MSOs will be able reduce latency with the much faster speeds and enhanced reliability of extending digital technologies and fiber closer to the end customer via DAA and the CIN. The cable industry is also working on specifications such as Low Latency DOCSIS (LLD) in order to make latency deterministic across highly congested networks. This is done by managing queuing using protocols and technologies such as proactive granting, grant sharing and multi-service flows. Low Latency is emerging as a strong theme for MSO service differentiation, however, complying with Net Neutrality considerations will be something to watch.
Proactive Network Maintenance (PNM) for converged (e.g. HFC and mobile) and 10G networks was a hot topic at SCTE Expo. PNM is about finding and fixing problems in the network before customers are impacted. Much of the discussion on PNM was in the context of delivering a better customer experience, however, the operational benefits for MSOs via automation can be very significant.
PNM is based a combination of specifications, processes and technologies – with the role of artificial intelligence and machine learning increasing. PNM was highlighted by MSO executives as an important step on the journey to 10G – both CableLabs and the SCTE have working groups focused on PNM. Ciena's vision of the Adaptive NetworkTM, which utilizes automation, guided by analytics and intent based policies, to rapidly scale, configure, and optimize by constantly assessing network pressures and demands, aligns extremely well with the cable industry's move to more PNM.
10G vs. 5G – when the cable industry launched its 10G vision at the start of 2019 there was an automatic comparison to 5G. Much of the discussion at industry conferences during 2019 was about 10G vs. 5G – is 5G a 'friend, foe, or both' to cable MSOs.
The sentiment within the cable industry is that 5G will primarily be a competitive threat for MSOs. While the competitive threat is real and significant – much of the discussion at SCTE Expo 2019 was about '5G opportunities' for MSOs – mobile x-haul opportunities and extending MSO access networks in rural areas via small cells/5G. The densification of 5G small cells require access/permitting rights, power supply and wired network connectivity – a combination MSOs are uniquely well positioned to provide.
As MSOs extend digital and fiber technologies deeper in their access networks, they can backhaul, mid-haul, and fronthaul (aka mobile x-haul) mobile traffic alongside DAA node, PON and Ethernet business services traffic over their CINs. Service convergence on the CIN is a key benefit as MSOs rollout their DAA strategies – perhaps MSOs will shift their thinking from 10G vs. 5G, to 10G + 5G.
Ciena show highlights
Ciena builds the Adaptive NetworkTM for cable MSOs, supporting their DAA strategies and CIN deployments. Ciena was honored to have been recognized as a Broadband Technology Report (BTR) 2019 Diamond Technology Review honoree for three key components in our Fiber Deep solution for the Converged Interconnect Network:
BTR Diamond Technology Reviews – Ciena's 4 Star Honorees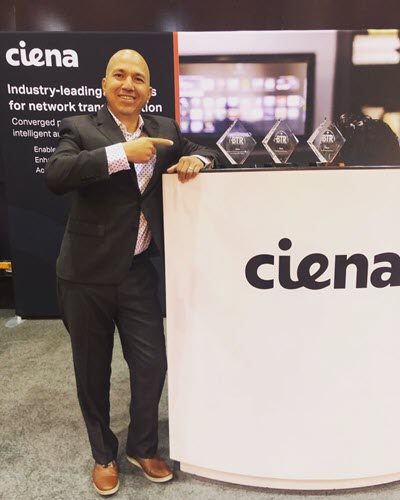 5171 Platform for primary aggregation of DAA node, mobile x-haul and Ethernet business services (EBS) traffic in hub sites or the outside plant (e.g. cabinet, MDU). High-density aggregation of 10GbE/25GbE into efficient 100G/200G WaveLogic 5 Nano coherent optics, temperature-hardened and compact for deployment and location flexibility.
WaveLogic 5 Nano is a dual-rate single carrier 100G/200G C-band CFP2-DCO coherent transceiver. The hardened variant supports extended temperature range for cabinets and other uncontrolled locations.
Blue Planet Inventory enables a single, dynamic view for DAA and CIN resources (e.g. DAA nodes, virtual CMTS) and existing network resources (e.g. analog nodes, HFC equipment, CCAP, CMTS) – accurately reflecting the end-to-end state of network and service resources.
The importance of coherent optics for cable MSOs to achieve significantly more capacity, performance and competitiveness with existing fiber assets in the access network was on display in the CableLabs 100G P2P coherent interop showcase at SCTE EXPO 2019 – this included the Ciena 5171 Platform and WaveLogic 5 Nano. Ciena is an active contributor to the CableLabs 100G P2P coherent group and was pleased to be an integral part of the interop showcase.
The cable industry is clearly 'all in' on 10G – latency, PNM and the 5G opportunity for MSOs caught my attention at SCTE EXPO 2019. I am looking forward to SCTE Cable Tec Expo 2020 in Denver to see which aspects of DAA and the move to 10G garner the spotlight. See you at Expo 2020 in Denver!