Gearing-up Cable MSOs for the move up-market
U.S. MSOs were experiencing double-digit business services growth; however, did you know that growth has slowed in recent years? Ciena's Darren McKinney explains where MSOs are focusing now to generate business services growth.
Approaching $20 Billion…
During the recent Light Reading Cable Next-Gen Business Strategies conference we heard from industry experts that U.S. MSOs are approaching $20B in annual revenues from business services with estimates of reaching more than $25B by 2023. This is tremendous growth given U.S. MSOs generated less than $5B from business services in 2010. U.S. MSOs had been achieving over 20% annual revenue growth rates from business services from 2010-2015, however, growth rates have been declining in recent years (albeit over a significantly larger revenue base) with an ~8% revenue increase expected for 2019. Against this backdrop of remarkable success but now slowing growth rates, much of the discussion at the conference was about how MSOs can continue to ensure business services remains a growth engine.
Segmenting the Business Services Market for MSOs
The business services market is generally segmented into small business (<20 employees), mid-market (20-500 employees), and enterprise (500+ employees). The small business segment is where U.S. MSOs have been most successful, generating approximately 70% of their business services revenues. MSO service offerings for small businesses are primarily related to connectivity (Internet, voice), TV, and some cloud solutions. MSOs identified new solutions based on connectivity + applications, as well as vertical-specific offerings (e.g. hospitality) as growth engines for the small business segment.
The mid-market segment represents approximately 15% of business services revenues for U.S. MSOs. MSO offerings for mid-sized businesses include metro ethernet, SD-WAN, and advanced voice products. The enterprise segment also represents approximately 15% of business services revenues, and MSO offerings include managed services, national branch office connectivity, corporate networks, and SD-WAN. MSOs are relatively new to the mid-market and particularly the enterprise segment – increasing penetration rates and revenues from these segments is seen as very important in order to grow overall revenues from business services.
As MSOs move up-market – aside from more sophisticated services – the expectations around customer support, Service Level Agreements (SLAs), and a full portfolio of solutions (including mobile) become significantly more challenging. Managed SD-WAN services are important to both the mid-market and enterprise segments – and MSOs are relatively well positioned given this is a new service offering for all service providers (i.e. little incumbency).
SD-WAN: Opportunity, Challenges and Solutions
Software-Defined Wide Area Network (SD-WAN) applies SDN principles to WANs, promising a more cost-effective and simpler way to connect enterprise branches and corporate data centers, through centralized programmability. A 2018 survey by analyst firm IDC found that 65% of enterprises plan to migrate to SD-WAN within two years, with the ability to change bandwidth in real-time, reduced WAN complexity, and improved application security cited as key drivers. Further, IDC is forecasting a 51.7% CAGR between 2018-2023 for communication service provider managed SD-WAN services – approaching $7B worldwide by 2023.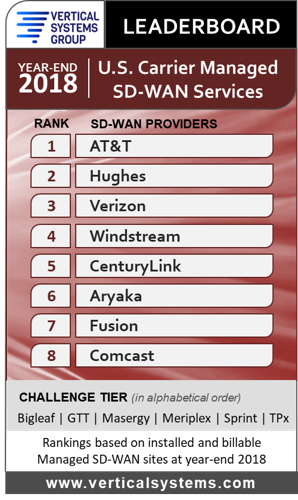 During an SD-WAN panel at the Cable Next-Gen Business Strategies conference, we heard from Vertical Systems Group that carrier managed SD-WAN services is estimated to be $4.5B in the US by 2023. Comcast Business was the first large U.S. MSO to offer a managed SD-WAN service in 2017 and has cracked into the Vertical Systems Group US Carrier Managed SD-WAN Services Leaderboard for 2018. Spectrum Enterprise has also launched a managed SD-WAN service, and other US MSOs are in the process of developing and rolling-out offerings.
During the SD-WAN panel we heard that MSOs are focused on operational excellence in support of their managed SD-WAN services. The inherent complexity of SD-WAN is operationally challenging, and manually intensive service activation environments will limit scale. Using multiple different SD-WAN platforms and VNFs adds even more complexity, as each comes with their own unique procedures and interfaces, resulting in a slow and expensive order-to-service process, a high percentage of failed activations, and a diminished customer experience.
SD-WAN: Automation Game Changer
Fernando Villarruel, Chief Architect for Ciena's MSO practice, participated in the SD-WAN panel and discussed how end-to-end automation for service delivery, along with a programmable underlay, are important in achieving operational efficiencies and delivering a better customer experience in a multi-vendor and multi-technology environment. Fernando cited key features of the Blue Planet SD-WAN Automation solution, which employs an abstraction layer and a common service model that lets MSOs use any mix of underlay networks, SD-WAN platforms, and NFV vendors without operational penalty. This approach normalizes SD-WAN operations and simplifies the introduction of new value-added services, enabling MSOs to build differentiated managed SD-WAN service offerings that not only meet the broadest set of market requirements, but can also be easily customized to address specific vertical market needs.
The Blue Planet SD-WAN solution automates the discovery, provisioning and configuration of both the underlay and overlay network, including inter-carrier access connections, SD-WAN service endpoints, controllers and routing gateways – eliminating expensive and error-prone manual service activation processes. By automating the SD-WAN controller configuration alone, the solution eliminates dozens – or even hundreds – of discrete manual inputs.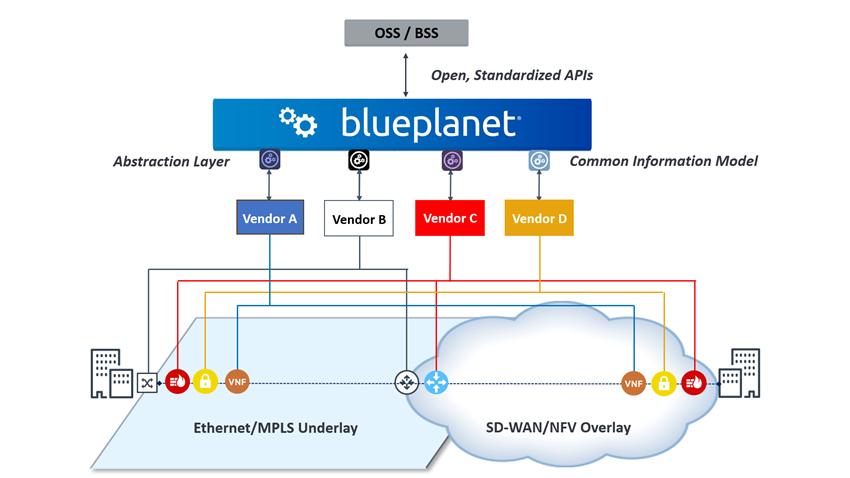 The Blue Planet SD-WAN Automation solution uses an abstraction layer and a common service model to automate SD-WAN service activation across both the underlay and overlay networks.
Beyond ensuring a great customer experience via faster, error-free service fulfillment, the Blue Planet SD-WAN solution improves operations with support for open APIs, unified service visualization across multi-vendor environments, and provides unified assurance and analytic capabilities to enable rapid fault isolation and true, closed-loop lifecycle service management.
You can learn more about SD-WAN by joining Russ Bartels (Director, SDN Network Orchestration and Analytics, Windstream Enterprise), Lee Doyle (Principal Analyst at Doyle Research), and Kevin Wade (Marketing Director, Blue Planet) as they discuss the Managed SD-WAN market opportunity and the importance of automation in the profitable delivery of compelling and highly differentiated managed SD-WAN services.
Enabling the Adaptive Network
Ciena's Adaptive NetworkTM is our vision to empower MSOs to realize greater network agility, optimization, and real-time insight. It's a transformation that begins now, regardless of where MSOs are in their journey toward digital transformation. Blue Planet software is fundamental to achieving the Adaptive Network, utilizing intelligent automation to eliminate manual operations and enable leading new services such as managed SD-WAN services.
Ciena's Adaptive IPTM is an IP-specific use-case of the Adaptive Network vision combining market-leading Packet Networking platforms with machine learning-powered analytics and intelligent automation software. Adaptive IP provides optimization and simplification of IP networks, from access to metro, as MSOs pursue their digital transformations, while decreasing total cost of ownership via automation and streamlined IP technologies.
What will 2020 Bring…?
It will be interesting to see what develops with cable business services during 2020. Will MSOs crack $20B in business services revenues in 2020? Will Comcast Business move up the rankings on the Carrier Managed SD-WAN leaderboard, and/or, will other MSOs be added to the leaderboard? I am looking forward to 2020 edition of this conference – hope to see you there.