Redefining the metro edge with packet and coherent optics
Packet platforms, coupled with optical transmission over fiber, was a game-changing technology combination when first introduced many years ago. Fiber enables enormous scalability, while packet provides universal access, aggregation, and switching for all current and future Ethernet, IP, and even legacy TDM services. Ciena's Wayne Hickey explains how coherent packet-optical is redefining metro's edge.
Network operators are faced with an alarming growth in IP-based traffic, coming from both wireless and wireline networks, which for many years has been complicated with flat to declining revenues and associated margins. Unfortunately, this ongoing trend is expected to continue well into the future. All the while, new high-capacity service revenues from 10GbE, 25GbE, and 100GbE applications, enable the high-speed connectivity network operators need to maintain pace with ongoing growth, ensure superior end-customer experiences, and improve their ongoing competitiveness.
For network operators, increasing and/or improving the ability to address new revenue-generating business opportunities, and improve margins, is essential to maintaining and attracting customers.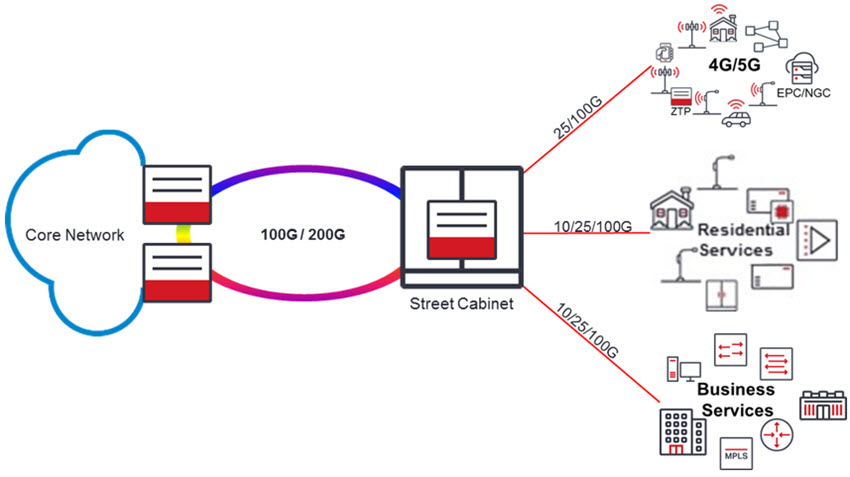 Modern Networks Leveraging Coherent Optics
As part of Ciena's Packet Networking Summer Webinar Series, I recently gave a session on Beyond 100GbE: The Critical Role of Coherent Optics and Packet technologies, where I discussed the above-mentioned challenges. I also covered the 100G optical technologies, why coherent optics married to packet platforms is so important for the access space, and how to realize dramatic cost/bit, operational, physical space, and energy savings by combining the latest technologies into a dense state-of-the-art platform that is also deployable in an outside cabinet for an increased addressable application space.


100Gb/s grey vs. coherent pluggable optics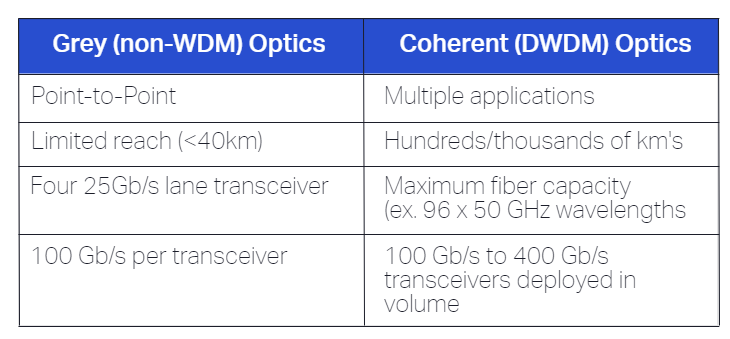 When it comes to grey optics, they're limited by capacity (ex. 100G) and reach (ex. 40km) using Single Mode Fiber (SMF). 100G grey optics are only used in point-to-point, and inter-office connections. Limited by distance and capacity, these might not be the best utilization of network fiber or inter-office applications requiring more scale and reach.
Increasingly, network operators look to coherent optical technology to solve scalability problems in their networks. Higher capacity provides an improved quality of experience to their end-users, drives continual reduction in cost per bit (due to technology innovations in coherent technology), and increases their competitiveness by doing more (capacity, reach, spectral efficiency) with less (power, space, complexity, cost), being able to turn up services more quickly.
Coherent optics can go far beyond grey optics' 40km by going hundreds or even thousands of kilometers, in some cases. Where grey optics limit fiber capacity to a signal channel, coherent optics maximize fiber capacity. As an example, with coherent optical technology, users can support 96 x 50GHz wavelengths across a single fiber pair, enabling enormous scale for access fiber. Metro access applications are evolving to 100/200G, with the need for more access and aggregation bandwidth where bandwidth lives – the edge.

More capacity, closer to where the demand for bandwidth lives – the network edge.
The use of pluggable coherent optics can address the needs of next-generation Cable MSO access, 4G/5G RAN, and low-cost metro access, including extended temperature support for street-level deployment of outdoor aggregation. Coherent pluggable or footprint optimized optics are designed to fit applications within a specific power envelope. Here, reducing footprint and power is more important than absolute fiber capacity or maximum spectral efficiency. Footprint-optimized solutions expand the market for coherent solutions, enabling high density packet-optical integration in a single platform, and bringing the impressive benefits of coherent to access applications.
Packet + coherent optics
Compact coherent pluggables provide the opportunity to bring unprecedented scale and reach while also enabling packet-optical integration efficiencies. Packet technology, using its statistical nature, is a ubiquitous way to distribute Ethernet protocol or Internet Protocol (IP) in a very efficient and resilient way; whether utilizing G.8032 Ethernet Rings, Link Aggregation (LAG), Multi-Chassis LAG, or whether it's MPLS, Seamless MPLS, Segment Routing, or EVPN for applications, such as 5G.
Modern packet networks help operators and enterprises improve service velocity with faster deployments, updates, and changes to reduce the total cost or ownership while enabling customer retention by improving their customer experience. This is accomplished by removing the operational complexity by minimizing the number of platforms to own and operate, while eliminating the overhead costs from power and space requirements. By consolidating technologies, platforms, and networks, impressive total cost of network ownership numbers are achieved, alongside a more agile network to own and operate.
As the network edge evolves to 10GbE, 25GbE and 100GbE solutions, network operators need a small form factor and easily deployable solution to aggregate those access connections and backhaul traffic to a central location from a 100G/200G coherent wavelength; and in some cases, a coherent wavelength in an outside plant cabinet.
Footprint optimized solutions can help when space and power are primary considerations, and packet aggregation can optimize packet flows, resulting in high-bandwidth connectivity to their customers and worry-free automated configuration and provisioning.
Ciena's
5171
addresses today's most challenging network scenarios by providing flexibility and future-ready attributes that de-risk business decisions and enable a faster, more competitive time-to-revenue. With a wide variety of supported pluggable form-factors and rates, including Ciena's WaveLogic 5 Nano coherent optics, the 5171 reliably and cost-effectively addresses the key requirements associated with advanced Ethernet, MPLS, and IP service delivery requiring massive scalability.
Integrating WaveLogic 5 Nano's optimized coherent optics with a packet platform reduces the number of platforms, increasing capacity while reducing complexity, while saving footprint and power, including uncontrolled environments. And that helps network operators' profit margins, retain customers, and drive new services at a much higher service velocity.
So, redefine your network edge, by doing much more with even less, ensuring scale and reach beyond 100Gb/s, and enabling new opportunities.
Ask us how Ciena helps Evolutionize Your Packet Network.