Lead with innovation: Carrier Ethernet services market trends in Latin America
The popularity and increasing demand for Carrier Ethernet is driving adoption throughout Latin America and globally, while also creating new opportunities for Ciena partners.
Today, everything moves at the speed of light, and this undoubtedly rings true of technology. Mario Andretti said it best, "If everything seems under control, you're just not going fast enough." The 4th Industrial Revolution is well underway, and the way we work, live, and interact with our world is dramatically shifting. Staying ahead can feel like a race to the finish! For businesses like yours, keeping up means evolving, adapting, changing, and re-inventing yourself constantly. The good news is that evolution goes hand-in-hand with opportunity, and innovation opens new routes to market and creates revenue potential for those of you in the channel.
Future-proofing business
Many of today's innovative technologies are powered by the cloud. In fact, the cloud is a critical enabler. To achieve successful digital transformation, businesses must evolve and embrace a new network infrastructure.
As I mentioned in an earlier blog, there's a group of technologies that form the roots of digital transformation, and Carrier Ethernet is a perfect example. With Carrier Ethernet being a backbone of global network infrastructure in Latin America, market revenues exceeded $800 million in 2018 and the market is expected to surpass $948 million in 2021, according to a Frost & Sullivan report.[i] That's a substantial uptick.
Carrier Ethernet Equipment Revenue Forecast by Country (LATAM)
2018 – 2021 (in Millions USD)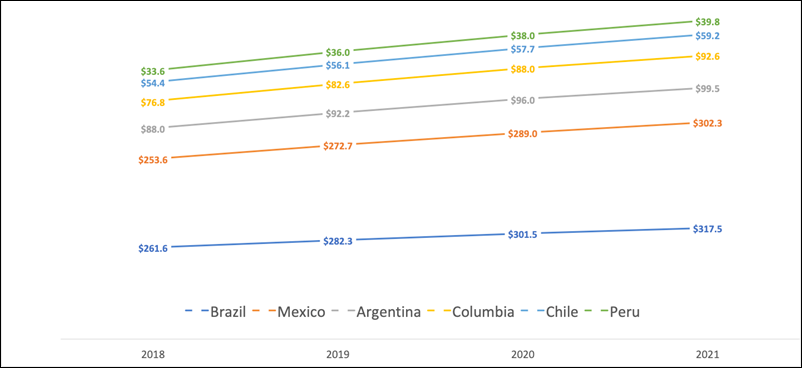 Source: Frost & Sullivan in Partnership with Ciena. 2019. Carrier Ethernet Services Outlook in Latin America
Here are the emerging trends that are accelerating and driving adoption throughout Latin America and globally:
A need for private connectivity to the cloud
Hybrid cloud is undoubtedly growing in popularity. While many businesses are moving fully over to the public cloud, some businesses, like those in the Finance segment, still want and need their own private clouds. This creates demand for more flexible solutions that can accommodate both public and private connections.
According to Frost & Sullivan, "the cloud IP telephony and unified communications and collaboration (UC&C) services market exhibited double-digit growth in Latin America in 2018" with hybrid cloud cited as one of the major growth opportunities.
Hybrid cloud deployments rely on Ethernet, and communications service providers (CSPs) are experiencing increased demand for Ethernet in order to access cloud applications and to connect their private and public data centers.
A growing shift to SD-WAN
SD-WAN is a rapidly growing market segment of networking. In fact, International Data Corporation (IDC) forecasts that the market will grow at a 30.8% compound annual growth rate (CAGR) from 2018 to 2023 to reach $5.25 billion.
As enterprises move to public and hybrid clouds and become more global, they're shifting from Multiprotocol Label Switching (MPLS) to SD-WAN for the lower cost and increased ease of use, agility, visibility, control, scalability, security, and performance. The move from MPLS VPN to Dedicated Internet Access generates greater demand for Ethernet-based DIA circuits.
A greater demand for worker-friendly communication
As our digital workplace evolves and distributed teams become the new normal, a greater need for worker-friendly communication is emerging––as a result, IP-centric applications such as IP voice, unified communications (UC), and video conferencing are in high demand.
As you know, these types of applications require increased connectivity and bandwidth. And in terms of Carrier Ethernet, it provides the underlying infrastructure, supports growth of these new applications, and delivers high speed and performance. What's more, modern applications use bandwidth in a different way; for example, the requirements are much more dynamic as their needs change throughout the day.
For enterprise WAN networks, Carrier Ethernet is an ideal choice due to its reliability, flexible bandwidth, scalability, and switched network architecture. It provides the perfect underlay allowing CSPs to take advantage of virtualization and more agile and optimized IP solutions.
A desire for actionable insights
Speaking of bandwidth, data-driven networks have also evolved, and the complexity has increased, which makes performance monitoring more difficult. As enterprises adopt Ethernet for voice, video, data, and cloud-based applications, monitoring and management of network performance such as bandwidth and application performance is now a "must."
Thus, there is a massive opportunity for vendors that use open interfaces to export network telemetry that will be transformed into actionable information by Machine Learning platforms. CSPs will extend the same application-aware tools they offer with MPLS VPNs to Carrier Ethernet.
Why Ciena? Choosing the right partner and solution
For partners, these opportunities are truly exciting. With the ubiquity, popularity, and increasing demand for Carrier Ethernet, now is the time to offer comprehensive Ethernet solutions and services, and I encourage you to consider the benefits that Ciena offers to you and your customers:
Faster Revenue Growth: We enable your network to be more adaptive and agile, with the adoption of virtualization and on-demand services.
Protected CAPEX: Disaggregation speeds up innovation, and our open solutions allow interoperability in a multi-vendor environment. Our purpose-built hardware platforms offer flexible capacities to support a variety of customer needs. And our platforms are highly scalable to accommodate growth.
Improved Customer QoE: Our technology improves customer QoE through zero touch provisioning, simple deployment and testing, high performance, and flexibility.
Optimized OPEX: Our solutions provide end-to-end orchestration, take advantage of DevOps methodologies, require lower power and space requirements, and are easier to manage and maintain.
What's more, our reputation precedes us. Customers and partners regularly tell us that they see us as their trusted advisor. They reference our differentiated operating style defined by our extraordinary level of service, guidance, and expertise.
We have over 1,500 customers across North America, LATAM, EMEA, and APAC; we serve over 85% of the world's largest service providers; and have over 6,000 employees in over 35 countries. Not to mention, we've received several top industry accolades from IHS Markit, IEEE, SiriusDecisions, and more.
As a Ciena partner, you're more than just a vendor for our shared customers. You're an essential advisor on the journey to becoming more adaptive.
We encourage you to learn more through the Ciena Partner Network (CPN).
[i] Frost & Sullivan in Partnership with Ciena. 2019. Carrier Ethernet Services Outlook in Latin America