Power smarter, more agile networks with a TDM migration
The gradual discontinuation of SONET/SDH and PDH equipment, mounting volumes of data, and other key factors are putting a significant strain on precious government network resources. Jim Westdorp, Ciena's Government Chief Technologist, details why the time is now to start the TDM migration journey.
Time Division Multiplexing (TDM) technology has long dominated government infrastructure: SONET/SDH and PDH are all still key components of government networks more than three decades after they were first deployed.
Yet several factors are driving agencies toward modernization. Manufacturers are gradually discontinuing SONET, SDH and PDH equipment. Expertise in these aging technologies is fast dwindling; many agencies are struggling to manage siloed operations and mounting volumes of data. The result is a significant strain on precious government network resources.
Clearly, the time is ripe to migrate to a modern transport network architecture. Doing so not only promises to future-proof an agency as the SONET/SDH optical hardware market continues to decrease according to Cignal AI's "3Q20 Transport Hardware Report" seen in the chart below, but it opens agencies up to a smarter, more agile, innovation-ready infrastructure.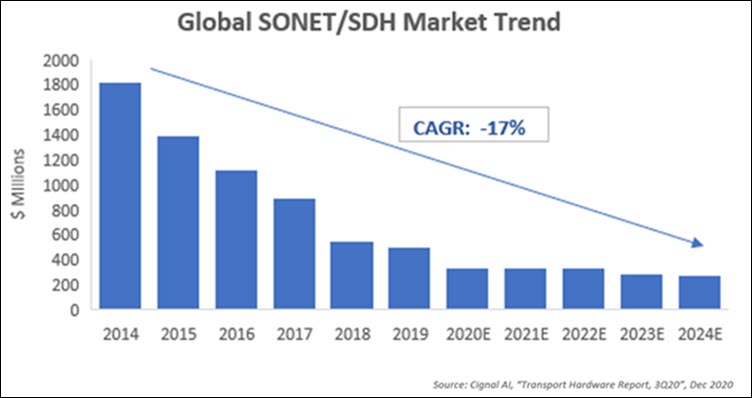 Making the Move
So how can agencies make the move from TDM to routing and switching technologies? One option is to update the legacy equipment to TDM-based services. But not all agencies are equipped with the necessary budget, technology, expertise and resources to take this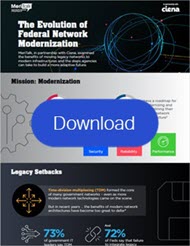 approach. Alternatively, agencies could run parallel networks — but that is a costly and complex undertaking.
Fortunately, there is a budget-friendly way to capitalize on the benefits of modern network architecture without negatively impacting critical applications. Ciena, for example, works with government agencies to bring disparate legacy and modern elements together in a solution engineered for the specialized nature of government and defense applications. Agencies can modernize their overall network infrastructure while keeping mission critical TDM components running for improved performance and operational cost savings.
For example, Ciena's 6500 Packet Transport System (PTS) offers agencies the ability to preserve their critical investments, which are hard to replace, while allowing them to use modern network infrastructure. Ciena provides that conversion capability at the edge.
A perfect use case is an agency network provider, which could use the PTS to aggregate hundreds of SONET/SDH circuits. Seamless interoperability would allow the replacement of older Add/Drop Multiplexers (ADM) while still ensuring compatibility with any remaining ADMs – moving one step closer to a more modern network.
5 Steps to Success

But it takes more than tools to upgrade a TDM network. Rather, agencies must carefully identify objectives, build an inventory of assets, create a contingency plan, deploy the right solutions, and bridge gaps to achieve modernization success. Here are five steps agencies can take to ensure they are able to make the most from their migration:
1. Understand your agency needs and objectives. Now more than ever, agencies need to determine their modernization project's goals and objectives, carefully select the right solutions, and build a robust business case to drive adoption among stakeholders. Together, these preliminary steps can ensure an agency is taking the most appropriate path to migration.
2. Discover your assets. IT sprawl can easily prevent agencies from having a consolidated, detailed inventory view of their network assets. Some government systems have been around for more than thirty years. Record-keeping of these assets, though, has not been maintained to the highest capability. Luckily, a powerful combination of discovery applications, automation tools, and analytics can pull data from multiple disparate sources and create a unified, real-time view of a network.
From there, agencies can evaluate which services are not cost-effective to move at the present time, and then choose a migration technology that will allow them to run modern infrastructure throughout the rest of the environment.
3. Plan accordingly. Meticulous planning is critical to ensuring services remain up and running while reconfiguring, consolidating, upgrading, and migrating between legacy environments and more modern infrastructure. This includes creating contingency plans for every scheduled activity.
4. Execute with technology. Building converged networks requires the right solutions. For instance, Ciena's TDM-to-Packet Solution, including TDM SFPs, TDM service modules, and the 6500 Packet Transport System (PTS) combined with the Manage, Control and Plan (MCP) domain controller can streamline the migration and modernization process for edge, access, and metro aggregation sites. Having a set of solutions that supports both legacy SONET/SDH protocols and protection schemes, as well as Ethernet and IP, is the key differentiator that enables Ciena to perform seamless upgrades.

5. Gain closure. Before a project can be declared finished, agencies must properly decommission and remove legacy equipment, as well as ensure all cross-functional teams are trained in the new network and its capabilities.
Of course, following this five-step journey to migration requires a fair amount of legwork. Ciena's TDM Migration Service can help each step of the way, ensuring agencies keep mission critical TDM in place as they modernize their overall network infrastructure, all with a single set of technology.
As a supplier of equipment and services to government agencies Ciena takes a comprehensive approach toward maintaining the security and continuity of its supply chain. Learn more.