Network Edge: Enterprises are ready for a more comprehensive approach - but can telcos deliver?
Over the last few years, enterprises have begun embracing more automation and virtualisation in the wide area network (WAN). As their IT architectures migrate towards (multi) cloud centricity, their network environment – and especially the network edge – must evolve to be more flexible and increasingly self-configurable by the end user. To accelerate this evolution, enterprises across many industries are deploying virtual network functions such as virtual routers, firewalls, and software-defined WAN (SD-WAN). For many of them, that last application has been the starting point towards a virtualised network environment.
This blog is the second in a 3-part series on Virtualized Edge. You can read the first blog here, or read the third and final post in the series here.
Was SD-WAN overhyped?
Originally, part of its promise was about commercials: it offered a more attractive cost structure for the enterprise WAN. This was to result from increased reliance on cheap underlying network transport technologies (e.g. dedicated internet access services rather than MPLS). What has proved more transformational, however – especially in European markets where price deltas for underlay services were not that great in the first place – is the increased control that enterprises gain with SD-WAN bundles over the performance of their networks, and the ability to decouple the overlay (management and policy) function from the underlay (transport) function.
Very quickly, SD-WAN became a hyped (possibly even over-hyped) concept, and vast majority of communications service providers (CSPs) active in the B2B space scrambled to pull together an SD-WAN market offering. In many cases, these boiled down to a managed service delivered by the SD-WAN providers / equipment vendors themselves, and then white-labelled by the telco as they were resold to the enterprise end user.
It also soon transpired that SD-WAN was not a one-size-fits-all application. As a result, majority of larger CSPs today have multiple SD-WAN solutions in their product catalogue, aimed at various market segments, from small businesses to global enterprises. This is not a problem in itself, but many of them end up siloed and isolated in the context of the wider service portfolio. They also often rely on manual processes for operational aspects such as service turn-up. The resulting image of CSPs is that of a bevy of swans swimming upstream – looking distinguished and graceful above the waterline, all the while peddling frantically underneath where no one can see, just to keep moving forward.
Change seems to be on the horizon, however.
They also often rely on manual processes for operational aspects such as service turn-up. The resulting image of CSPs is that of a bevy of swans swimming upstream – looking distinguished and graceful above the waterline, all the while peddling frantically underneath where no one can see, just to keep moving forward.
How is the market changing?
Two relevant dynamics are beginning to play out in the market. Firstly, telcos are maturing to the idea that their enterprise edge service portfolios (to-date very SD-WAN centric) need to expand to include other virtualised network functions (VNFs) such as routers, firewalls, and WAN load balancers. They also realise that richness and diversity of front-end offering must be met with speed, replicability and, to an extent, simplicity of the back-end operational delivery model. As a result, the concept of a universal customer premise equipment (uCPE) seems to be back in vogue, after a few years in retreat. Telcos are also finding that combing SD-WAN and other VNFs with automation and analytics tools allows them to manage the solution predictively and remotely. Both these are good news for enterprise end users, providing them with richer choice around the network functions available and a better overall experience.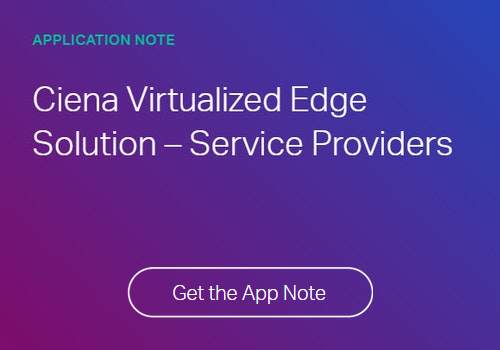 Secondly, enterprises themselves are becoming more nuanced (and probably also more outspoken) about their needs in this space. Since its inception, the promise of network function virtualisation (NFV) has been about simplified consumption, freedom of choice and flexibility of delivery models (distributed, centralized, hybrid). With SD-WAN taking the initial spotlight, however, enterprise end users have often ended up being locked into whatever the SD-WAN bundled offering came with – security aspects, assurance functions, etc. While SD-WAN will remain a leading use case for the foreseeable future, other VNFs (those mentioned above and more) are likely to receive significantly more attention in the years to come.
Admittedly, the uptake of NFV-based delivery models has been slow to begin with, caused initially by unattractive commercials and limited VNF choice. In addition, perceived complexities in designing, deploying and ensuring that multiple VNFs work together, has delayed a wider deployment of NFV. This landscape is gradually evolving, however, with service providers taking increasingly decisive steps to differentiate in what has now become a fairly crowded marketplace.
How can CSPs benefit from the market momentum?
The question then becomes, how to do it well. It is no secret that CSPs are not exactly known for bringing products to market expediently, which is what – in this particular case – is very much required and expected of them. That said, the challenge is certainly not a simple one. It requires a multi-faceted approach, often building new capabilities around automation or systems integration, touching on the very core of transformation trends in telecom operations.
One way to address this challenge is via a platform/ecosystem approach – that could help eliminate vendor lock-in for enterprise end users (and telcos themselves), while enabling the CSPs to innovate quickly and accelerate their new product introduction function.
At a minimum, this platform for service innovation would need to encompass several elements. These include (and the list is not exhaustive) a rich VNF catalogue to begin with, an orchestration/automation software stack, a rapid systems integration capability for onboarding of new functions and service chain builds, as well as the CPE hardware itself and the capability to deliver and install it at the customer premise (whether low- or zero-touch).
Not all of these need to be built into a CSP's in-house capabilities. The service innovation ecosystem could be considered modular in nature, with some elements internalised and others brought in by external industry players, whether equipment vendors, software providers or system integrators – with the CSP playing the role of a focal point between enterprise end users and technology providers.
The increasingly dynamic market situation seems to suggest that CSPs' traditional approach to innovation – involving insistence on developing the full, end-to-end capability in-house – could translate into time delay with a high opportunity cost attached. A successful NFV platform/ecosystem approach, perhaps involving a partner that has the experience, expertise, and ability to work in a multi-vendor environment, could help de-risk and accelerate this process.
"Going solo," on the other hand, could mean missing out on the oncoming wave of deployments and instead facing a largely brownfield market, where capturing meaningful share is a challenge in itself.