Laying the foundation for 5G in Asia-Pacific
How can Asia-Pacific telecom service providers ensure that their modernization efforts towards 5G will meet business needs and customer requirements for the next decade (or two)? Ciena's Willie Low outlines four key design considerations that are detailed in a new IDC white paper.
2019 was the year 5G became a real commercial proposition. 5G is already carrying more than 20% of all mobile traffic in South Korea, and much of the proposed innovation will be powered by the new capabilities of 5G.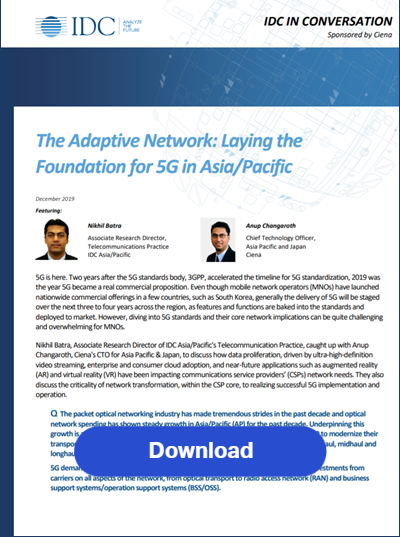 The roll-out of 5G across the region will take place gradually over the next few years. Telecom service providers are challenged to design a network architecture that can support upcoming 5G deployments, while supporting existing 4G services, and at the same time grapple with the fact that 5G standards are not exactly locked down. They can transform their network from one that is static and inflexible into one that is dynamic and programmable, driven by analytics and intelligence.
Telecom service providers throughout the Asia-Pacific region have very different priorities and design considerations for their networks. According to IDC, cumulative 5G incremental spending from 2019–2023 will reach US$159.5 billion in 2023 in the Asia Pacific region (excluding Japan), accounting for over 31% of total cumulative carrier CAPEX. How can operators take this opportunity to invest to modernize their networks, and ensure it will meet business needs and customer requirements for the next decade (or two)?
In this new whitepaper, we penned down the thoughts from Nikhil Batra, Associate Research Director, Telecommunications Practice, IDC Asia/Pacific and Anup Changaroth, CTO, Asia Pacific and Japan, Ciena, on how operators in Asia Pacific can modernize their transport networks from access to aggregation, and from metro to core, for mobile fronthaul, midhaul and backhaul to prepare for 5G. Specifically, they will need to include several key design considerations:
Significant increase in high-capacity flexible fiber-based connectivity—driven by both the expected increase in RAN for 5G, as well as for increased network capacity demands.


Flexible network architectures that support the Non-Standalone (NSA) model that facilitates a simplified 5G deployment that's tightly coupled to existing 4G networks, and Standalone (SA) architectures for a completely independent 5G solution.


Support for both hard and soft end-to-end network slicing is vital for MNOs to provide application-dependent service characteristics.


Automation and orchestration of both physical and virtual network elements – an elementary requirement in delivering an agile service without consequential operational costs spiraling out of control.