Keep ahead of demand with PlannerPlus—another winning MCP Application
Hoping for a way to build out network capacity incrementally to get the most return from capex as soon as possible? Marie Fiala explains how Ciena's PlannerPlus provides the needed flexibility to design, plan and deploy network and service expansions with reduced time horizons.
This is the third blog in a 4-part MCP Applications series. Click here to read the whole series.
PlannerPlus
—a next-generation design and planning tool —gives you the capabilities to pull this off.
Managing a network is an exercise in managing constant change, because the network must always adjust to increasing demands for more bandwidth and higher-performance services. The trick is adding just the right amount of capacity at just the right time. Augment the network too soon, and you risk overbuilding with costly equipment you won't even need for a while. Wait too long, and you jeopardize network reliability, service performance and customer satisfaction. Fortunately, this balancing act can be solved with precision planning and a nimble network. Ciena's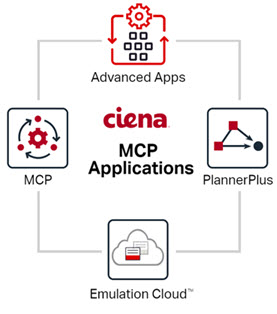 PlannerPlus is the key to efficient, timely buildouts because it is seamlessly integrated with Manage, Control and Plan (MCP), Ciena's domain controller. Planning is fast and accurate because the starting point is always based on a real-time view of the optical network—not outdated, off-line data retained from previous planning exercises. Completed network designs can be deployed easily through MCP's automated zero-touch provisioning. PlannerPlus can be used for planning greenfield networks or ongoing capacity management activities required for optical network expansion.
PlannerPlus is one of the winning cards in our hand of MCP Applications for intelligent network control. Together with Ciena's MCP domain controller, Advanced Apps such as Liquid Spectrum and Adaptive IPTM Apps, Emulation Cloud open ecosystem, and MCP Services, PlannerPlus enables dynamic planning to adapt to changing market conditions.
Adding network capacity with unprecedented efficiency
Whether you're in a greenfield or brownfield scenario, you can use the PlannerPlus intuitive user interface to design and engineer Ciena optical device configurations and network connectivity between nodes. The only difference is that for network buildouts your starting point is the accurate real-time state of the currently deployed network, leveraging MCP's network capture. From there, just let the PlannerPlus guided workflow take you through the steps and validate the design.

The PlannerPlus web-based graphical user interface (GUI) makes it easy to view geographic maps, add equipment to a site, drill down to card layout details, determine fiber connectivity and patch lists, and run what-if scenarios for different implementations. Once you've run through failure analysis and are satisfied with the robustness of the design, the software will automatically create the bill of materials needed for the project quote and also generate zero-touch provisioning (ZTP) files for the equipment installation. You can even plan wavelength and client services over planned equipment, so you're ready to start monetizing infrastructure as soon as possible. A wholesale provider of optical wavelengths, for example, can schedule services for activation on a future date and needed resources will be reserved so there is no risk of overprovisioning while the activation is pending.
When the Ciena transponder equipment is physically in place, you can execute the ZTP files to automatically turn up the infrastructure for additional network capacity. The process brings unprecedented speed and accuracy to planning compared to manual methods since teams do not need to transcribe information to other systems, code scripts, or execute them piecemeal through CLI. MCP even runs the startup tests needed to make sure all the connectivity is in place. All you need to do is physically power up the devices. Activation of planned services is accomplished with the click of a button.
Accurate network visibility drives optimal planning decisions
Have you ever manually aggregated network performance metrics (PMs) and log files, and tried to distill this multitude of data down to meaningful metrics on which to make planning and investment decisions? PlannerPlus takes away the headache. Along with the live network capture generated by MCP, PlannerPlus leverages data from two of MCP's Advanced Apps – Network Utilization and Network Trends – for insight into where the network is running hot or where it's underutilized. That means you can judiciously spend your CAPEX dollars most effectively to satisfy customer demand.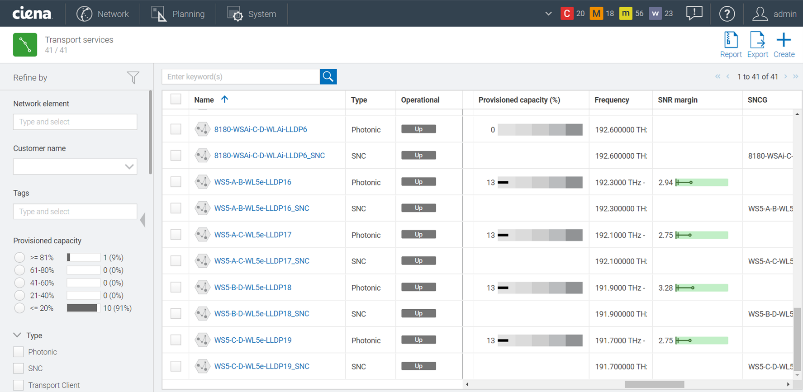 Figure 3. Clear visualization of utilization, such as provisioned transport services capacity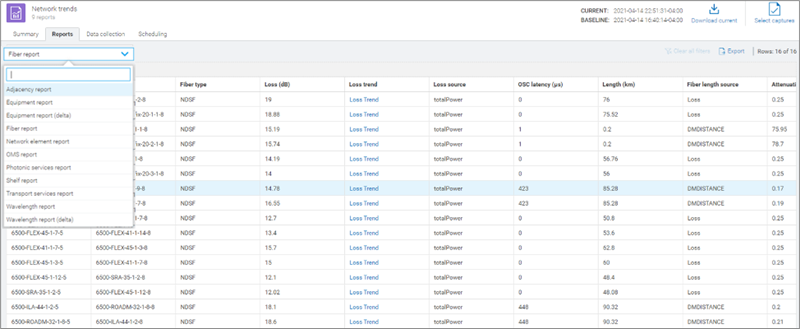 Figure 4. Wide variety of network trend reports to analyze optical network performance
The Network Utilization app provides real-time and historic metrics of provisioned and consumed capacity for equipment, network elements and optical transport services, to help identify where new capacity is required to mitigate service performance degradation. On the other hand, if network capacity is available, you can capitalize on it immediately. Network Trends helps uncover patterns in key PMs across equipment and services, such as fiber and spectrum utilization, to guide where network adjustments are needed most. You can schedule reporting at desired intervals and can compare and analyze data between two specific points in time or over a time interval. This detailed, yet concise, level of visibility gives you the ability to forecast and plan for network growth more easily and accurately.
Up next: Emulation Cloud
Hopefully, my deep dive into PlannerPlus highlights the vital role this application plays for automated, accurate network capacity planning. In my next article, I explain how you can come out the clear winner in today's competitive networking landscape by putting your network plans into action most efficiently with the help of Ciena's Emulation Cloud open integration environment and the expertise of the MCP Services team.