Everything old is new again: why broadband is the new electricity for rural markets
Learn how – and why – one utility cooperative is delivering scalable rural broadband internet services for its community.
For this blog, it's worthwhile taking a step back in time to provide some perspective on what we are seeing today in the gaps of delivering broadband to rural communities versus the big cities. If we go back to the 1930s when Franklin D. Roosevelt (FDR) was the president of the United States, he regularly travelled every year by train to escape the cold Washington, D.C. winters to his Winter White House in a small town called Warm Springs, Georgia (about 1.5 hours south of Atlanta by car today). At that time, the big cities had extensive deployment of electricity while the rural areas still had not been connected to the power grid.
During his travels down south, he saw first-hand the poverty that existed in these rural areas due to their lack of electricity. The cost of supplying power to these rural areas was prohibitive for the large city power companies and FDR recognized that the government had to step in to fill this critical gap. As a result, FDR introduced several rural projects with government funding to extend electricity to the rural areas of America. Where the big power companies couldn't justify filling this gap, non-profit co-operative utilities were introduced which are owned by their customers (members) in these rural communities whose only mandate was to provide cost-effective electricity to their members. Today, 900 of these co-op utilities are still in existence.
Fast forward 90 years to today, we see a similar trend in broadband internet. Broadband (as defined by the FCC as a minimum of 25 Mb/s down/ 3 Mb/s up) has been widely deployed in the big cities by the large ISPs but the rural areas are still stuck with copper-based DSL which can barely deliver a 3 Mbps downstream service. Whereas prior to the pandemic, extending broadband to the rural areas was viewed as a "nice to have" initiative, during the pandemic when everyone reverted to "work at home", "remote learning" and services like "Telehealth" to visit your doctor, broadband became an essential service, no different than electricity was in the 1930s. I know in my personal experience, when I had to explain to my 83-year-old mother-in-law how to use Zoom – that the game has changed.

I know in my personal experience, when I had to explain to my 83-year-old mother-in-law how to use Zoom – that the game has changed.
Like the approach back in the 1930s, the electric co-ops have stepped up to deliver broadband in their communities. They can take advantage of their existing power infrastructure (power lines, poles and power cables into businesses and households) to lay the last mile fiber for broadband.
Addressing the broadband gap
So, let's look at one such electric co-operative who is addressing the broadband gap in their community. Cullman Electric was one of the first cooperatives to be formed in the state of Alabama—second out of a total of 22 co-ops—and was the first to provide electricity to its members. Now, 85 years later, Cullman is paving another path—launching Sprout Fiber Internet broadband service to its customers.
Cullman Electric recognized that the lack of broadband connectivity was having a negative impact on the residents in its service area, preventing them from enjoying the many benefits of modern technology—including telecommuting, streaming video services, and smart home appliances. It was also having a broader economic impact, deterring new businesses and industries from expanding or relocating into the region. Given its founding principles to support and empower members' rural communities, the co-op wanted to help.
As an electricity utility, Cullman Electric had legacy OT (operations technology/grid) connectivity in place. Evolving to smart grid required a modernization plan, and the addition of broadband traffic required a modernization of its middle mile infrastructure. With a plan to offer broadband customers 300 Mb/s or 1 Gb/s packages, and use its connections to their full potential, Cullman Electric needed to build a middle mile solution between its substations with the scalability to meet its customers' demands—regardless of the amount of Netflix streamed or Zoom calls attended. A 100 Gb/s middle mile aggregation solution was the clear choice.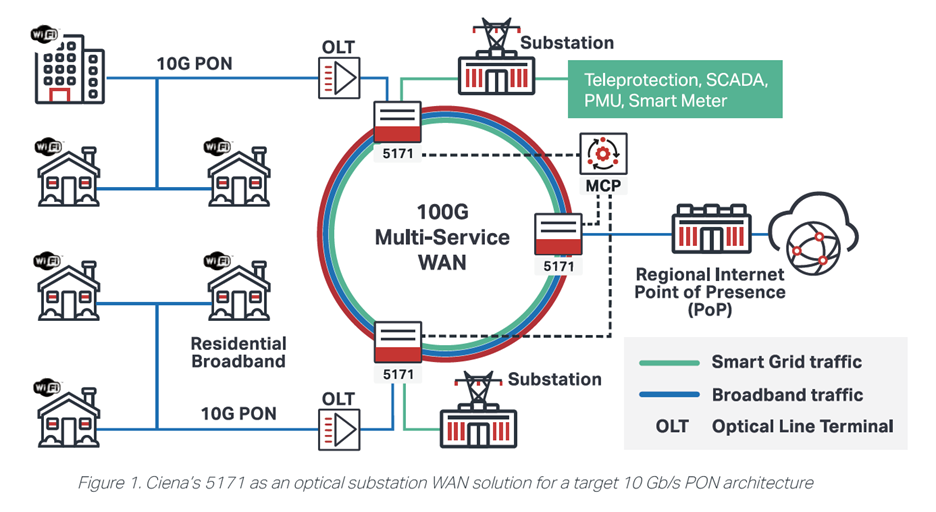 Ciena's solution
With its
5171
routing and switching platform, which delivers best-in-class middle mile universal aggregation, Ciena enabled Cullman Electric to build a scalable 100G-200 Gb/s middle mile backbone for its mission-critical OT traffic while aggregating its Gigabit Sprout Fiber Internet broadband traffic in a converged solution. The 5171 can scale to enable Cullman Electric to add broadband customers and increase bandwidth utilization per household. It can also segregate the co-op's mission critical OT traffic, ensuring OT traffic gets the highest priority to keep the lights on in Cullman and Winston counties. Cullman Electric's 100-200 Gb/s middle mile network means that Cullman's customers can have faith in the performance of their subscribed services and know that they have the bandwidth to satisfy all their streaming, work-from-home, remote education, smart home, and remote healthcare needs—well into the future.
What new applications were enabled by Cullman's broadband network? Smart Agriculture
Cullman County, Alabama is #1 in the state in poultry broiler production (the chicken we eat) and poultry is 85% of the total agriculture output in the county. The top reason why the poultry industry has not gone digital is the lack of internet to these locations. Poultry farms are typically off the grid in remote rural locations that don't have access to broadband internet. Since Cullman's poultry industry is already getting power from Cullman Electric, Sprout fiber internet service is being deployed via their power lines so all these locations will now be able to get broadband internet.
By implementing next generation digital tools like sensors, screening technology and artificial intelligence, the local poultry companies will be able to improve animal welfare, reduce disease outbreaks and production losses by introducing early warning systems. This will enable these farms to take more proactive actions rather than reacting when a problem becomes apparent while improving efficiency and raising standards. This is a very tangible example of the Internet of Things (IoT) at work in rural communities.
In recent months, there has been a lot of debate over the definition of infrastructure. We tend to think as infrastructure as roads, bridges, electricity and water systems and the current proposals have looked at expanding that definition. Broadband has not traditionally been viewed as infrastructure and there has been a debate whether broadband fits in as infrastructure in the same way as roads and bridges. After what we have seen during the pandemic especially in rural communities, there is no question that broadband is the next generation of infrastructure and that it carries the same importance as traditional forms of infrastructure as it follows the same journey it took to introduce electricity to rural communities over 90 years ago.
If you want to learn more about Cullman Electric's journey to offering broadband in their community, please check out our recent podcast where Mark Freeman, Manager of Network Operations shares some great insights on Cullman's journey to launching their Sprout broadband service and the impact to their community.
Or to drill down deeper on Cullman's journey to offering broadband, check out this case study.
Finally, if you want to learn more about Ciena's Middle Mile solutions for rural broadband, check out our whitepaper "Multi-service Substation WAN Backbone: Ready for Broadband" here.