Ciena and TELUS bring 800G to Canada, break worldwide transmission record
Ciena's Helen Xenos had a front row seat as TELUS and Ciena turned up the first single-wavelength 800G in Canada across TELUS's network, and at a record-breaking distance. Pictured above: Jean Gregoire, Network Integrity Sr Design Specialist at TELUS, standing in front of the WL5e equipment being tested in Quebec City.
What do Canadians do for fun when their favourite hockey team is out of the playoffs? Some of us – members of the TELUS and Ciena teams in particular - push the limits of what can be achieved in optical networking and realize new milestones for the industry along the way. I was lucky enough to have a front row seat to the action when the team turned up an 800G wavelength from Toronto to Quebec City across a world record-breaking 970km distance. And, I can attest that the excitement and pride was just as strong as watching my home team win the Stanley Cup.
As I have described previously, with Ciena's WaveLogic 5 Extreme (WL5e) being the only 800G product available in the market (since April of this year), the optical industry is in the early adoption phase of 800G deployments. Here, we are describing the state of the art coherent optical technology available in the market that is capable of offering higher capacities per wavelength than previously possible for any link in the network through variable line rate transponders, and that can support line rates up to 800Gb/s. The technology allows for high quality, high speed connectivity to end users using fewer wavelengths, resulting in reduction in space, energy consumption and cost per bit.
TELUS is one of the early 800G technology adopters who is in the process of augmenting their network with Ciena's WL5e. A world-leading communications and information technology company, TELUS supports 15.3 million customer connections spanning wireless, data, IP, voice, television, entertainment, video and security. Their longstanding commitment to putting their customers first fuels every aspect of their business, making them a distinct leader in customer service excellence and loyalty. It's no surprise then that TELUS has repeatedly earned accolades over the years in respect to their world-leading wireless networks. This year alone, TELUS was recognized by several independent industry-leading experts, including UK-based OpenSignal, US-based J.D. Power, Seattle-based Ookla, Victoria-based Tutela, and New York-based PCMag, for their network excellence, for both urban and rural coverage.
"TELUS prides itself on having one of the world's fastest networks and using industry-leading technology to deliver the best experience for our customers across Canada. Our collaboration with Ciena on breaking transmission records is an exciting innovation that speaks to both teams track records of success."- Ken Nowakowski, Director Planning and Engineering, Transport and IP Infrastructure Development and Operations at TELUS
The TELUS network extends 6,000 km from Victoria, British Columbia to Halifax, Nova Scotia. Designed with the future in mind, TELUS's next generation optical network consists of a state-of-the-art, colorless, directionless, contentionless, flexible grid (CDC-F) ROADM architecture with Layer 0 Control Plane, designed to support reliable, fast turn-up and re-route of unpredictable bandwidth demands across the network. Furthermore, it is ready to support new innovations in optical technologies as they become available, including the ability to carry optical channels of any spectrum size across the fiber. This fully flexible, intelligent photonic infrastructure allows for the simple addition of WL5e wavelengths and with that, access to significant cost, footprint, and power benefits.
TELUS will be standardizing WaveLogic 5 Extreme for deployment in the near future. Part of the standardization activities include testing the full capabilities of the product to plan end user service offerings.
800Gb/s from Toronto to Quebec City
Toronto to Montreal is the highest bandwidth corridor in Canada, connecting the two largest cities in the country across ~700km. This was the most logical link on which to try out high capacity wavelengths. However, the team knew WL5e could be extended even further and took it another 270km, all the way to Quebec City. The drawing below shows a high-level view of the network link being used for the testing. As WL5e is a generally available product, and with the ongoing COVID-19 pandemic restrictions, the TELUS team performed the turn-up and testing themselves in the captive offices with Ciena providing remote, on-line support.

I was lucky to join the live Teams chat (my front row seat) with our Sales Engineer who was on the bridge with TELUS during the testing, and received a play-by-play of the testing progress, which – I have to say - was just as exciting as watching your favourite hockey team score three goals in the first period of the Stanley Cup Final.
I joined as the connection validation step was completing. This is a feature of the 6500 CDC photonic line system that lets the user know if there are any errors in fibering. (There were none.) The intelligent system reported the fiber length of 971.2km.
The next step was to turn up the channel between Toronto and Quebec City. This is typically the "hold your breath" moment waiting to see if the receiver would be able to acquire the signal but given that the link engineering team had completed a successful simulation, everyone expected the signal to come up, and it did. (Anyone familiar with Ciena's link engineering team knows that when this team says something will work, it works.) Good system margin was verified using Pre-FEC bit-error-rate and Effective Signal-to-Noise Ratio (ESNR) metrics that are available from the modem.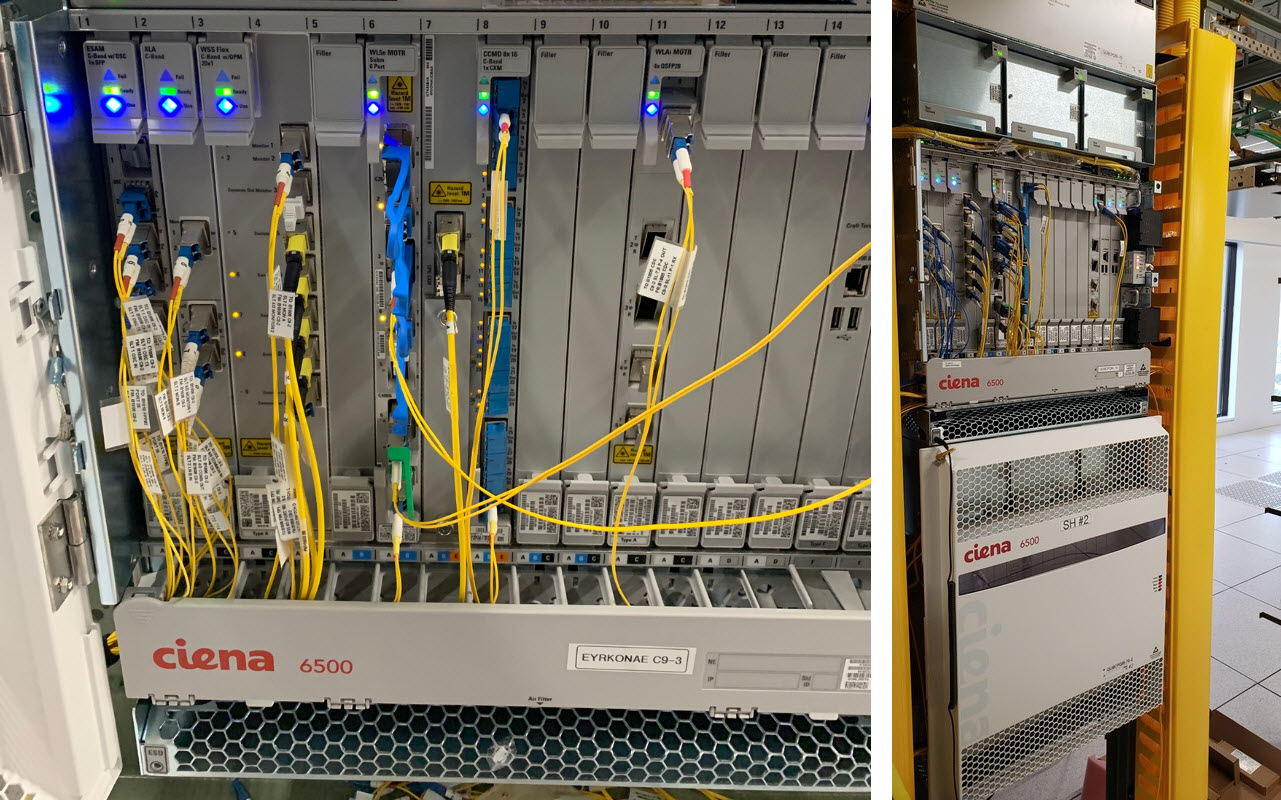 Ciena 6500 shelves with WaveLogic 5 Extreme in TELUS's Toronto site (left) and Quebec City (right)
The team quickly moved to provision 100GbE client traffic to go across the link using a test set. This end-to-end continuity tests the full data path of the modem and is one of the differences between a technology trial and product testing. This is a basic modem function as the whole purpose of coherent optics is to reliably transport Ethernet or other client traffic across distance. Once 100GbE traffic was turned up, the first stage was confirmation of error free traffic continuity for one hour. The team did a 10 second countdown to the end of the hour, which was fun.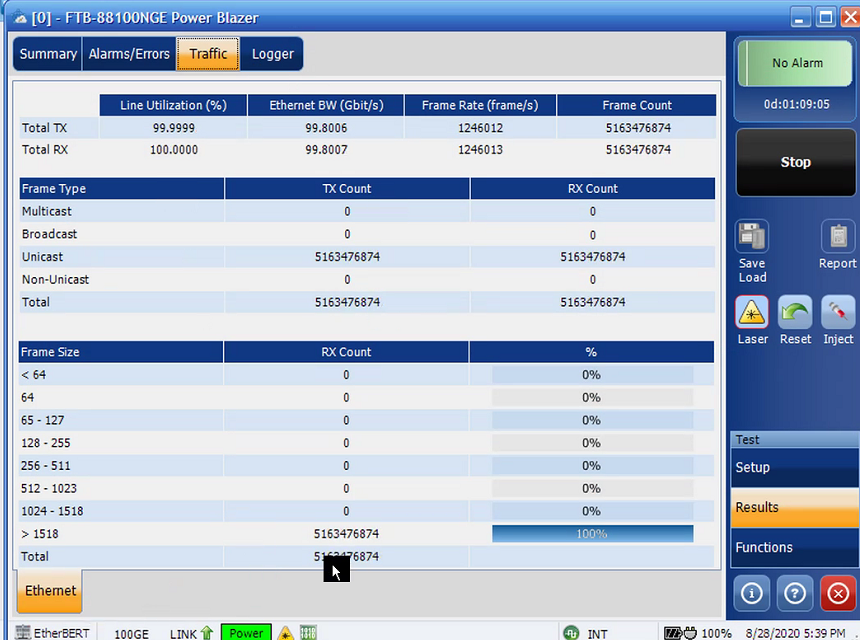 Screen shot of the 100GbE test set after one hour of successful testing
After that successful testing, the team then called it a day on that Friday afternoon. Traffic was left soaking over the weekend to verify product robustness. After the weekend soak, the team confirmed the test set ran clean with no errors. 400GbE continuity testing was then completed. This was another important milestone as it showed that the TELUS network is ready to efficiently support 400GE connectivity across any distance.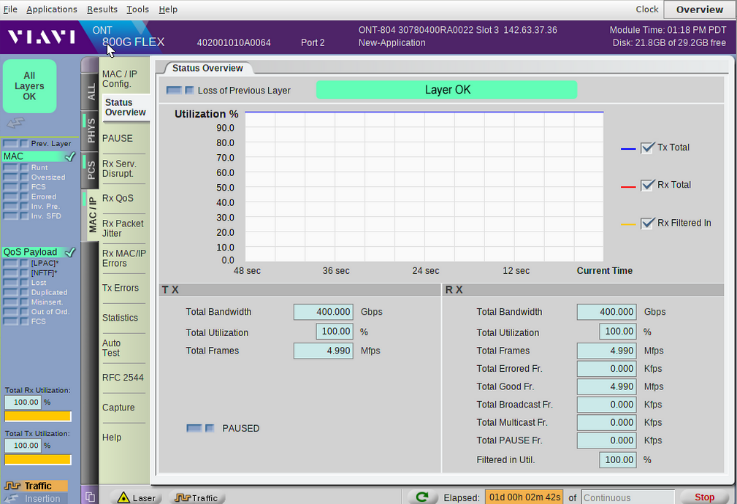 Screen shot of 400GbE test set after one day of successful testing
What's next?
Testing continues at TELUS, with planned deployment of WL5e in the coming months.
Does this mean 800G will be deployed across long haul links? This is not a yes or no response, but 800G will be deployed where it makes sense in the TELUS network. As has always been the case, the line rate capacity that will be deployed depends on specific link characteristics, number of channels and desired reserved margin by the operator.
The real news here is the resulting long-term benefits of the WL5e network upgrade for both TELUS and their end users. TELUS can continue to provide high quality, high speed connectivity to their end users – such as teleworker videoconferencing, multi-player interactive gaming, Internet access for low income families, and even live-streaming the Stanley Cup playoffs - while more efficiently using bandwidth resources and evolving to a greener network.