Choosing your 4G to 5G network evolution partner
The complexity and scale of 4G to 5G network evolution means you need the right partner, not just a supplier, to support you every step of the way along your unique journey, says Dave Parsons, Packet Networking Solutions and Enablement Director, EMEA, Ciena.
As you ramp up your network transformation activities to prepare for 5G, there is a proliferation of technologies and services all promising high-capacity infrastructure and enterprise reliability; and most will also talk about their "low-risk" 4G to 5G migration strategy. So, with all the promises for outstanding outcomes, how can you choose the best partner to support your 4G to 5G network modernization?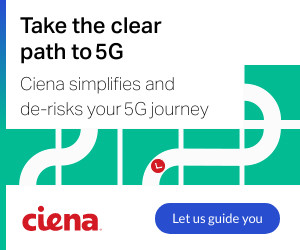 Here are some considerations to help you plan, build, and deploy a 5G-ready network that will keep you one step ahead of your competitors:
Can your network scale capacity to support traffic from 5G New Radios? Only a diverse portfolio of IP and Ethernet transport solutions will allow you to deploy right-sized equipment across your network and scale bandwidth seamlessly to support your 5G deployments. With built-in, end-to-end OAM testing and full programmability, Ciena's solutions allow you to accelerate deployments and reduce onsite engineering requirements and costs – as well as reducing the need for expensive 3rd-party testing equipment. Our Adaptive IPTM solution is open, automated, and lean to accelerate 5G cell site rollouts.


Is your network equipped to support differentiated 5G apps and performance SLAs with smart network orchestration and automation software? Network orchestration and automation software can help you prioritize your network traffic and support differentiated SLAs for different apps and services – all of which is critical for supporting new 5G services on your network. Critically, Ciena's Blue Planet does this by creating network 'slices' that support differentiated service levels for high-bandwidth and low-latency services, with less critical traffic routed over legacy infrastructure to extend your ROI on past investments.

To optimize load-spreading and performance in your network, Ciena also offers the Blue Planet Route Optimization and Analysis (ROA) solution, which analyses traffic flows across the network and adjusts traffic placement to ensure resources are used efficiently and customer experiences are constantly optimized on an ongoing basis.


Can you deploy new 5G services without capacity constraints at the optical layer? Ciena's Packet Networking solutions, alongside our optical networking solutions, make it much simpler and more cost-effective to ramp up available bandwidth. This means bandwidth is no longer a limiting factor on your ability to scale services by using WaveLogic 5 optics to offer up to 800G per wavelength, for example. You can also use our cost-effective 100G pluggables (including extended temperature range and externally mountable devices), which enable you to boost edge capacity. Blue Planet intelligent automation software completes the picture, allowing you to utilize resources to their fullest, as well as allowing you to identify traffic hotspots and to take action to increase capacity in key areas of your network before end-users' experience congestion or downtime.


How close can you get bandwidth to your subscribers for great 5G QoS? Supporting the lowest-latency use cases requires bandwidth to be delivered at the network edge, physically as close as possible to subscribers. To make this possible, Ciena has re-engineered and temperature-hardened several of our platforms. These can now be deployed in street cabinets, on buildings, and in other edge locations to support great performance for low-latency 5G apps.


Do you ensure great subscriber experiences, even at cell boundaries? The Uncovering the path to 5G connectivity insights series looks at some of the key layer 2 and 3 network requirements for supporting 5G apps – including phase synch capabilities and IP-based connectivity (IP VPN) between cell sites. Ciena's Packet Networking solutions have these features built in as standard, allowing you to transition from your existing 4G architecture to the 5G NSA (Non-Standalone) architecture quickly and efficiently. Features such as IP VPN connectivity will help you to ensure the best service performance and quality for subscribers, with no signal drop-off at cell boundaries by allowing low-latency inter-cell coordination.


What skills and support do you need for a successful 5G xHaul transport evolution? Many network vendors support the deployment of their equipment in your network, but Ciena gets involved from the very start. We help you plan and design a transport solution that delivers the performance and ROI you need, and we also support your deployment and ongoing management. Once your new network is in place, we train your people in network operations, and partner with you long-term to optimize network performance and efficiency. This way of working, which we call Lifecycle Management (LCM), ensures you get the greatest possible business value from your investments with us.


How can you upgrade your cell-sites quickly, efficiently and at scale? Slow, manual infrastructure deployment can be a massive barrier to implementing cell-site upgrades quickly, and at scale. That means that even if your RAN equipment offers Zero-Touch Provisioning (ZTP) capabilities, you need to choose transport equipment that can also be deployed quickly, easily and with minimal on-site engineering support. To accelerate your 4G-to-5G evolution, Ciena has developed ZTP capabilities for our Packet Networking xHaul transport solutions, allowing you to simply plug in equipment at cell sites and configure it automatically based on validated device profiles pushed out from the Network Operations Centre (NOC). As a result, you can upgrade your transport infrastructure at hundreds or even thousands of cell sites in a matter of weeks.


Can you de-risk your 4G to 5G journey? Ciena already has a field-proven track record in transitioning 4G networks to 5G NSA. This doesn't just relate to our 5G-capable equipment, which powers some of the largest, most powerful carrier networks in the world; it's also about our professional services teams, who are helping tier-1 carriers in Europe, the USA and elsewhere to transition their 4G networks to 5G at scale.
If you want more information about how Ciena can support your 4G-to-5G network modernization journey, our infrastructure and software solutions, our 5G experience, our 5G reference architecture, our ZTP capabilities, or any of the other reasons why Ciena is the right partner to support your 5G network evolution, please get in touch.
With our packet network leadership, SDN capabilities for network slicing, and expert support, Ciena is the natural choice to help you succeed.
Read more key strategies to accelerate and de-risk the evolution towards 5G, deliver new services, and stay ahead of your competitors in the 'Uncovering the path to 5G connectivity' series: