'Branching Out' our learning
Our Chief People Officer, Jane Hobbs, and our Senior Vice President of Global Customer Engagement and sponsor of our Diversity, Inclusion and Belonging (DIB) council, Jason Phipps, share how we are living Ciena's People Promise with our award-winning learning platform 'Branch Out.'
Today, when some have down time, they may jump to their mobile phones to quickly catch up on news and scroll through their social media apps. Many want the ability to quickly consume bite-sized information, and this preference is also changing how most want to learn too. With this in mind, in 2020, Ciena introduced a new learning experience that allows our people to learn something new every day in short, focused bites that can also be accessed on a mobile app too.
In this Q&A, our Chief People Officer, Jane Hobbs, & our Senior Vice President of Global Customer Engagement, Jason Phipps, share how we are using this new learning experience within our award-winning learning platform with Blue Ocean Brain called 'Branch Out' to align and live our People Promise.
Q: Why did Ciena want to introduce a new learning platform?
Jane Hobbs: As part of the initiative to create a culture of happiness, vibrancy, and belonging, I was very excited to launch the People Promise in June 2020, a commitment that we can all make a difference, be empowered, and feel included.
Making it easier for individuals to learn and develop has always been important to us, not just about professional career growth and skill training but also on personal growth and wellbeing.
To support this, we launched this new learning experience, calling it Branch Out, as we saw the topics as a way for people to branch out their learning. Launching this platform was a powerful tool as it came at a time where it could help us cope in different ways with how the pandemic impacted our wellbeing and also still put an emphasis on having learning available 24/7 - important in Global company.
Q: What is Branch Out exactly?
Hobbs: We launched Branch Out with Blue Ocean Brain, to provide microlearning lessons and brain challenges to elevate thinking and expand knowledge around various soft skills topics. Designed to be easily consumable it includes:
Lessons that can be completed in ten minutes that include videos, articles & quizzes
Easy access via computer or mobile device
Challenging brain teasers to stimulate innovation
Trending topics that are refreshed daily
Leaderboard for healthy competition among learners
Each week, we all receive an email highlighting the focused topic of the week, which could be around creativity & innovation, personal growth, brain health & performance and diversity & inclusion to name a few. People can access the program via the email, or we have seen many make it a daily habit to visit the platform, take a lesson or even a break with a brain teaser.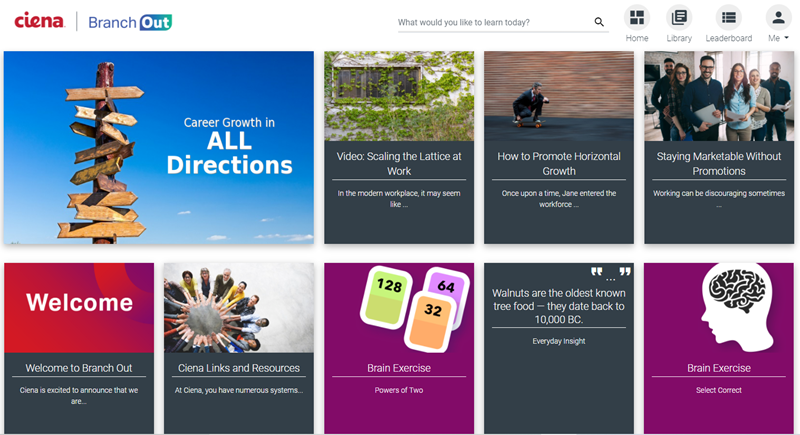 Q: Why is inclusion an important learning topic for Ciena and within Branch Out?
Jason Phipps: Often the soft skills are the hardest to acquire and that certainly applies to understanding inclusion. Launching a learning experience like this helps others branch out in their thinking and understanding of how to ensure everyone feels included.
I found the platform very helpful in broadening my knowledge on diversity and inclusion. The content is fresh and thought provoking and the combination of articles, videos, and case studies in "bite-size" chunks makes it simple to consume.
Q: Have people at Ciena embraced this new type of learning?
Phipps: Yes, I have been happy to see the amount of our people using it daily, with approximately 80% accessing over 50,000 articles and completing 27,000 brain challenges since the June 2020 launch. It also provides fun competition amongst our global team, as every time you complete a lesson and brain challenge, you earn points that can place you on the leaderboard.
Hobbs: Not only did we celebrate one year of Branch Out a few months ago, but we also have another achievement to celebrate. The 2021 Brandon Hall Group Human Capital Management Excellence Awards awarded us, along with our vendor, Blue Ocean Brain, the Gold award for Best Unique or Innovative Learning & Development program for Branch Out. This is a testament not only to the work put into getting this platform up and running by our Learning & Development and Diversity, Inclusion & Belonging teams, but in how it has impacted our people and our business.
It has been great seeing the adoption of this new platform. I think the success just shows how important this type of platform is and I look forward to continuing to see the impacts it has not only on our Ciena Life – but in my life as well.
Interested in seeing our People Promise come to life? See our current job opening here.