Why the Secret Behind Strong Early Adoption of 400G Technology is … 200G
400G is a hot topic these days – but how is it really being used? Ciena's Optical expert Helen Xenos explains what we mean by 400G – and what is driving the demand for this new technology.
This month, we shipped our 5,000th 400G-capable coherent optical transponder, confirming our prediction that the use of 400G technology is ramping 3 times faster than 100G. What may come as a surprise, however, is that the dominant application driving 400G deployments is not 400G, but 200G (long haul-datacenter interconnect to be precise).
Why? The technology that enables 400G wavelengths has a lot to do with expanding the application space for 200G as well.
What is 400G?
To fully understand the demand drivers for 400G, it's important to clarify the various ways 400G is defined. The term "400G" is quite popular in today's optical networking conversations, but can also have different meanings depending on the context in which it is being used:

400G is sometimes used to describe a solution that offers 400G of capacity via two 200G wavelengths using traditional 32-35Gbaud coherent technology. This can more accurately be defined as "dual-carrier 400G" or "dual-wavelength 400G".


400G client optics, or 400GbE, refers to the next capacity rate in Ethernet interfaces based on the 400 Gigabit Ethernet IEEE 802.3bs standard recently ratified in December 2017. As described recently in a blog, network providers have started executing successful 400GbE field trials to date using prototype equipment. Commercially available products are expected to arrive later in 2018 and in 2019.


400G is also used to describe next-generation coherent optical solutions that support a range of capacities, which include 400G capacity on a single wavelength (e.g. "single-carrier 400G"). This is the most common meaning of 400G and is similar to how "200G" is used to describe 200G-wavelength capable solutions and "100G" to describe 100G-wavelength solutions.

A subset of the 400G coherent category is "400G ZR", also dubbed "400ZR", for the OIF Implementation Agreement it refers to. 400G ZR refers to a low cost, low power, coherent DWDM pluggable that only supports 400G wavelength capacity and can extend up to 120km. 400ZR solutions are expected to become commercially available around 2020.
In this blog, 400G refers to the last example, or single-carrier 400G-capable coherent solutions.
Growth in the 400G Market
This month Cignal Ai updated its growth forecast for the coherent 400G DWDM market and provided the interesting graph below which shows how 400G will start to replace 100G and 200G deployments moving forward. The positive outlook represented in the graph is based on expected strong performance of 400G+ equipment across all distances and the expectation that the use of 400G ZR will expand to applications beyond data center interconnect (DCI).
The report also states that significant 400G growth will not begin until 2019, as Ciena is the only production supplier of this technology in 2018.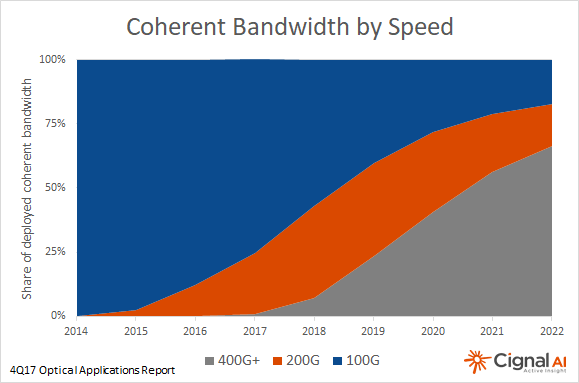 How DCI is Driving Today's 400G Deployments
So, which applications are driving 400G deployments? We hear so much about the fast-growing metro WDM market, 400ZR and the need to maximize capacity for short reach DCI applications, that intuitively you would think this is the "sweet spot" application.
In fact, the most popular use case we see for early 400G adoption is to support the rise of 200G long-haul for aggressive DCI network builds. The higher baud rate and improved performance of Ciena's WaveLogic Ai not only enables 400G at metro distances, it also extends the reach by 3x the distance for 200G wavelengths. This allows customers to upgrade the "unit of currency" for capacity across their network. In this case, 200G replaces 100G as wavelength capacity for long haul networks, providing significant improvements in scale as well as spectral and operational efficiencies.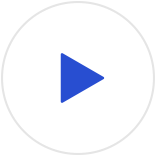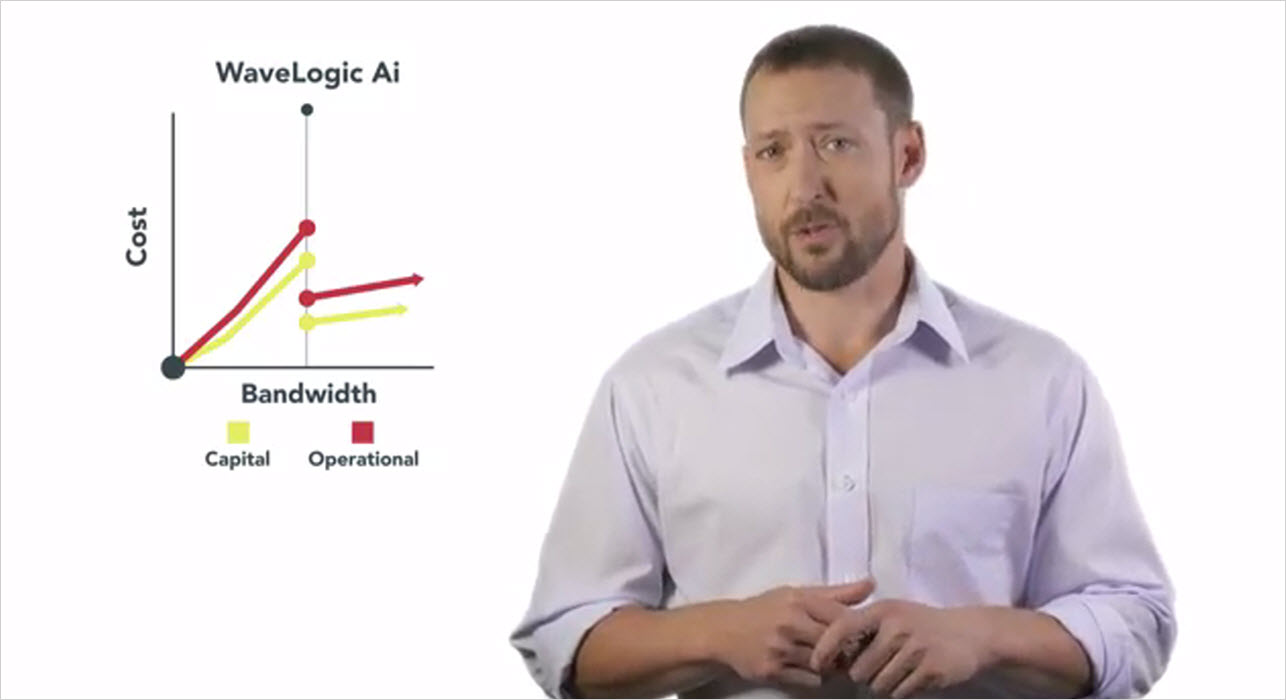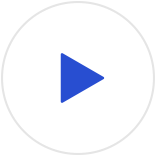 Why is 400G important?
With visibility into how quickly 400G deployments are ramping in the industry, we are seeing first-hand how the optical networking landscape is changing, and how network providers are moving more quickly to stay ahead in this new on-demand, content driven environment we are living in today.
The reason for this strong 400G ramp is the surprising speed with which content providers can deploy new technology. Whether for DCI for massive transfer of content, enterprise access to cloud-based IT applications, or over-the-top high definition video streaming, network providers rely on coherent optical technology to enable scalable, high capacity connectivity to end users and extend the life of fiber assets.

With networks reaching new levels of data traffic every day (just this month BT saw traffic peak at 10.37Tbit/s during a football game), network providers are staying ahead using technological advances that allow for more scalable and simpler to operate systems. Compared to widely deployed 100G/200G solutions, 400G doubles traffic carrying capacity across applications, reduces transport and operational costs with fewer transponders to deploy, and delivers significant reduction in footprint and energy consumption.
What's next?
At 400G, we certainly have not reached the limit of what we can achieve from a wavelength and network capacity perspective. As the next phase of optical networking unfolds and adapts to end-user needs, we look forward to seeing the benefits brought by 400G and higher capacity solutions to our customers, and the new innovations these networks will enable resulting in changes to our quality of life moving forward.