Top 5 business benefits of modernizing legacy networks
Want to modernize your Business Services (TDM, Layer 2, and Layer 3) to cost-effectively generate new revenue streams without adversely affecting your existing network? Ciena's Wayne Hickey explains how operators benefit by modernizing TDM and packet network designs.
Modernizing legacy networks is a hot topic, and for very good reasons.
Consider this – your legacy network is rapidly headed to obsolescence, while your packet-based applications are growing. Legacy applications are hindering your revenue growth opportunities, consuming your budget, and degrading your customers' quality of experience, which can lead to the loss of your existing and/or new customers.
Two primary factors are driving the migration of legacy networks; (1) the imminent phase-out of legacy systems, and (2) the need to use modern packet networking techniques to improve network efficiencies, serve end-users better, and open up new revenue-generating business opportunities.
Let's further break it down into the top 5 business benefits of modernizing legacy networks: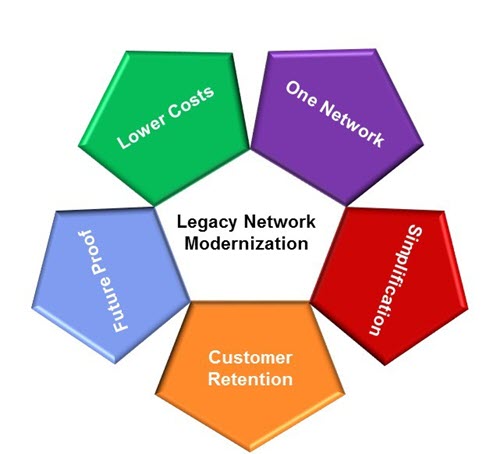 Top 5 Business Benefits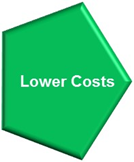 The biggest bang for your buck is to reduce the number of networks you operate with the goal of getting to a single, common network. Why? Running parallel networks is costly, complex, and ultimately unrealistic. Network silos are costly to manage and prevent the use of common features, toolsets, and services. Network operators have a near-term motivation to digital modernization and creating an advanced packet network that can manage all of an operator's services better, while expediting the delivery of new enhanced features, especially virtualized services, to current and future customers.
Investing in technology solutions that will help your company provide better service and create better products should always be at the top of any corporate objectives. In today's economy, companies are increasingly launching digital initiatives to expand or build digital efficiency or top-line revenue growth. It's either adapt and transform to a fast-moving digital world or get left behind. As a network operator you can keep up by consolidating legacy Time-Division Multiplexing (TDM) technology and packet services with a converged technology approach on one network that can support all your needs and provide a seamless experience for your customer, regardless of the technology used at the beginning or end of connections. The best practice is to simplify your networks, from end-to-end.

The goal for all business applications is network simplification; by improving overall service performance while simplifying network operations, preserving legacy TDM CAPEX investments, and expanding new revenue opportunities. Reducing the number of components used in the network simplifies operations while reducing power consumption and facility space requirements. In many cases, service velocity is the determining factor in winning new business, Ciena's Zero-Touch Provisioning (ZTP) simplifies and expedites service turn-up of packet-based services in a completely automated manner. When it comes time to engineer or plan migration and modernization of legacy TDM networks, Ciena Insight Services can help you simplify that too.
The TDM business services rollover process will take several years.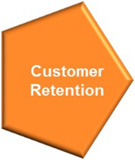 Keeping your customers happy is essential to maintaining existing revenue streams and customer loyalty. When it comes to private line or TDM business services, those streams are very profitable high Average Revenue per User (ARPU) services, but with no control when business customers transition to packet, as their infrastructure rusts. TDM technologies have served the industry well for years, but with vendors only building packet-based technologies, a converged solution like Ciena's 6500 Packet Transport System (PTS) to deliver TDM and packet services on a single, common platform will keep both you and your customers happy until you are ready to migrate to packet services. Operators are even happier to keep those high ARPU revenues flowing. Even better, when customers do migrate, the packet-based platform is in place – helping you to migrate your services quickly – keeping everyone happy!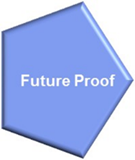 Legacy systems, although reliable and well-understood, are voice-centric, relatively inflexible, difficult to scale, and simply not optimized for packet-based data services. With data requirements inundating network traffic, these legacy voice-centric systems are no longer effective. Companies increasingly launching digital initiatives to expand or build digital capabilities to deliver efficiency or top-line revenue growth and competitiveness. A converged network avoids the need to deploy overlays, enabling various types of TDM traffic to run over Layer 2 Ethernet of Layer 3 MPLS services, and seamlessly interconnect customer Ethernet traffic to the MPLS network without requiring additional physical components. Modernization of legacy networks facilitates the introduction of new business capabilities, making organizations more adaptable to future market and technology disruptions, answer customer demand, and opening new revenue streams for high bandwidth packet-base applications.
Future-proofed networks will support TDM business, Ethernet, and TDM-to-Packet modernization.

So, get ready to connect all your network services across a single, converged network that provides a smooth migration path from legacy TDM Business Services to modern packer-based Business Services.
Ask us how Ciena helps Evolutionize Your Packet Network.