Optic Zoo Networks Keeps Vancouver's Data Travelling at Blistering Speeds with Ciena
Tony Ross, Director of Network Engineering, Optic Zoo Networks, explains how Canadian enterprises are reaping the benefits of its new Carrier Ethernet Services, and why Ciena was the one they trusted to make their vision a reality.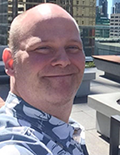 Tony Ross's first true love is the Internet. That romance started when T1s were the backbone. That's probably because his hero growing up was Leonard Nimoy's 'Spock', Tony has since had an incredibly fulfilling career in Networking and Cyber-Security. Tony is proud to be with Optic Zoo Networks, today in a networking world which has grown 5 orders of magnitude and backbones are hundreds of Gigabits.
Optic Zoo Networks is a recognized brand throughout metro Vancouver due to our extensive carrier grade dark fiber network and infrastructure. Based on demand and to further accelerate our growth and better serve Tier 1 service providers, we knew it was time to take our offerings to the next level. Our customers need to support bandwidth-hogging applications like virtual and augmented reality, as well as Internet of Things (IoT). However, in order for data to continue to flow with ease, we needed to ensure that Optic Zoo Networks was ready to support that growth. That meant offering new Carrier Ethernet Services (CES), and in turn, required that we build a Carrier Ethernet Network (CEN).
Continuing our legacy of innovation



Optic Zoo Networks prides itself on its forward-thinking approach to technology. We offer the highest level of security for communications and provide our customers with full-control over their network. The philosophy with our network is that customers can buy whatever services they want from whoever they want, and Optic Zoo Networks will step in and provide the transport.

To continue to support top-echelon service providers, however, we needed to build a CEN that could scale instantaneously and meet the needs of organizations in a range of industries - from finance, healthcare, education, and more. For example, customers that previously wanted to upgrade to higher levels of bandwidth had to go through inefficient processes, such as having to order a network loop that could take weeks. With our CEN, today's 1G customers can easily upgrade to 10G tomorrow with a simple software upgrade.
We now have a network suitable to meet our customers' requirements today and tomorrow and without burdensome restrictions, protocols or delays getting in the way.
Why Ciena?
From early on in our search, we realized Ciena was the vendor to help us build a new network from the ground up. For one, the company's reputation for deploying CES is stellar – a vendor that not only has the right technology, but also the ongoing support, information and tools needed to deploy and operate the network seamlessly, securely, and reliably was key. What we saw from other vendors were solutions that were originally built for MPLS and legacy-type services – certainly not what we had in mind.
Creating a competitive advantage
We're using Ciena's 8700 Packetwave Platform to build a high-capacity and reliable network that can support our needs today and for years to come. Ciena's MEF compliant Carrier Grade 3903 and 3930 Service Delivery Switches are also part of the end-to-end solution delivering cost-effective and advanced feature-rich services. Through Ciena's technology, our live circuits are servicing carriers by providing External Network-to-Network Interface (ENNI) last mile access in Vancouver and servicing prominent national and international carriers and service providers in the region.
What's next?
With Ciena's packet technology, 100G services are in our back pocket. As more and more bandwidth-rich applications become mainstream for our customers' end users, our network will be ready to easily upgrade to 100G line capability and support those services.
We listened and we acted. We now have a network suitable to meet our customers' requirements today and tomorrow and without burdensome restrictions, protocols or delays getting in the way. We know it's imperative service providers have the infrastructure they need to provide the mission-critical services that so many of their enterprise customers need. Through our partner, Ciena, our carrier-grade network meets or exceeds the requirements of the largest carriers throughout Canada and beyond. We've got a future-proof network, and we look forward to further developing our relationship with Ciena.