Multi-Layer Networks? Intelligent Multi-Layer Orchestration Has Arrived
There are many challenges that service providers must deal with in multi-layer networks. A majority of them stem from the lack of coordinated visibility and orchestration across the optical and IP/MPLS layers. Ciena's Kailem Anderson details these challenges and the benefits that multi-layer orchestration can bring. For even more details, also be sure to attend our
upcoming Light Reading webinar
.
Service providers are seeing growing demand for new services from their customers, primarily driven by the evolution and adoption of new cloud-based services, demand for high-definition video, exponential growth of Internet of things (IoT) and emergence of new technology such as virtual reality. This technology growth presents service providers with the opportunity to grow their business and increase revenue.
But in order to seize this opportunity, a service provider must be able to plan, design and deliver new services to their customers as quickly as possible. Doing this in a multi-layer network that comprises optical and IP/MPLS layers adds a few challenges.
The Multi-Layer Network Challenge
To quickly design and deliver new services to customers, service providers need end-to-end visibility and management across both the optical and IP/MPLS layers. But many service provider networks are managed separately by different groups with little or no coordination between them. Thus, the group managing one layer is not aware of issues at the other layer, resulting in a service-delivery failure.
The absence of coordination and visibility also increases the time-to-market when delivering new services. Provisioning a new constraints-based path across the multi-layer network usually requires extensive planning and collaboration between the separate teams who manage the individual layers. Due to the complexity involved in large provider networks with hundreds of possible routes and numerous optical paths, this can take days or even weeks. But are customers willing to wait that long, especially if (for example) the new service request is for a temporary, low latency, diverse path to telecast a live event for a couple of days?
Another challenge arises from how optical and IP/MPLS layers handle restoration. Traditionally, each layer handles restoration independent of the other. In long haul optical networks without 1:1 protection, rerouting traffic can take a significant time. If restoration is performed without considering the impact on the IP/MPLS layer, it may result in additional traffic and restoration issues.
Bringing Intelligent Multi-Layer Orchestration
Today, it's critical for service providers to have the ability to automatically orchestrate the planning and deployment of new services over multi-layer, multi-vendor networks, and across multiple domains. They also need to be able to minimize Mean Time to Identify (MTTI) and Mean Time to Restore (MTTR) for issues and thus assure performance for their service offerings.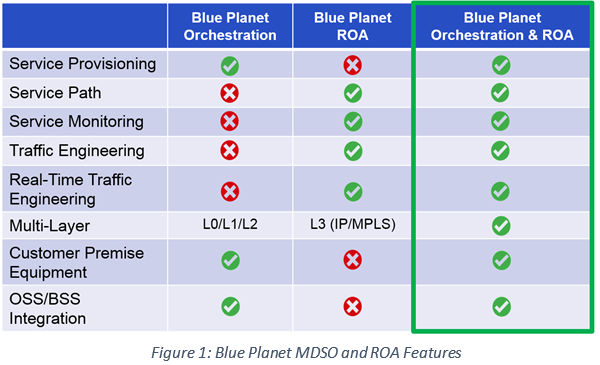 This is what Ciena's Blue Planet brings to service providers. With the recent addition of Packet Design, whose products Ciena has termed the Route Optimization and Assurance (ROA) family, the Blue Planet platform now provides the intelligence and analytics required for orchestrating service deployment across layers 0 to 3. As shown in the accompanying table (Figure 1), the ROA software solution provides automated service-path computation, provisioning and assurance. By combining this with Blue Planet multi-domain service orchestration (MDSO), service providers now have the ability to intelligently automate multi-layer service delivery from design to deployment.
Let's look at an example of how Blue Planet MDSO and ROA work together. A customer requiring connectivity between their data center and a new branch can request a path from the Blue Planet user interface (UI) or an open API call (step 1 in Figure 2 below). This request is then forwarded by MDSO to ROA (step 2), which leverages its visibility into the IP/MPLS layer topology and routing path information, and computes a new IP path from source to destination based on customer requirements (step 3). The computed path is then communicated to MDSO (step 4), which provisions the new end-to-end IP path and, if the constraints defined also require a new optical path, provisions a connection across the underlying L0 or L1 network too (step 5).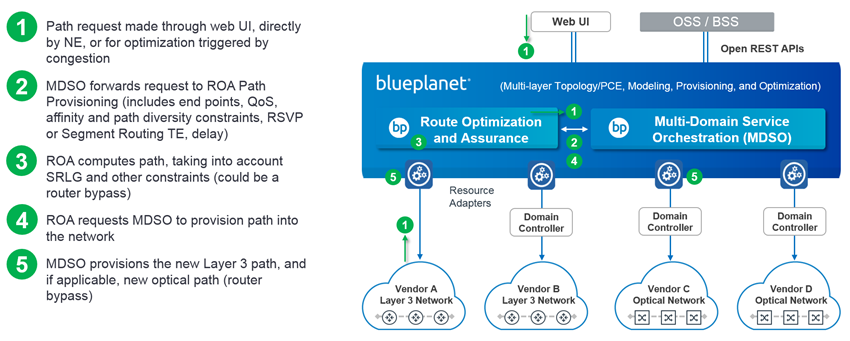 Figure 2: Multi-layer Orchestration with Blue Planet
Blue Planet thus intelligently orchestrates the entire path provisioning process across multiple layers, with minimal human intervention, to enable a more adaptive and automated network.
Want to hear more about this use case? I invite you to join me with Sterling Perrin, Principal Analyst at Light Reading, for a webinar on August 21st where we discuss how intelligent multi-layer orchestration and automation can help networks survive the multi-layer network challenges.