Move Over 200G, 400G is the New Sexy
The 400G era is here, with Ciena's new WaveLogic Ai chipset making news with some of the world's largest service providers. Ciena's Helen Xenos digs into the details.
When you think of "Sexy" I bet you usually don't think of fiber optic communications. But when it comes to 400G, and the exciting opportunities it brings to optical networks, it seems a fitting choice of words.
If you think about what is happening on networks today, the demand never ceases to amaze me. Users are spending 114,000 years-worth of watch time on YouTube – every single day. Facebook now has 2 billion monthly active users, with its second billion coming from adding 746 million users in Asia and the Rest of World region. One in every five Facebook videos is now a live broadcast – so users are moving from just being consumers to producers of streaming content over the web. Cloud and Content Providers are spending billions of dollars a year, with the larger ones spending tens of billions, in building data centers to accommodate connectivity demands they are seeing.
These are only a few examples that drive operators' need to build networks that can scale to support massive bandwidth growth.
Until very recently, technology challenges associated with 400G meant that the highest capacity link operators could deploy across a single optical wavelength was 200Gb/s. But with some big news from two of the world's largest service providers, this is no longer the case.
Move over 200G
Vodafone New Zealand just announced the world's first live deployment of a 400G per wavelength optical system to carry core IP traffic between its Auckland data centers, using Ciena's WaveLogic Ai coherent optics.
How is this new technology driving value for their business? As explained by Vodafone Technology Director Tony Baird in their press release, "The meteoric rise of online video streaming, gaming and cloud computing has meant Kiwis are chomping through data at rates we've never seen before. This investment is about ensuring our transport network is in great shape for today and ready for the future – it is an important step on the roadmap to 5G and for a stack of other exciting innovations across New Zealand's sprawling fibre and high-speed wireless networks."
Pair this news with AT&T's recent successful trial of 400GbE that also leveraged our WaveLogic Ai chipset and you have a pretty exciting set of announcements.
The technology behind the achievement
Ciena's step up to 400G is made possible by two new technology achievements. First, WaveLogic Ai operates at a higher symbol rate (it can process more symbols per second). Whereas today's coherent systems operate at 32-35GBaud, WaveLogic Ai operates at 56GBaud.
Second, WaveLogic Ai uses modulation schemes with more dense constellations (more bits per symbol). 400G is achieved using a performance-optimized 32QAM modulation scheme, where advanced coding techniques are used to ensure maximum performance.

These two factors, illustrated above, enable the transport of 400Gb/s per wavelength and 30.4Tb/s of capacity per fiber, higher capacity than any other solutions available on the market.
"The 400G era is now upon us, allowing network operators to squeeze ever-more bits out of their network assets. WaveLogic Ai's ability to enable 400Gb/s over a single wavelength at metro and regional distances sets the new industry benchmark for high-powered performance." - Ian Redpath, Practice Leader, Components, Transport and Routing, Ovum
A key question for any new coherent solution centers on what type of performance it can achieve, and in how many applications it can be practically deployed. So how far can Ciena's WaveLogic Ai reach? Longer than you would expect.
Ciena's WaveLogic Ai 400G performance is shown below, where the margin versus distance is plotted for the center wavelength of a 76-channel, flexible grid system, using 61.5GHz channel spacing. For this measurement, the photonic line used hybrid Raman-EDFAs on 80km standard single-mode fiber (SSMF) spans. The margin was measured by applying noise loading after each span, and 30.4Tbps capacity was achieved for an 880km reach.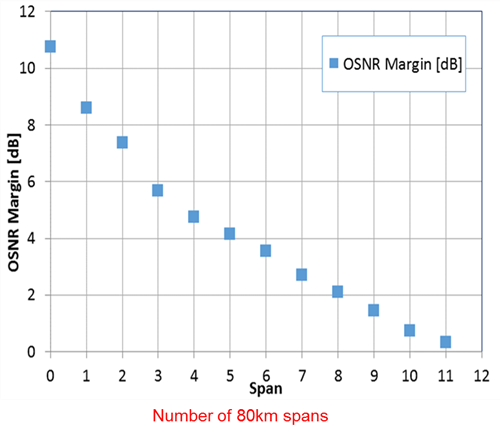 400G – the ability to offer higher speed connectivity services, gain more fiber capacity, reduce power and footprint, all with fewer wavelengths to manage. These economic and operational benefits make 400G very attractive - even darn right sexy - to network planners, CFOs and business owners alike.
Want to learn more about WaveLogic Ai? Step inside Ciena's Ottawa R&D Lab with senior hardware design engineer Will Leckie for a live demo of Ciena's new WaveLogic Ai coherent chipset, showing the ability to tune capacity across 200G, 300G, and 400G wavelengths.