MEF CE2.0 Certified 100G Ethernet Services Hit Mainstream
Ciena's 8700 Packetwave Platform now has a new Carrier Ethernet 2.0 certification for 100GbE services, which was presented by the MEF at this week's GEN15 event in Dallas, TX. The
award
-winning
8700 Packetwave Platform
was already CE 2.0 certified for all eight Ethernet standardized services up to 10GbE and is now one of the very first platforms to be certified for 100GbE as well.
Brian Lavallée is Director of Technology & Solutions Marketing for Ciena's packet networking solutions.
Other posts from MEF GEN15:
Ethernet was developed in the early 1970s for interconnecting nearby devices typically within the same building, which led to the term Local Area Network, or LAN, was born. If something went wrong, you just had to walk around the nearby equipment and look for faults, such as pinched or disconnected Ethernet cables that were easily addressed.
However, as Ethernet found its way into the Wide Area Network, or WAN, things changed drastically. Ethernet traffic was now being carried over tens to thousands of kilometers and "walking around" to troubleshoot faults took on a whole new meaning, especially when Ethernet services are carried over undersea cable networks sitting on the bottoms of oceans – something had to change.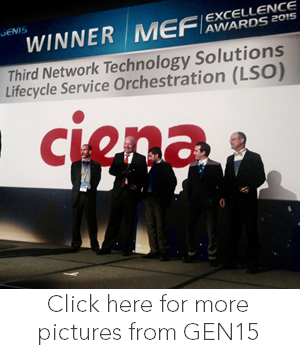 Ethernet services had to evolve into something that took into account the unique intricacies of the WAN, such as longer distances, remote end-to-end management tools, multi-operator interconnectivity, and the fact that network connectivity has become critical infrastructure for most businesses. Multi-operator interop becomes important as Ethernet Business Services (EBS) purchased from one network operator traverses one or more other operators' network. Although this is transparent to the end-user, it's not to the operators selling the EBS, and thus seamless, standardized handoff between operators must be achieved if EBS of any distance is to become a viable and reliable service offering, which is why MEF E-Access was developed.
Since introduced in 2012, the Metro Ethernet Forum, now referred to as MEF, Carrier Ethernet (CE) 2.0 certification has allowed the telecom industry to offer ubiquitous, standardized, carrier-class Ethernet Business Services to customers that are built upon the following five key attributes.
Eight Standardized Services (E-LINE, E-LAN, E-Tree, and E-Access – Private or Virtual)
Scalability
Reliability
Quality of Service (QoS)
Service Management
It's these five attributes that define what's referred to as Carrier Ethernet Services, and is one of the reasons why EBS have become ubiquitous globally over distances spanning tens to thousands of kilometers. MEF has facilitated standardized interfaces and operational procedures for interconnect and access. This allows for a predefined understanding of EBS performance expectations between buyer and seller leading to faster time to market. It also allows buyers to compare pricing between network operators offering similar services.
As everyone knows, bandwidth consumption is surging in all parts of the global network from access to core, overland and undersea, which has led to the rapid adoption of 100GbE services. Respected analysts firm Ovum forecasts the Ethernet services market to reach upwards of US$70B by 2020, just a few years away. This growth is driven by the ubiquity of Ethernet being adopted across all types of applications, such as data center interconnect (DCI), mobile backhaul (MBH), and private line business services.
In May of this year, MEF announced the extension of its Carrier Ethernet 2.0 Certification Program to include networking equipment used for delivering E-Line and E-Access services up to 100GbE. This allows for bandwidth-hungry customers to purchase standardized 100GbE services for such applications as DCI and peering interconnectivity, to name just a few. As 100GbE becomes the new 10GbE, standardizes 100GbE services will be offered by service providers around the world, using vendor equipment that is MEF CE 2.0 certified, and will only accelerate the adoption of this truly ubiquitous networking protocol.
The award-winning 8700 Packetwave Platform was already CE 2.0 certified for all eight Ethernet standardized services up to 10GbE and is now one of the very first platforms to be certified for 100GbE as well. The 8700 Packetwave allows operators to expand their portfolio offerings to include 100GbE CE 2.0 certified E-LINE services for a variety of high bandwidth applications over their own network. Also supported is the certified 100GbE E-Access service allowing EBS to traverse networks of different operators that will greatly expand the achievable market coverage reach across cities, countries, continents, and oceans for true 100GbE ubiquity.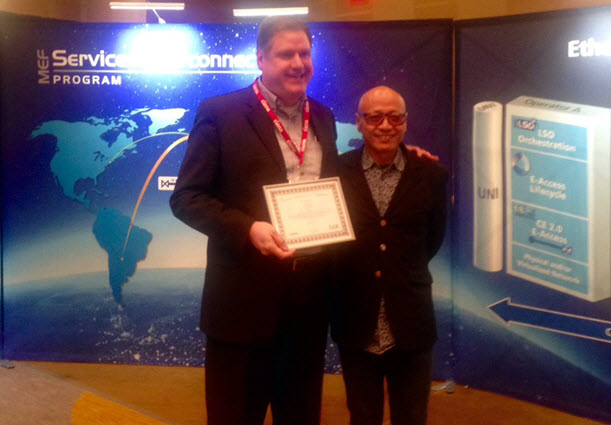 Ciena's John Hawkins (@EtherJohn) accepts the 100GbE certification for our 8700 Packetwave Platform from the MEF's Nan Chen.