Listen to Your Submarine Network!
You want to know if your submarine network is operating correctly right? Well, why not ask the network itself? Ciena's submarine expert Brian Lavallée explains how network operators can use predictive analytics to take real actions to optimize the utilization of their submerged assets.
Many industries are already leveraging the many benefits of analytics, which turns oceans of data (see what I did there?) into actionable insights. Analytics allow us to understand "what's normal, and what's not", especially over long periods of time. For example, when you shop with many online retailers, your purchases, returns, shopping browsing history, and so on are collected and analyzed allowing the retailer to better understand your buying habits (insight) to provide you with suggested products (action) that likely interest you. The retailer's understanding of you improves over time the more you shop on their website.
Think about this… who better to tell you about the ongoing health of a network than the network itself?
Another example is constantly measuring and collecting jet engine sensor data that's downloaded after each flight. Performing analytics on this collected data allows engineers to better understand the engine over time by analyzing "what's normal, and what's not", such as an engine part exhibiting a higher than expected temperature to potentially lead to a future failure. This actionable insight aids with preventive maintenance and also allows engineers to constantly improve their jet engine design, resulting in continually improved performance and safety over time.
The telecom industry is starting to leverage similar analytics tools to proactively monitor and maintain network assets to constantly optimize network performance while minimizing and even avoiding future outages. This provides end-users, man and machine, with the best possible quality of experience over time that's so critical to differentiation in the hyper-competitive telecom industry.
Think about this… who better to tell you about the ongoing health of a network than the network itself?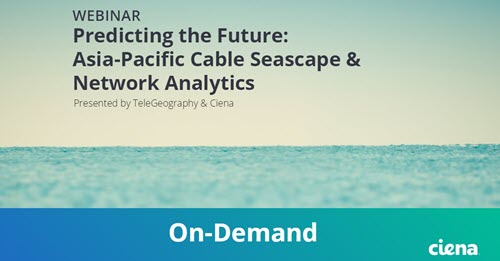 Evolving to the Adaptive (Submarine) Network
Much of the submarine industry has and is still using offline planning tools, network management systems, spreadsheets (shudder), and an Operations Support Systems (OSS) and BSS (Business Support Systems) to manage and control their network. Much of this is still manual leading to long time-to-market cycles for turning up existing and new service offerings, as well as being highly susceptible to manual configuration errors.
The Adaptive Network leverages a programmable network infrastructure, analytics/intelligence, and software control/automation that together allow submarine network operators to better manage and maintain their submerged assets.

Programmable Network Infrastructure
The foundation of the Adaptive Network is a highly programmable network comprised of a dynamic pool of virtual and physical network resources that are instrumented, open, scalable, and of course, highly secure. Constantly monitoring and measuring performance data over time generates a significant amount of small and big data associated with telemetry, events, and requests. This is essentially your network "talking to you" over time and expressing how "it feels". Programmable network infrastructure means supporting software and hardware-based sensors that can be accessed via open APIs for data collection and resulting control to be possible.
Analytics and Intelligence
Small and big data collected from highly-instrumented networks is used by predictive and adaptive analytics to conclude what's normal (and what's not) leading to actionable insights. For example, let's say that based on collected sensor data over time, analytics offers the actionable insight being the probability of a transmitter card likely fail within a specified period of time. The question now is, what to do with this insight? Do you ignore it and initiate no action? Do you swap out the questionable card before it fails resulting in a possible outage? Do you wait for the card to fail and have the network perform an autonomous protection switch? As you can see, there are many different types of actions that can be taken with the insights provided analytics on collected data over time.
Software Control & Automation
How to act upon provided insights is where intent-based policies come into play. These policies are designed by the operator that places them in full control of their network by specifying in advance how their network will proactively and/or reactively act upon different conditions and situations. Different operators will choose different actions for the very same type of insight, which will be determined by operator-specific guidelines, network capabilities, risk aversion, market dynamics, customer SLAs, and other mitigating factors.
Closed-Loop Automation
Combining these three pillars of the Adaptive Network enables what's referred to as "closed-loop automation", and is the next big thing in the telecom space, and for very good reasons. Depending on the operator, policies are created and implemented where the network can self-configure, self-heal, and self-optimize over time for a variety of situations.
This doesn't mean operators have to hand over full and autonomous control of the network to the network, which inevitably invokes numerous Hollywood blockbuster movie plots. Operators choose what actions will remain manual, semi-autonomous, and fully autonomous, based on their requirements.
Want to Know More?
Ciena and TeleGeography recently offered a free webinar entitled "Predicting the Future–Asia-Pacific Cable Seascape and Network Analytics", which included an overview of the APAC submarine network market by leading submarine network analysts, TeleGeography, an overview of the technologies that enable analytics by Ciena, and a real-world use analytics in the Southern Cross submarine cable network. Watch it on-demand here.
Are you attending Submarine Networks World 2018 from September 24-26 in Singapore? If so, we'll have multiple experts on hand for high-level and low-level discussions – your choice – related to submarine analytics and tools, the Adaptive Network, and any other submarine network-related topic. Come see us booth #4 in exhibition hall 404, we look forward to speaking with you in Singapore.

We also encourage you to check out the Ciena's participation at Submarine Networks World 2018: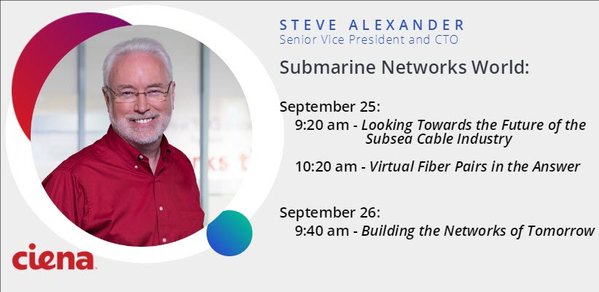 September 25 @ 09:20 – Keynote Panel: "Looking Towards the Future of the Subsea Cable Industry" with Steve Alexander, SVP and CTO, Ciena.
September 25 @ 10:20 – Keynote presentation: "Virtual Fiber Pairs is the Answer" with Steve Alexander, SVP and CTO, Ciena.
September 26 @ 09:40 – Keynote Panel: "Building the Networks of Tomorrow" with Steve Alexander, SVP and CTO, Ciena.
September 26 @ 11:45AM - Panel: "Assessing the Upgrades Market in a Data-driven Future" with Ian Clarke, Vice President, Global Submarine Sales, Ciena.