Fiber Deep: Bringing bandwidth to the edge
In today's highly competitive market MSOs need to put the necessary foundation in place to offer the best customer experience possible. Ciena's Elias Cagiannos explains how MSOs need a new toolkit to evolve to a more adaptive network, ensuring they can meet constantly changing bandwidth demands and business dynamics.
It is no secret that on-demand audio and video streaming services are surging as consumers turn away from traditional consumption models. In 2017, 54 percent of all TV households in the country had a Netflix subscription, up from 28 percent in 2011. These services are using massive amounts of bandwidth and often free riding on top of Multi-Service Operators' (MSOs) networks.
As I spend time meeting with Ciena's MSO customers, I understand that pressures don't stop there. For example, aging and inefficient analog infrastructures are hampering bandwidth growth. In turn, this is preventing them from introducing new services as higher speeds and symmetrical services such as picture and video storage in the cloud, social media and video chatting have become more important.
Not only do these infrastructures impede service agility, but the network is becoming increasingly complex to scale. MSOs are adding more equipment to address their dynamic needs – but lack the analytics and insights to proactively make the necessary changes and are instead constantly finding themselves having to react to problems. In today's hyper-competitive market, this can make or break a MSO's reputation when quality of experience means everything.
It's time to do something different. MSOs must realize a more adaptive network structure that not only modernizes their infrastructure, but also streamlines how they operate.
Furthermore, legacy infrastructures are becoming increasingly expensive to maintain and support. The problem is only compounded as MSOs are facing headend real-estate constraints such as the need to optimize energy consumption and reduce OPEX.
Needless to say, its complicated, and the old way just isn't working anymore.
It's time to do something different. MSOs must realize a more adaptive network structure that not only modernizes their infrastructure, but also streamlines how they operate.
There is a way: Fiber Deep
Recognizing the need to keep up with the increase in high-bandwidth applications, as well as grow their competitive edge by rolling out a better end-user experience for their customers, modernization efforts are underway.
MSOs are beginning to strategically upgrade each market to Digital Fiber Nodes (DFNs) in a Distributed Access Architecture (DAA). Where previously each service group could have upwards of 512 customers all on the same analog fiber node and use multiple coaxial amplifiers, this would be replaced with an average of 10 to 12 DFNs (or R-PHY devices), each with a new service group of 64 customers, pushing deeper into the access and increasing per-user capacity.
As a result of this evolution to a DAA and the next generation of cable, fiber is getting pushed closer to the end-user, or what is called "Fiber Deep". By pushing fiber closer to the subscriber, the access network is further converted from analog to digital, enabling more bandwidth per home passed, resulting in better connectivity and an improved quality of service.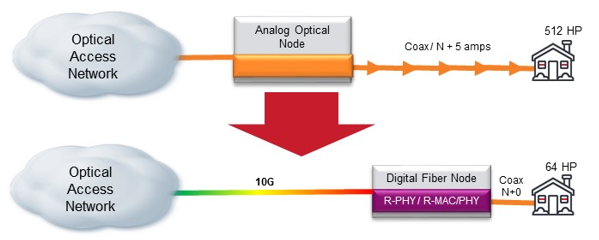 Fiber Deep Migration
To realize the benefits of this effort, MSOs cannot just digitize the fiber nodes, but must also put the network infrastructure in place that allows them to achieve:
Higher bandwidth connectivity,
Increased fiber utilization,
Significantly lower CAPEX and OPEX by consolidating headends and hubs, and
Ease of integration with their OSS/BSS systems via open platforms.
It's Time for a New Toolkit
We have listened to our MSO customers and understand to make this possible they will need a change to the status quo. Ciena is here to help MSOs build their networks differently and realize a more adaptive network infrastructure through our Fiber Deep Solutions.
We are also bringing new capabilities to the game – as part of our continued efforts to develop a portfolio to address the MSO's needs.
Open and modular in design, Ciena's Fiber Deep Solutions leverage our industry leading WaveLogic Ai coherent optics, Waveserver Ai stackable interconnect platform, as well as our 5170 Service Aggregation Switch.
But we are also bringing new capabilities to the game – as part of our continued efforts to develop a portfolio to address the MSO's needs we have introduced the 8180 Coherent Networking Platform and 6500 Reconfigurable Line System (RLS). These compact and modular platforms deliver more bandwidth and scalability between hub and headend locations, so MSOs can reduce energy consumption and space.
The 8180 combines a highly dense packet switch with Ciena's WaveLogic Ai coherent optics for advanced programmability. The 8180 is complemented by the 6500 RLS which is an open optical line system that can double a MSO's fiber capacity with support for both C and L-bands. These platforms bring a new level of optical reach and packet aggregation to help MSOs deliver capacity closer to their customers.
It doesn't stop there though, Ciena's Fiber Deep Solutions provide the tools, analytics and intelligence to better understand the network's needs. Through our Blue Planet software, MSOs can utilize advanced automation and simplify network operations. Additionally, Ciena's Design, Deploy, and Manage Professional Services ensure our customers success as they navigate the complexities of network modernization.
Migration Will Take Time . . .
The migration to a DAA and the resulting fiber densification will be done over many years, as operators build out their fiber networks. It will result in dramatic growth (illustrated in the chart below) that pushes fiber deeper to the edge and serves a fewer number of homes per node with higher capacities.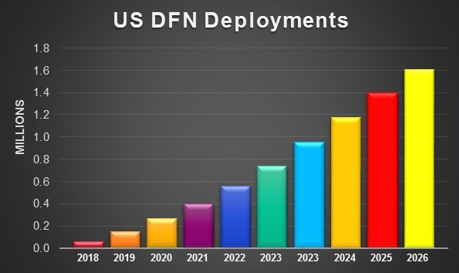 Source: Ciena
This means there will be tens and hundreds of thousands of nodes of traffic that will need to be backhauled to secondary hubs in the next few years.
. . . but it will be worth it
As MSOs embark on this journey they will see results critical to enabling them to succeed moving forward. They will be able to:
Eliminate out of date and expensive equipment while driving more bandwidth closer to end-users, and not have to worry about capacity constraints;
Seamlessly integrate services, platforms and management tools to drive greater efficiencies and an improved engagement model for greater customer retention; and
Use less energy and resources by consolidating existing headends and hubs to reduce environmental impact and operational cost, and facilitate future CORD/HERD initiatives.
So get ready, as the future is here, and at Ciena we are excited and invested in helping our customers start this journey of building the next generation of adaptive MSO networks. Join us!
Visit Us at Cable Next-Gen Technologies and Strategies
Want to find out more about our Fiber Deep Solutions and discuss the future of adaptive networks? Then visit us at Next-Gen Technologies and Strategies in Booth #22. See you in Denver!