Ciena's 2018 Holiday Bundle is Here!
Spend your downtime this holiday season applying the collective knowledge of some of the world's best and brightest minds in telecom. With this incredible limited time offer from Ciena you'll get four amazing resources and a bonus gift you can't get anywhere else.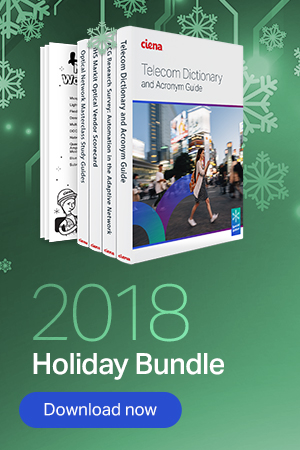 OOPS! This offer has expired, but that doesn't mean you can't get some of these great resources. Just visit our eBook Resources page to find what you need.
While work may slow down toward the end of the year, your need to learn never takes a break. So what better way to boost your brains, increase your knowledge, and have a little fun, than with this year's Holiday Bundle offer from Ciena?
Back by popular demand, this year's downloadable bundle is a collection of some of the best network resources curated just for you covering key topics like adaptive networking and automation trends, the latest acronyms and terms, industry research and benchmarking, and more. In this bundled download you'll stock up on all of these fantastic resources, brought to you by the experts you trust at Ciena, and only available right here.
And as a bonus, we're adding in a brand-new Ciena Activity Kit to bring some fun to those long winter months, giving your brain a break and letting your inner child get out and play for a bit. Here's the full menu of what's in this year's holiday bundle:
Telecom Dictionary and Acronym Guide:
Updated and expanded, this Telecom Dictionary and Acronym Guide is the most robust and comprehensive terms guide Ciena has ever created. By merging our terms and acronyms guides from our 5G, Optical, Fiber Deep, and NFV/SDN collections, with a new and improved 4th Edition of our Acronym Guide, we created one guide to rule them all! Get it, print it, quiz your colleagues. Just don't miss it.
ACG Research Survey: Automation in the Adaptive Network:
Industry analyst firm ACG Research talked to service providers from around the world to find out how network automation is impacting business, technologies, strategy, and growth for coming years. From key drivers to top challenges, expectations and analytics, this report captures the state of network automation like nothing else.
IHS Markit Optical Network Hardware Vendor Scorecard:
The only report of its kind, the IHS Markit Scorecard evaluates the top optical network equipment vendors on criteria using concrete data and metrics, including direct feedback from buyers, vendor market share, market share momentum, financials, brand recognition, reputation for innovation and other benchmarks. This "excerpts" report was provided exclusively for Ciena and is full of industry data you can't find anywhere else.
Optical Network Master Class Study Guides:
Did you miss our popular 'Back to School' Webinar series earlier this year? Well, here is your chance to catch-up and get copies of all four presentations. Learn about the technology enabling next-gen networks to become smarter, more agile and more responsive, and how a programmable infrastructure enables more efficiency and scale. These Study Guides give you the best webinar content from our Back to School series and equips you with the knowledge you need to make 2019 your best year ever.
BONUS: Ciena's Holiday Bundle Activity Kit:
Even the most dedicated network ninjas need to take a break every now and then and have some fun. In this year's holiday bundle, grab these 3 custom-designed Activity Sheets featuring a seriously challenging Networking Terms Word Search, a Lightworks Lou Coloring Sheet, and challenging Submarine Cable Maze. Give yourself a break, print a few for around the office, and celebrate the season with some fun.
That's four incredible resources and the bonus activity kit, all free, all for you, all right now. In less time than it takes to microwave a mug of hot chocolate, you can get instant access to all of these resources with a single download.
You can't get this content anywhere else, so do yourself (and your network) a favor and grab it today.