Ciena Waveserver and 5430 get high marks with Lightwave Innovation Awards
Ciena brought home high marks from the Lightwave Innovation Awards. Both the Waveserver Data Center Interconnect and 5430 Packet-Optical Platforms picked ups 4.5 ratings in the Optical Transport Platforms category at this year's awards. Click through for all the details and comments from the judges.
For the second year in a row, Ciena brought home high rankings from the Lightwave Innovation Awards. This year, both the Waveserver Platform for data center interconnect (DCI) and 5430 Packet-Optical Platforms took home high scores in the award's Optical Transport Platforms category.
Introduced in May 2015 as a cost-effective, multi-terabit metro DCI platform, Waverserver is built for easy ordering, fast installation, and server-like management. Ciena designed the platform to the scalable and modular priorities that Internet Content Providers (ICPs), Carrier Neutral Providers (CNPs), and other data center operators demand.
"Thanks to the 16QAM modulation format, the Ciena Waveserver provides an impressive 25-Tbps of fiber capacity per rack." –Judge's Comment
Updated in April 2015, the 5430 Packet-Optical Platform allows for 15 Terabits of total switching capacity, as well as hitless service upgrades and MEF-based Ethernet services. These new capabilities enable up to 5X more port density, more than 4X more total switching capacity, and a 60% reduction of power consumption per switched Gb/s than the previous 5430 platform.
"The highest-capacity optical switching platform on the market has broad appeal due to growth in traffic demand by CSPs and ICPs." –Judge's Comment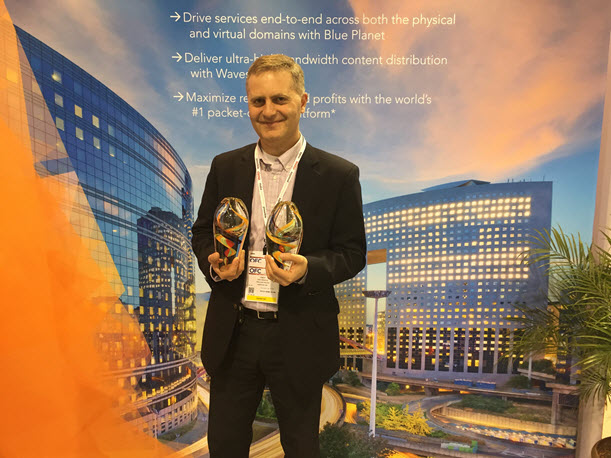 Ciena's Fady Masoud proudly displays the two Lightwave Awards given for our Waveserver and 5430 platforms
The Lightwave Innovation Awards review and recognize optical communications technology, rating each entry on a scale of 0 to 5, the 5-star rating indicating an innovative new product that raises the bar for performance standards. Both Waveserver and the 5430 achieved a 4.5 rating, making them superb products that "set new standards for performance and provide groundbreaking and new technical milestones." A panel of judges—each subject matter experts and influential network operators across the industry—selected this year's winners.
Congrats to all of our Ciena teams that worked so hard to turn these dream machines into a reality.