Can networking be that easy? What's possible with MEF 3.0, orchestration and great teamwork
Network automation was the topic of the show at MEF17. We detail two proof-of-concept demos at the show where Ciena Blue Planet teamed with other industry leaders to automate services across the network.
"Alexa, connect me to AWS EU-West-1."
Networking and cloud are critical enablers for business. We need the process of connecting an office computer across a high-performance network into mission critical compute, storage, applications and data in the cloud to be seamless and easy. But, can our service providers make this a reality?
This year's MEF17 Conference and Exposition in Orlando, Florida, November 13-16, 2017, showcased technologies that can ultimately enable the fulfillment of the vision MEF calls the Third Network - a network that is agile, assured and orchestrated. MEF is the same organization, formerly known as the Metro Ethernet Forum, that defined standards around Carrier Ethernet services – an $80 billion dollar market today.
At the MEF17 event, MEF announced MEF 3.0, a transformational framework for defining, delivering and certifying new, dynamic and on-demand services – serviced based on the success of Carrier Ethernet work, but also bringing in lifecycle service orchestration (LSO) and multi-provider interaction models for a multitude of other services like optical, IP and cloud.
Ciena used the event to show off its three new packet platforms that bring 100GbE closer to the network edge, as well as updates to its packet-switching platform. These enhancements enable service providers to cost-effectively expand and scale their Ethernet Business Service offerings up to 10GbE and 100GbE and drive new MEF 3.0 services.
At the MEF17 event, MEF announced MEF 3.0, a transformational framework for defining, delivering and certifying new, dynamic and on-demand services.
MEF17: How to automate essentially everything
The conference featured a high-powered line-up of Service Provider speakers representing diverse views from around the globe. They talked about the emergence of new more agile, assured and orchestrated networks. Automation was a major theme. Operators are thinking about how to automate essentially everything. Coordinating the execution of automated tasks across different domains, in other words, orchestration is also seen as critical.
Services need to integrate multiple domains (wide area network (WAN) and cloud), multiple technologies (software defined networking (SDN) and network function virtualization (NFV)), and multiple vendors. And while we are still in the early days of transformation, there is clearly significant progress being made towards getting to this new network.
MEF17 Proof-of-Concept Showcase

As in previous years, the part of the MEF17 event we found most impressive was the MEF hosted a Proof-of-Concept Showcase. The PoC showcase brought together the world's premier network operators and hardware/software vendors, all collaborating to bring together the latest networking technologies like SDN, NFV, MEF's Lifecycle Service Orchestration (LSO) and MEF 3.0. The mission, of course, was to give a glimpse of how a future MEF 3.0 network might work, but also show something "cool."
Ciena participated in two PoCs at this year's event; one led by our customer Windstream that showcased intelligent automation of on-demand wave services across a multi-vendor optical network, and another that included multiple carriers and vendors, as well as showcasing some other fascinating aspects. In this second PoC, Ciena partnered with AT&T, Colt, Orange, Amdocs, and Fujitsu to demonstrate the delivery of on-demand, MEF 3.0, enterprise and cloud services across a global virtualized multi-layer, multi-vendor, multi-provider fabric. The demonstration included orchestrated and automated delivery of high-performance Carrier Ethernet services from enterprise-to-enterprise across different permutations of AT&T, Colt and Orange's network. One demonstration showed elastic Ethernet with automated bandwidth adjustments made in response to changes in network traffic. And another showed real "coolness" by having Alexa confirm, "you are now connected to AWS EU-West-1."
Making the network easy allows customers, end-customers, to focus on their business priorities. But making the customer experience truly seamless is not that easy. It requires the right technology, great teamwork and a high-caliber system integration. Some of the technical highlights:
Application integration with Alexa Skills to control and "simplify" the end-user interface
Ciena Blue Planet's TOSCA-based service templates providing intelligent, intent-based automation of an enterprise application – coordination of enterprise edge equipment, WAN and cloud application
Interaction between multiple carriers, business applications and resources driven through MEF LSO APIs – i.e., Cantata, Sonata, Legato
Colt Novitas orchestrating:

Creation of hosted connection to cloud
Connectivity across Colt's global IQ Network

AT&T and Amdocs using ONAP to orchestrate the AT&T network
Orange and Fujitsu using ONAP and Fujitsu's Virtuora Controller controlling the network and providing real-time analytics on traffic utilization (not shown in diagram)
Wide-area network (WAN) interconnecting provider networks from AT&T labs in Plano, TX, Orange labs in Lannion, France, Colt's production IQ Network across the UK and a cloud provider in Ireland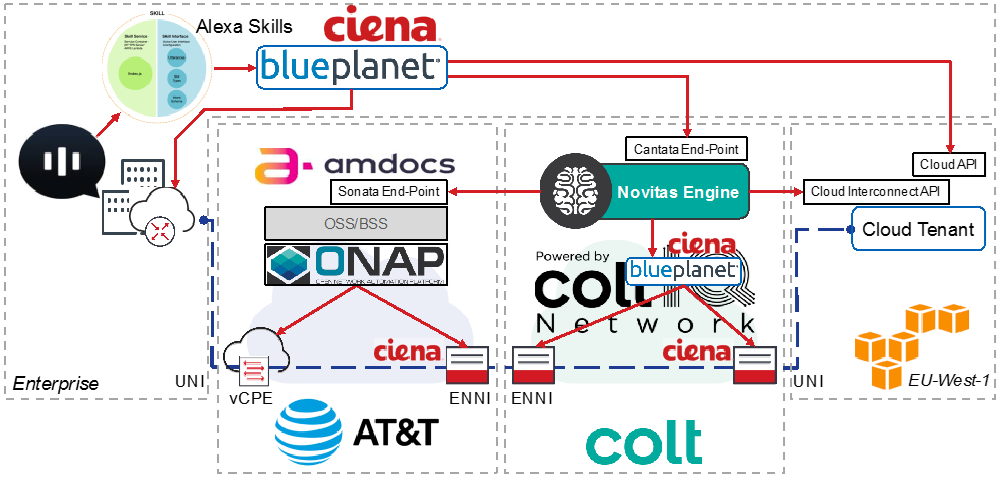 MEF and industry analysts were also impressed. Blue Planet was given awards for Excellence in Service Orchestration and Service Analytics. And, the AT&T, Colt, Orange, Ciena, Amdocs, Fujitsu demonstration was awarded the Third Network Proof of Concept Award for showcasing technology, innovation with MEF 3.0 and MEF Lifecycle Service Orchestration (LSO). This was the second consecutive year Ciena was awarded a MEF Proof of Concept Award for Technology and Innovation.
So, where do we go from here? As we heard Alexa respond when prompted to with an unrecognized command, "I'm sorry, my Ciena engineers haven't trained me to do that yet." I guess we'll just have to stay tuned to see.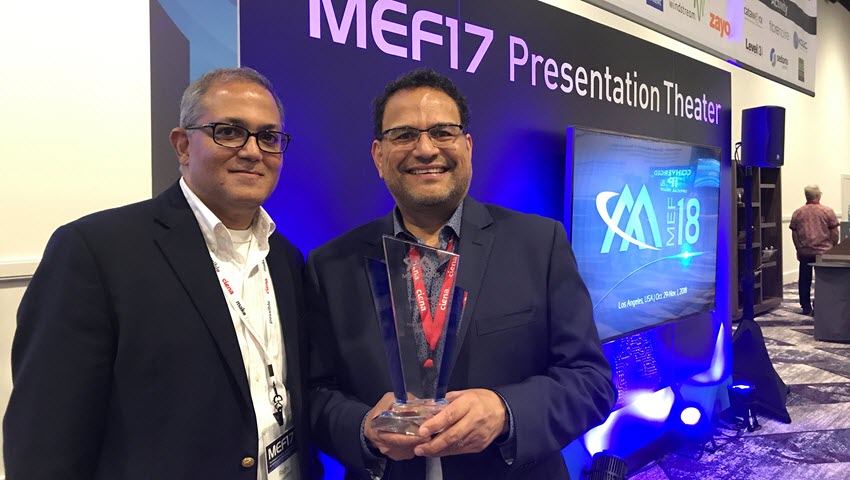 Raghu Ranganathan and Marco Naveda, two members of Ciena's CTO office who were instrumental in the creation of the demonstration, holding the Proof of Concept Award for Technology and Innovation.