A Perfect Score for WaveLogic Ai from Lightwave Innovation Reviews
An independent panel of third-party judges has recognized Ciena's new WaveLogic Ai chipset with a perfect score of 5/5 stars in this year's Lightwave Innovation Reviews.
Two days, two great industry recognitions. In my blog post yesterday I shared the news that Ciena had taken the crown as #1 Optical Transmission and Switching equipment supplier according to a recent IHS survey of global service providers. Today, Ciena's leadership is again on display as our WaveLogic Ai chipset received a perfect score of 5/5 stars from Lightwave Innovation Reviews.
This rare 5/5 star recognition is worth celebrating, as this acknowledgment from some of the top minds in optical networking is a signal that we're solving real problems in innovative new ways. Presented annually by Lightwave, the Lightwave Innovation Reviews program distinguishes top products and solutions available within the optical networking industry as determined by an independent panel of third-party judges. These judges include industry executives and analysts from a wide variety of service providers, technology developers, industry analysts, and journalists critically assessing factors such as originality, innovation, customer impact, novelty of approach, cost-effectiveness and overall method of addressing a new or existing requirement.
This year only four products received a 5 star rating across the entire swath of categories reviewed, Ciena's WaveLogic Ai chipset being one of them for the category of Optical Transport Platforms.
"On behalf of the entire Lightwave team, my sincere congratulations go to Ciena, who earned a perfect score from this year's IR judges, for their WaveLogic Ai solution," said Rob Stuehrk Group Publisher of Lightwave. The judges' comments included:
"A truly disruptive product: very rich programmability, support of all reach from metro to submarine in one product; single wavelength 400G, FlexE, deep insight into real-time network performance and future-proof deployment. This product really stands out."
"Capacity optimization based on real time conditions of a route automatically has been talked about for a while. It's nice to see that has been realized on a product."
Stuehrk added, "These industry leading capabilities are needed by end-users and we salute Ciena for bring the WaveLogic Ai solution to market."
Announced in October of 2016, Ciena's new WaveLogic Ai optical chipset represents more than just an iterative improvement in our already industry-leading coherent optical tech specs. WaveLogic Ai represents the reality of a software-driven coherent modem that delivers a combination of scale, automation and intelligence that is foundational to today's network requirements.
There's a famous quote by American actor Will Rogers that goes something like this: "Even if you're on the right track, you'll get run over if you just sit there." This is the attitude Ciena has adopted in our drive toward constant innovation and improvement. This 5-star recognition from Lightwave Innovation Reviews, paired with the IHS survey we highlighted yesterday, provides a nice moment to pause and celebrate some of the key achievements of our teams and products.
If you missed yesterday's post on what customers really think about the top optical equipment vendors then check out this IHS Global Service Provider Survey.
Want to learn more about what makes WaveLogic Ai so unique? Check out the app note for the details.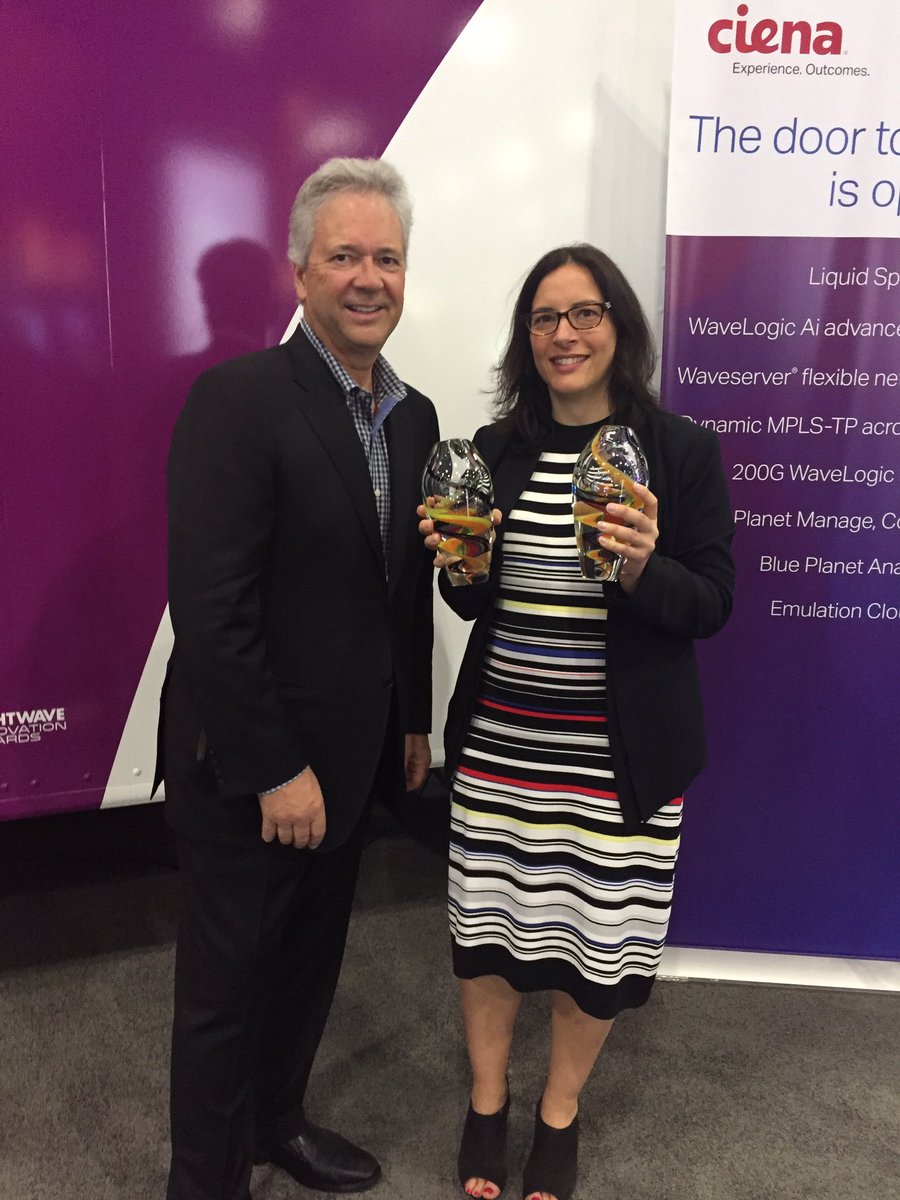 Ciena's Helen Xenos accepts two Lightwave Innovation Awards from Rob Stuehrk, Group Publisher at Lightwave.
About Lightwave
For more than 30 years, Lightwave (www.lightwaveonline.com) has delivered trusted technical, application and business insights to senior-level decision makers for optical communications worldwide. Lightwave serves technology vendors, communications carriers and major enterprises with a complete and nuanced picture of the optical communications business environment. Lightwave is a valued information source for information related to FTTx, networking, equipment design, MSO optics, and test and measurement for corporate executives, department heads, project managers, network engineers and others making strategic decisions that are critical to the success of their businesses. Lightwave is a unit of PennWell Corporation.

About the 2017 Lightwave Innovation Reviews
The Lightwave Innovation Reviews is in its fourth year of recognizing and celebrating the industry's most unique products and solutions that help optical communications professionals worldwide drive improvements and innovation in optical technology. Executives at Ciena, Intel, Lumentum, LightCounting Market Research, and Adva were among the third-party judges for the 2017 Innovation Reviews. Criteria used in the Innovation Reviews rankings include, first and foremost, unique technology or application thereof, innovation, ease of use, efficiency, reliability and contribution to profitability.