Ciena unveils WaveLogic Ai: Massive scale and automation for the self-driving network
Ciena has unveiled WaveLogic Ai, our next generation WaveLogic coherent optical chipset. WaveLogic Ai delivers a combination of scale, automation and intelligence that is foundational for enabling the vision of a self-driving network.
Today Ciena has unveiled our next generation WaveLogic coherent optical chipset. We call it WaveLogic Ai, and it represents more than just a step-improvement iteration in our already industry-leading coherent optical tech specs.
WaveLogic Ai is something more, it represents the reality of a software-driven coherent modem that delivers a combination of scale, automation and intelligence that is foundational to today's network requirements.
From conversation to implementation
Our industry has been talking about the need for intelligent optical networks for many years, and the industry push around SDN and open networks brought us closer to that reality. WaveLogic Ai denotes a move in this area from conversations to implementation.
WaveLogic combines new high-performance coherent capabilities – such as fully tunable bandwidth and extended reach – with unprecedented real-time access to network performance data. This allows for software-based network automation through the use of open APIs at a level never before possible with optical networks. This is the essence of what we call the self-driving network.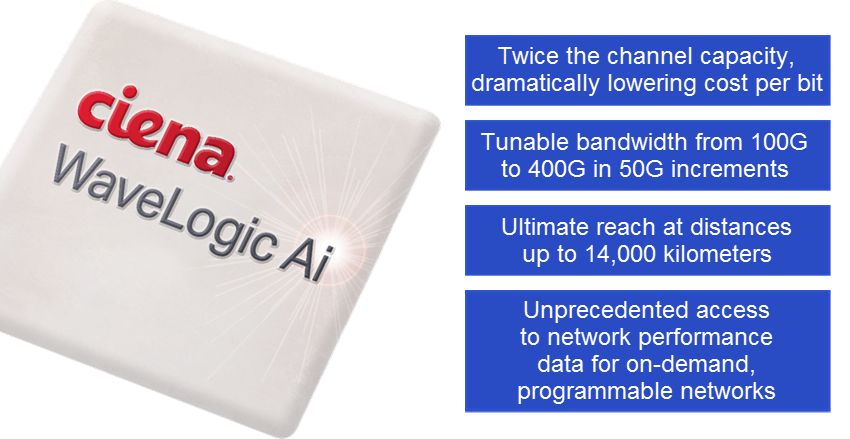 Fully tunable bandwidth with unprecedented reach
Like the previous generations of WaveLogic before it, WaveLogic Ai establishes entirely new benchmarks for performance and network economics. The chipset is capable of 400G single carrier transmission speeds for metro and DCI applications. It significantly increases possible reach at 100G and 200G rates, and optimizes for reach and bandwidth as the industry's first coherent modem that can tune capacity from single carrier 100G to 400G in 50G increments.
This allows network operators, and content/cloud providers to better match capacity to system margin, all with a single technology that can address any application, from high capacity, short-reach metro to ultra-long-haul and submarine.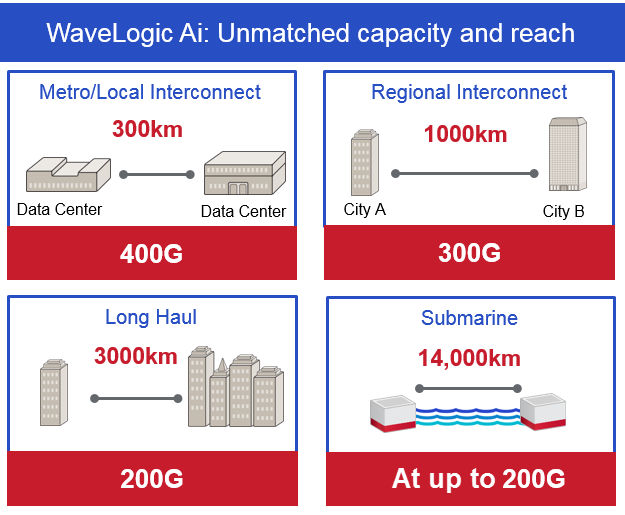 A software-driven chipset for a self-driving network
For all the critical functions optical networks provide to meet today's web-scale demands, all are weighed down with manual processes and limited hardware flexibility. New technologies such as programmable modulation formats enabling variable line rate transceivers aim to fix this issue. But if operators cannot get accurate, real-time link data from the network to determine the right channel capacity rate at any point in time, they cannot take advantage of the savings associated with the new technology.
Enter WaveLogic Ai, brought to you by the same DSP and optical propagation experts that eliminated dispersion compensation modules from the network and pioneered coherent transmission for commercial optical systems.
"To meet current and future demands, the Verizon network needs to be not only scalable, but also have the intelligence and programmability to monitor, control and respond in real-time to meet user demands. The introduction of Ciena's next-generation WaveLogic platform brings a new paradigm for optical networks and is an important step in our future network evolution."- ­ Glenn Wellbrock, Director of Optical Transport Planning, Verizon
WaveLogic Ai extensively probes the incoming signal, measures and exposes a tremendous amount of network performance data through open interfaces and provides granular bandwidth tuning capabilities to enable automated, programmable networks.
Users can access the following comprehensive real-time measurements, which are updated every 10ms, from WaveLogic Ai:
Transmit and receive optical powers
Polarization channel characteristics
Electronic chromatic dispersion compensation map
Error rates and conditions
Total and constituent electrical Signal-to-Noise Ratios (SNRs)
Transmission latency
With the embedded instrumentation in WaveLogic Ai, operators can now understand exactly how much margin is currently present in the network, as well as the optimal capacity they can deploy. Open interfaces on Ciena's products ensure this data can be put to use by Ciena or third-party software.
Combined with SDN analytics, applications such as predictive link failure now become possible, allowing operators to pre-empt outages with scheduled maintenance activities. And for the first time with optical infrastructure, network operators can access real-time link monitoring information to determine the optimal capacity for each channel—across any path, for any network fill—and tune to match that capacity with a single technology that can address any application, from metro DCI to transpacific submarine.
Product availability and timing
WaveLogic Ai will be implemented across the Ciena portfolio with first instantiations on the Waveserver and 6500 platforms. Customer trials are expected to begin during the first half of 2017, with global availability in the second quarter of 2017.
Talk to our WaveLogic Ai experts
Two of our strategic network evolution experts, Joe Cumello and Rick Dodd, hosted a deep dive into our new WaveLogic Ai chipset. You can also read this WaveLogic Ai Application Note that provides additional detail.