4 Things We Learned at #OFC17
From 400G to DCI to software-enabled optical networks, OFC'17 was full of news and innovation. We surveyed our experts for their key takeaways and here's what they said.
Almost 15,000 people descended on the Los Angeles Convention Center last week for OFC'17, making it one of the largest events of the year for the optical industry. It also makes it a magnet for big news around optical innovation, which was evident from the three far-reaching announcements coming from Ciena at the show (see Ciena Redefines How Optical Networks Are Built and Operated with Liquid Spectrum, Ciena Expands Addressable Market by Opening Global Distribution Channel for WaveLogic Coherent Technology and Jio Powers Digital Revolution in India with Ciena Solutions).
But there was much more to be heard and learned at the show. We surveyed our experts for their key takeaways and here's what they said:
DCI, DCI, and more DCI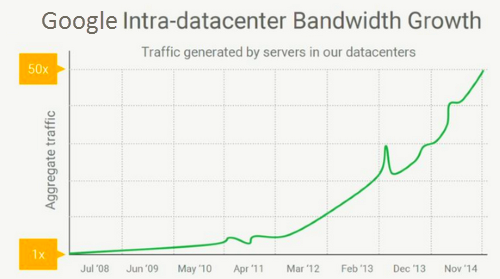 Industry analyst firm IHS Markit issued its new DCI market report at the start of the show, highlighting that the data center interconnect (DCI) equipment market grew nearly 50% in 2016. And indeed this red hot market was a big focus at OFC.
A session from one of Google's infrastructure execs created several headlines around the need to make significant gains in capacity and cost reductions. "Things have been great for the last five years, but we're rapidly approaching a wall, so we're looking for step-function changes, not incremental changes," said Google's Urs Hölzle during his session.
At Ciena's booth, a live demo of our just-announced Waveserver Ai DCI platform was on display showing a WaveLogic-driven 400G wavelength. And speaking of 400G wavelengths…
Lots of talk of new capacities at 400G and beyond
As would be expected, squeezing more capacity out of existing fiber was a recurring topic of the show. Google's stated need for a 10X improvement in capacity was just one example of the customer-side demand. With 100G now entrenched into many parts of the network, the focus of conversation was around the availability of higher capacities to accommodate the needs of DCI and core transport.
Our own Helen Xenos noted that "there was a lot of talk about advanced coherent technology and new modulation formats. At the Ciena booth, we were excited to not only be extolling the benefits of this new technology, but also the only vendor demonstrating this technology with our live single carrier 400G demonstration using WaveLogic Ai."
Another 400G item of note was on the pluggables side, with the 'secondary message' in Ciena's new partnership with Lumentum, NeoPhotonics and Oclaro being the intent to accelerate the market for 400G pluggable modules.
Next-Gen Reconfigurable ROADMs come of age
One interesting takeaway from OFC was the fact that both AT&T and Verizon highlighted the benefits that next-gen reconfigurable ROADMs are having on their networks. At two separate sessions, AT&T and Verizon highlighted the newfound flexibility that these ROADMs were bringing. A reconfigurable ROADM – also sometimes called a CDC ROADM short for the mouthful technology of colorless, directionless, and contentionless reconfigurable add-drop multiplexers – is an optical switch that allows any wavelength coming into the switch to be automatically sent to any switch/router port via a simple software command.
This optical flexibility makes the network more efficient, but also creates complexity in larger networks, which leads us to the next big topic of the show…software.
Software automation brings smarter optical networks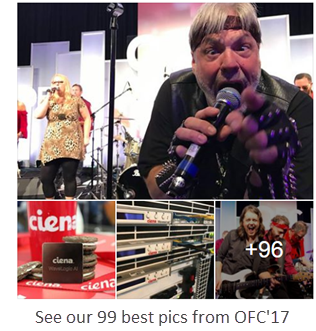 While there will seemingly always be a need for more fiber capacity, the focus of many network operators is increasingly turning to automating their optical networks in a more open SDN environment (e.g. Transport SDN). The two above-mentioned references by AT&T and Verizon on the benefits of CDC ROADMs were both in the setting of a more software-centric and automated optical network.
This theme of automation and SDN-enabled optical networks was the driver behind many conference sessions and several vendor announcements, including Ciena's unveiling of Liquid Spectrum the week before the show, which features advanced software applications like Bandwidth Optimizer and Performance Meter. These apps build on the integrated lifecycle management capabilities of Blue Planet Manage, Control and Plan (MCP) software, which was demo'd at the Ciena booth. Based on discussions with service providers and internet content providers alike, operators are embracing open, extensible operational models to bring programmability and simplicity to their network operations.
The Ciena booth also featured a demo of our new Blue Planet Analytics software, which includes new apps like Network Health Predictor that can intelligently predict (and thus avoid) failures across the network. There was strong interest in network analytics that spanned many customer types – from service providers to enterprises and even data scientists at the show. We also heard broad agreement that "closed-loop network automation is viewed as the next step in network transformation, with the need for further reducing costs the primary driving factor."
Looking for a few other views on the news from OFC? We've collected a few below. We also have a video where Ciena's Joe Cumello talked with Lightwave from the show flow:
Ciena uses machine learning to create Liquid Spectrum