Making an impact with Pride at Ciena
Leaders from our Pride at Ciena employee resource group share how they are providing support and advocacy for LGBTQ+ individuals and allies at Ciena and in their local communities.
June marks Pride Month in many countries, a time for people around the globe to reflect on the importance of inclusivity, diversity, and equity. Pride Month is a time to honor the voices, stories, and experiences of those part of the LGBTQ+ community, while also recognizing the ongoing work that still needs to be done to create a more inclusive and accepting society.
At Ciena, acknowledging and celebrating Pride Month goes beyond symbolic gestures – it signifies our commitment to fostering an environment that embraces diversity and celebrates every individual's unique identity. Our Pride at Ciena employee resource group (ERG) plays a pivotal role in cultivating an inclusive culture and building a sense of community and allyship for the LGBTQ+ community. But our Pride at Ciena leaders do not limit their commitment to helping the LGBTQ+ community at our own company; many spend their time providing support and advocacy for LGBTQ+ individuals and allies in their own local communities.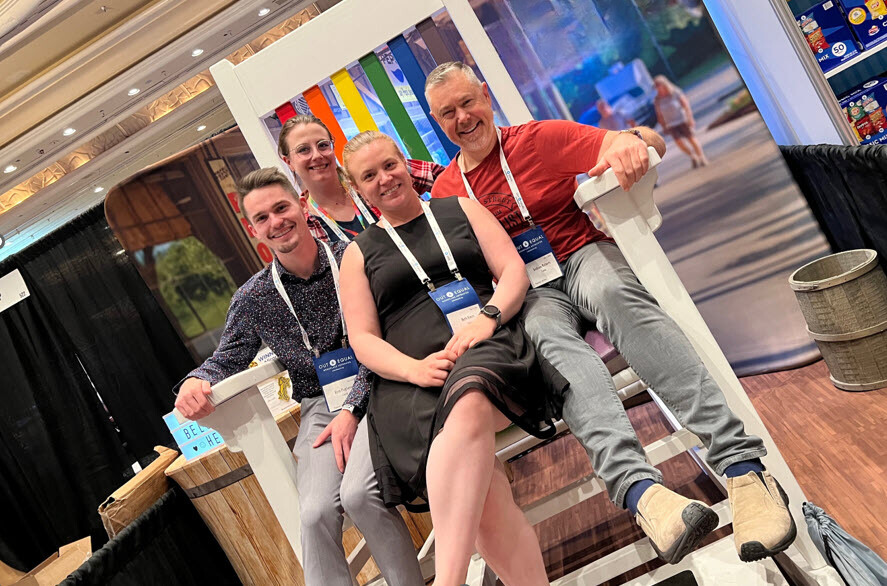 Beth Evans (pictured left in the front middle), Pride at Ciena APAC Lead and a Field Marketing Leader in ASEAN and North Asia, has taken on this leadership role to make a difference in the lives of LGBTQ+ employees and individuals across Asia.
"The driving force behind why I volunteered to be in this role is to see if I can enhance the experiences of LGBTQ+ people in as many parts of Asia Pacific where Ciena does business as possible. I want people to feel comfortable bringing their whole selves to work," said Beth. To do so, she is establishing a Pride at Ciena ambassador network in various countries across Asia to organize events, build enthusiasm, and mobilize the LGBTQ+ community within the region as much as possible.
Beyond her involvement with Pride at Ciena, Beth volunteers as a mentor in a joint program with a LGBTQ+ professional networking community and an LGBTQ+ university alliance in Hong Kong. Through this program, Beth is paired with LGBTQ+ and allied university students and meets with her mentees throughout the year to offer career guidance. She also volunteers with an LGBTQ+-oriented dragon boat team as they prepare to compete in the Gay Games 11, to be held in Hong Kong in November 2023.
Beth's advocacy and outreach efforts for Pride at Ciena and her local community have been amplified through the Ciena Cares volunteering and giving program, as it rewards volunteers with $25 USD for every hour volunteered and matches all employee donations up to $5,000 USD.
"It's a great bonus that Ciena matches our volunteer hours with funds you can donate to any charity registered with Ciena Cares," said Beth.
Similarly, Ezra Pugliano (pictured right), Pride at Ciena Atlanta Lead and an Associate Account Manager, has experienced the benefits of our Ciena Cares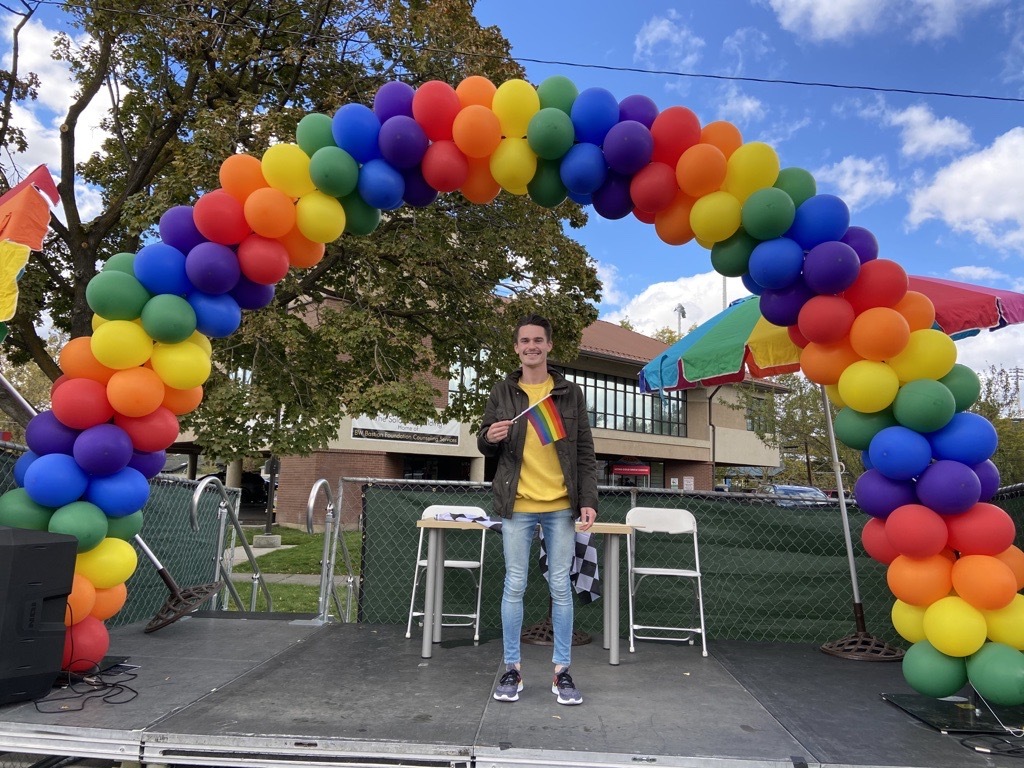 program in multiplying his volunteer efforts for the Pride community and has even become a Champion of the program.
"It's one of my favorite things about working for Ciena. I get paid to volunteer, and then I can donate the volunteer rewards to a non-profit of my choice which means so much to me," said Ezra.
When Ezra joined Ciena in February 2022, he immediately got involved with Pride at Ciena. He joined the Pride at Ciena Americas team and took it upon himself to lead the Atlanta area. "I am so involved with Pride at Ciena because it's easy when you feel empowered and enjoy the environment you are working in. Everyone at Ciena is working together to better the employee experience," said Ezra.
One of his first accomplishments was organizing a Ciena team to march in the Atlanta Pride Parade, with over 25 employees, their partners, and friends attending. Ezra has also been collaborating with student-run LGBTQ+ engineering organizations at universities, providing insights to students about what it's like to work in the technology industry.
"Some of my most positive memories at Ciena have been being able to leverage my voice for others, like when we participated in the Atlanta Pride Parade. It gives me a lot of joy to advocate for my community," said Ezra.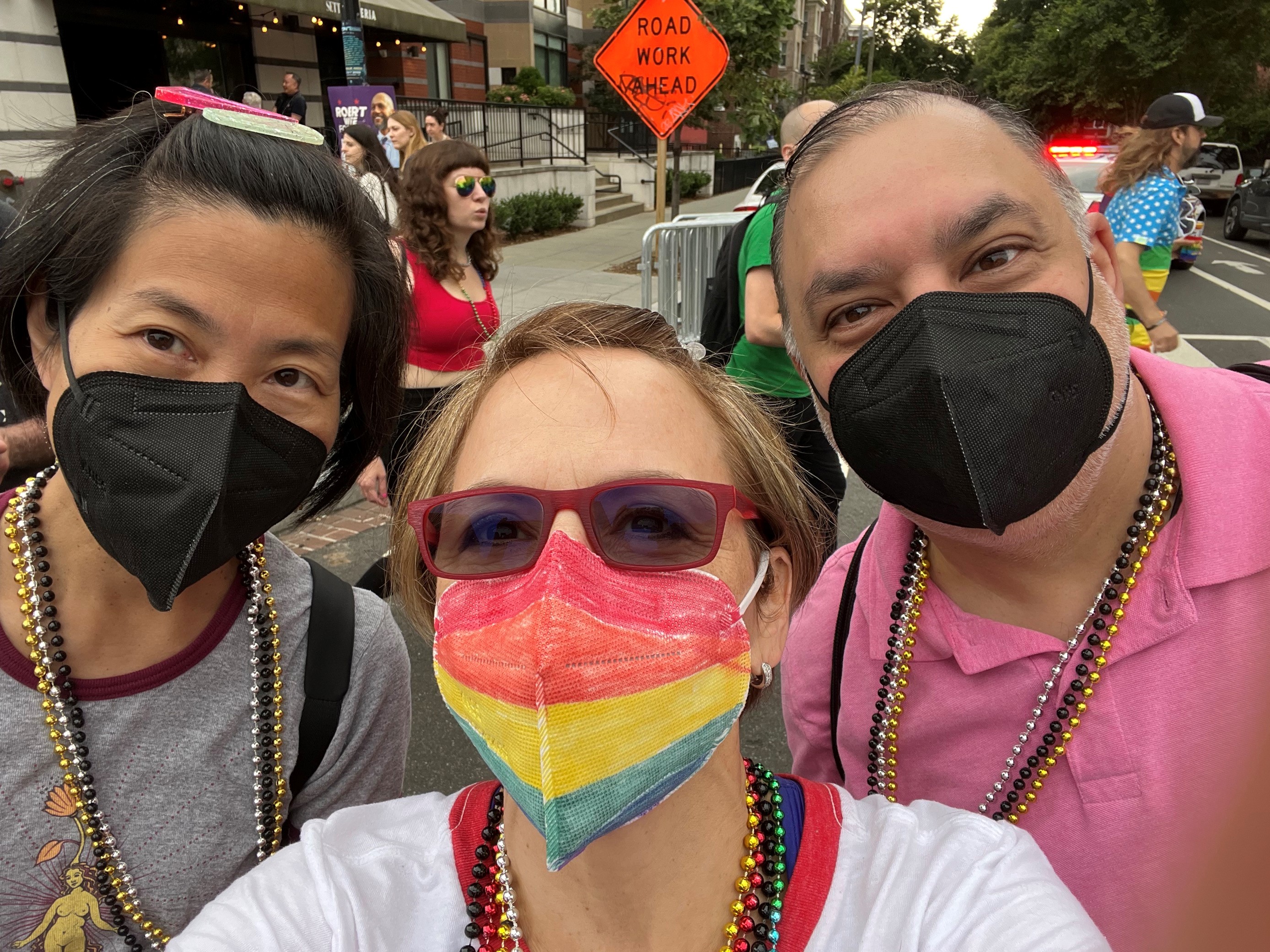 Another passionate advocate within Pride at Ciena is Christine Keck (pictured left in the middle), who serves as the Pride at Ciena Americas Co-Lead and is a Director of External Communications. Christine's commitment is deeply rooted in her relationships with friends in the LGBTQ+ community.
"I have many friends in the LGBTQ+ community, and I've had them in my life for decades. I will continue to be a strong ally for this community as long as my rights are different from those that my friends in the community have – full stop," said Christine.
As Co-Lead of the Pride at Ciena Americas region, Christine hopes to improve the acceptance and empowerment of members of the LGBTQ+ community and give them more visibility and opportunity than they have otherwise had in the workplace.
"I want people in this community to know there are opportunities for them in the technology industry and for their skillsets to be celebrated. I want everyone to be recognized for equal contributions to our industry, build amazing networks, help solve people's problems, and for Ciena to benefit from the diversity of every one of our staff members," said Christine.
Outside of her volunteer work with Pride at Ciena, Christine has organized a Ciena team to participate in the Whitman-Walker Health (WWH) Walk to End HIV, where she raised funds for the organization and walked in support of WWH's mission.
Ciena is dedicated to creating a workplace environment where everyone feels included and empowered to make a difference. Through the efforts of passionate volunteers like Beth, Ezra, and Christine, we are not only transforming our organization to better support our LGBTQ+ colleagues and allies, but we are also striving to make a positive impact in the communities that we live in.