What's new from Ciena in optical? The breadth of innovation may surprise you
Once again Ciena is breaking barriers across both performance and footprint-optimized coherent optics, learn about our latest optical innovations here.
Note: This blog was updated in May 2022
With fewer in-person engagements in our lab facilities with our global customers and analysts over the past few years, it has become more difficult to keep up with the latest developments and products. At OFC, the first in-person event in a long time for many of us, we were excited to share our most recent innovations with attendees! But if you couldn't make the event, we've got you covered. This blog outlines all of the latest and greatest Optical product offers and developments from Ciena - as our innovations go far beyond the OFC show floor!
My colleague Gina has provided the scoop on what's new at Ciena with Routing and Switching, so now, would you like to find out what's new from Ciena in Optical?
To get straight to the punchline, we are breaking new technology barriers across both performance and footprint-optimized coherent optics, which we showcased at OFC by highlighting the industry's 1st, 70Gbaud highest performance 400G QSFP-DD pluggable in WaveLogic 5 Nano and turning on 107GBaud mode, the highest symbol rate supported in a coherent product to date, in WaveLogic 5 Extreme.
Our R&D investments and the breadth of innovative products and software we are delivering may surprise you. On the other hand, for folks that know us well, it's simply what you have come to expect.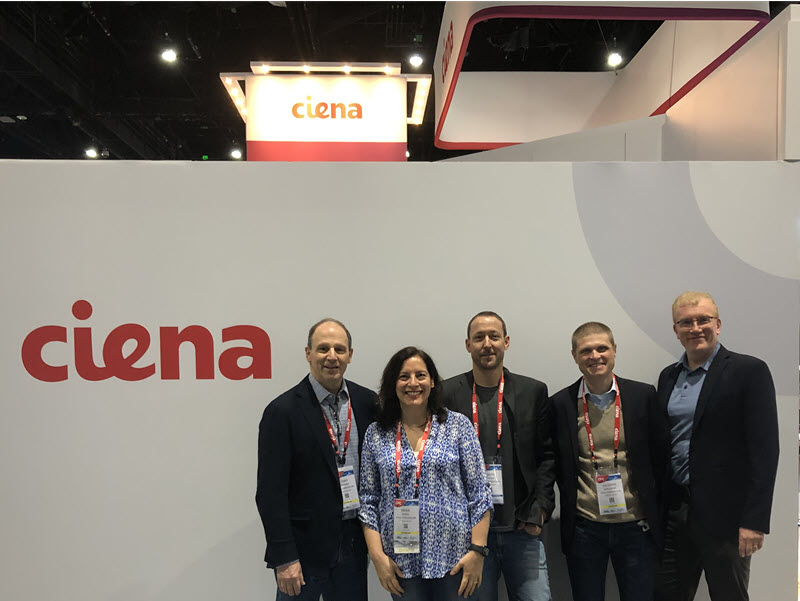 Members of Ciena's Optical Team
From left to right: Dino DiPerna, Helen Xenos, Joe Shapiro, Giuseppe Bordogna and Ian Betty

Let's talk coherent optics
Since we started shipping WaveLogic 5 Extreme 800G solutions two years ago, our capabilities have expanded to now include multiple bauds (to adjust signal width to line system channel plan), L-band (enabling double the fiber capacity), and most recently, wire-speed encryption (to efficiently secure all in-flight data). All of these features are actively being deployed, as per announcements with Colt and JPMorgan Chase, enabling improved networking efficiencies and security capabilities.
As another industry first accomplishment, the Ciena team also demonstrated the flexibility of the Wavelogic 5 Extreme DSP with a live traffic demonstration at OFC of signal transmission operating at 107Gbaud – the highest symbol rate supported in a product to date. Higher symbol rate translates to higher performance, and a key customer use case would be to deploy 800Gbps wavelengths across longer distances in their network.
"Never has an optical vendor had such a staggering generational lead in optics as Ciena, which shipped nearly 90% of the industry's Gen90P 800G interfaces by the end of 2021." - Cignal AI, "OFC 2022 – Sneak Peek", Feb 2022
Pluggable Innovation. Maximum Choice.
Ciena's coherent technology innovation extends into coherent pluggables with WaveLogic 5 Nano. Coherent pluggables are a hot topic as they deliver significant power and footprint savings, enable new coherent aggregation routing architectures, and extend the capacity and ease of use benefits of coherent optics to new application spaces.
OFC was the first public venue where we showcased the breadth of our WaveLogic 5 Nano portfolio. Pushing the technology envelope once more (that's the only way our coherent modem team operates), multiple performance profiles have been implemented in the coherent DSP to address diverse customer requirements.
Looking for interop? We've got that. A large number of vendors, including Ciena, are building the 400ZR ecosystem to address metro data center interconnect (DCI) demands. Ciena recently hosted the OIF multi-vendor 400ZR plug fest in our facilities:
🚨🚨OIF will host the FIRST-EVER public multivendor 400ZR interop demo at this year's @OFCConference. #OFC22 #400ZR #datacenter #interoperability pic.twitter.com/BSm2rI3ork

— OIForum (@OiForum) March 1, 2022
In fact, our full WaveLogic 5 Nano interoperable pluggable portfolio was on display at OFC in live demos, and included 400ZR, OpenZR+, and ITU/OpenROADM pluggables.
Need to go farther? No problem. We also have the industry's highest performance 400G QSFP-DD pluggables that we call "Packet Max", running at 65 and 70GBaud, the highest symbol rate supported in plugs today. Customers are able to select the option most suitable for their specific use case, and address traffic requirements with the least number of optics, reducing costs, reducing site visits, simplifying the network and accelerating time to service.
What's your consumption model?
How would you like your coherent optics? In a fully integrated system consisting of a transponder? An OTN switching platform? A router? Or, would you prefer your optics in a stand-alone module for you to integrate into any product you like? As network providers around the globe have diverse networking and operating requirements, they want choice in how they consume the technology. This is why we offer the full suite of solutions, including 51xx and 81xx routers, 6500 Converged Packet Optical Platform, Waveserver 5 high bandwidth interconnect, and stand-alone coherent pluggables and modules.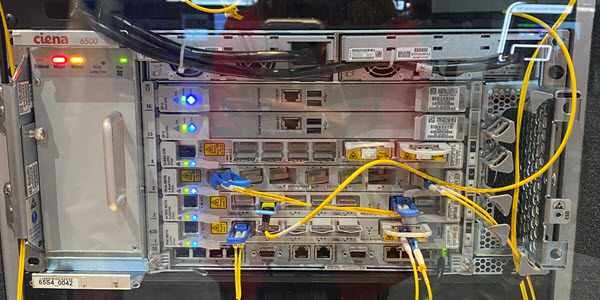 The new 6500-D4 with mix of WaveLogic 5 Extreme and WaveLogic 5 Nano options

Waveserver 5 with mix of WaveLogic 5 Extreme and WaveLogic 5 Nano options
Fully instrumented, programmable and open line systems complete our portfolio. Our Reconfigurable Line System (RLS) is the first modern disaggregated line system offering integrated ASE loading to simplify wavelength turn up, speed up restoration, and enable simple expansion into the L-band. The newest member of the portfolio, Coherent ELS, is a coherent-optimized hardened open line system designed to meet next-generation photonic requirements at the network edge.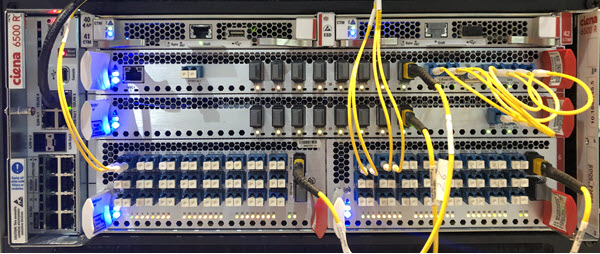 6500 RLS C&L-band configuration

Coherent ELS

Bringing it all together with software
We don't just innovate in hardware, but also in software, as this leverages the real-time telemetry and open programmability offered by our optical solutions to drive business agility. So, get ready for 3D multi-layer visualization! Ciena's Manage, Control and Plan (MCP) domain controller provides a single pane-of-glass for multi-layer network operations, helping accelerate operational workflows and optimize performance across multi-vendor IP/Optical infrastructure. There's no longer a need to swivel-chair between systems and manually correlate data. Advanced analytics are also integrated within MCP's unified interface, providing operators real-time visibility of the performance of their optical underlay with our MCP Liquid SpectrumTM apps, and their IP layer, with MCP's Adaptive IP TM Apps. You can see here – how MCP's multi-layer intelligent network control enables rapid IP service assurance by mining available optical capacity.
Delivering the innovation you expect and rely on
As you can clearly see, these last few years haven't been quiet for Ciena's R&D teams who have been working to drive innovation in our work. As travel and in-person engagement resume, we look forward to discussing and showcasing the innovations you expect from us and that you need in your networks.