Own 5G. Own the Edge.
5G has quickly gone from hype to reality with live commercial deployments taking place worldwide. How can network operators best compete in this hyper-competitive market to help them own the edge? By taking an adaptive approach to designing best-in-breed 5G networks that are open by design, automated, and highly scalable.
5G is only two characters long yet encompasses the entire mobile network infrastructure. From 5G User Equipment (UE), such as smartphones and IoT devices, to edge and core data centers where network and Over-the-Top (OTT) consumer and enterprise applications are hosted, and everything in between. This end-to-end service path traverses wireless and wireline domains, so when you think of it, a 5G network is an expansive packet-optical wireline network with 5G New Radios (NR) and antennas hanging at the edge.
This means the only wireless part of an end-user's content journey — humans or machines (think IoT) — is from User Equipment (UE) to the Radio Unit (RU) atop a cell tower or side of a building. The remainder of the journey is over wireline networks comprised of physical and virtual network elements. Microwave backhaul can be, and is, used in certain cases. But to ensure higher capacity and a faster, easier upgrade path into the future, there's simply no viable alternative to packet-optical wireline networks. This is increasingly the case with order of magnitude increases in speed and number of 5G endpoints.

Figure 1: End-to-end 5G service path
The criticality of xHaul transport networks
Fronthaul, midhaul, and backhaul transport networks, collectively referred to as xHaul, are critical to any successful rollout of 5G services. This is because xHaul transport networks interconnect RUs, Distributed Units (DU), and Centralized Units (CU), which comprise the Radio Access Network (RAN), to the 5G Core. As end-to-end (E2E) Service Level Agreement (SLA) performance guarantees provided by network slicing are eventually offered over 5G networks, the importance of xHaul networks is further increased, because the majority of the E2E service path is over wireline networks.
This will be less so for use cases such as ultra-reliable Low Latency Communications (urLLC), where Multi-access Edge Compute (MEC) is leveraged by situating storage and compute resources closer to Rus, thus reducing the wireline network distance. However, most content accessed via the RAN will still come from distant core data centers for the foreseeable future, while edge data centers are rolled out worldwide.
5G unleashes new opportunities and challenges
To successfully deliver on the full promise of 5G, wholesale and mobile network operators must leverage new technologies, new architectures, new operational models, and new skill sets, all the while supporting 4G networks that will be around for years to come. In fact, it's forecasted that there will be over 5 billion 4G connections still active in 2025, as per GSMA Intelligence's 2021 Mobility Economy Report (pdf). Therefore, converging 4G and 5G networks and the traffic they carry is critical to the ongoing financial viability of mobile and wholesale network operators. This is because building multiple network overlays is simply too complex, costly, and risky. This also means each operator will have their own unique 4G-to-5G migration journey.
Converging 4G and 5G networks and the traffic they carry is critical to the ongoing financial viability of mobile and wholesale network operators. This is because building multiple network overlays is simply too complex, costly, and risky.
Mobile network infrastructure has traditionally been closed and proprietary, forcing mobile network operators to choose a single vendor. This locked them into the product roadmap, investment focus, capabilities, and financial viability of a single corporation. A broader multi-vendor ecosystem that embraces openness allows operators to choose what they perceive as best-in-breed that best addresses their specific business needs.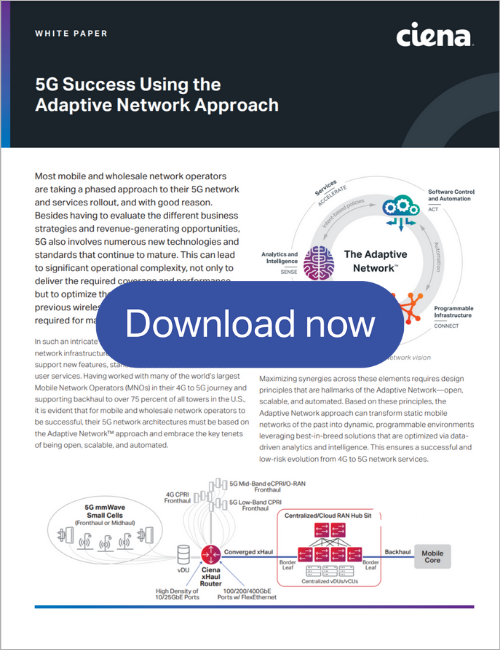 In addition to adopting an open approach, operators must evolve away from manual-intensive operational processes. This legacy approach simply cannot efficiently address the scale and increased complexity that comes with 5G. Operators must quickly adopt analytics-driven automation that will allow them to better manage the complete lifecycle of 5G services. This is also where openness and analytics-driven automation intersect. Taking an open and holistic approach to building out 5G networks means operators can choose best-in-breed automation software, which is critical to managing an open, multi-vendor, end-to-end 5G network with greater ease and lower risk.
How can mobile network operators gain the openness, automation, and scale required to achieve 5G? By taking an Adaptive NetworkTM approach.
The Adaptive Network approach to 5G
Operators rolling out 5G networks should follow the Adaptive Network approach leveraging Programmable Infrastructure, Analytics and Intelligence, and Software Control and Automation. All these elements are underpinned by the key technology principles of openness and scale. These foundational elements are also supported by professional services helping network operators evolve to their unique and ultimate network end-state, regardless of where they are along their 5G unique journey.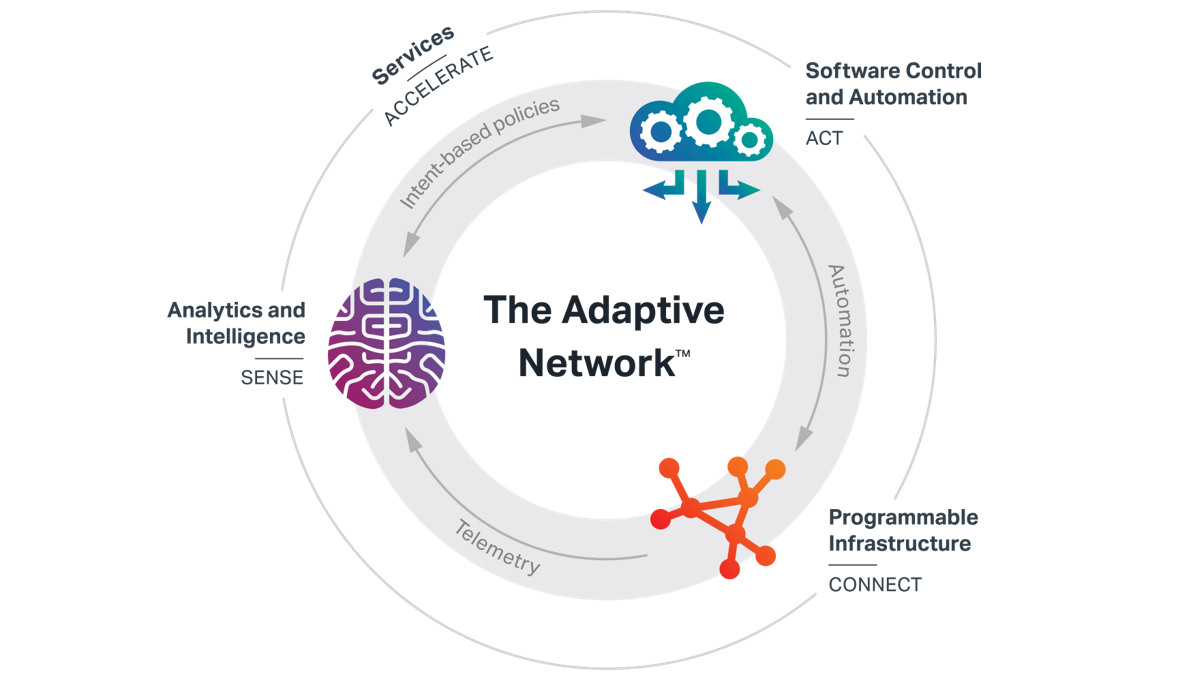 Ciena's 5G Network Solutions are based on our Adaptive Network approach to offer you openness, scale, and automation — crucial to supporting existing 4G while introducing new 5G services, all over a converged 4G/5G xHaul network infrastructure. To learn about how the Adaptive Network approach enables network operators to own the edge, download our 5G Success Using the Adaptive Network Approach white paper.
Own 5G. Own the edge. For network operators, it's that simple.