Ciena + Samsung: Collaboration paves the road to best-of-breed, end-to-end 5G networks
Ciena's 5G expert, Brian Lavallée, provides additional details on the company's joint efforts with Samsung
announced last October
to deliver best-in-breed, end-to-end 5G network solutions.
Last year, Ciena and Samsung jointly announced an agreement to deliver 5G networks solutions to market, combining Samsung's 5G RAN and Core with Ciena's xHaul solutions to create pre-validated end-to-end 5G networks. This joint effort is a testament to the rapidly evolving landscape that 5G is bringing to mobile networks.
The massive investments, technology shifts, and new service possibilities that 5G brings are driving mobile and wholesale operators alike to re-assess their network strategies, with a preference towards open, best-in-class ecosystems.
Let's dig into the forces driving these changes, and how Ciena's joint efforts with Samsung pave a new path for 5G networks that the legacy 5G vendor community just can't match.
Current State of the Global 5G Market
5G is set to be a true disruptor and key enabler of technology convergence, adoption, and digital transformation. It will provide both fixed and mobile wireless access connectivity offering significant improvements in speed, latency, availability, and enhanced performance through the eventual introduction of end-to-end network slicing.
However, the evolution from 4G to 5G will be a multi-year journey, with individual mobile and wholesale network operators having unique start and end points along a path determined by their business objectives and target end-users, markets, and applications spaces.
How's the global mobile network industry doing so far in terms of rolling out 5G networks? According to the latest GSMA Intelligence data, 1.8 billion 5G connections are expected by 2025, with developed Asia-Pacific and North America leading the way in 5G adoption reaching 53% and 51% of 5G connection rate penetration, respectively. This growth is driven by 80% of the $900 billion operators will spend on mobile networks between 2021 and 2025. Figure 1 illustrates how these investments have already led to 5G becoming a global phenomenon today.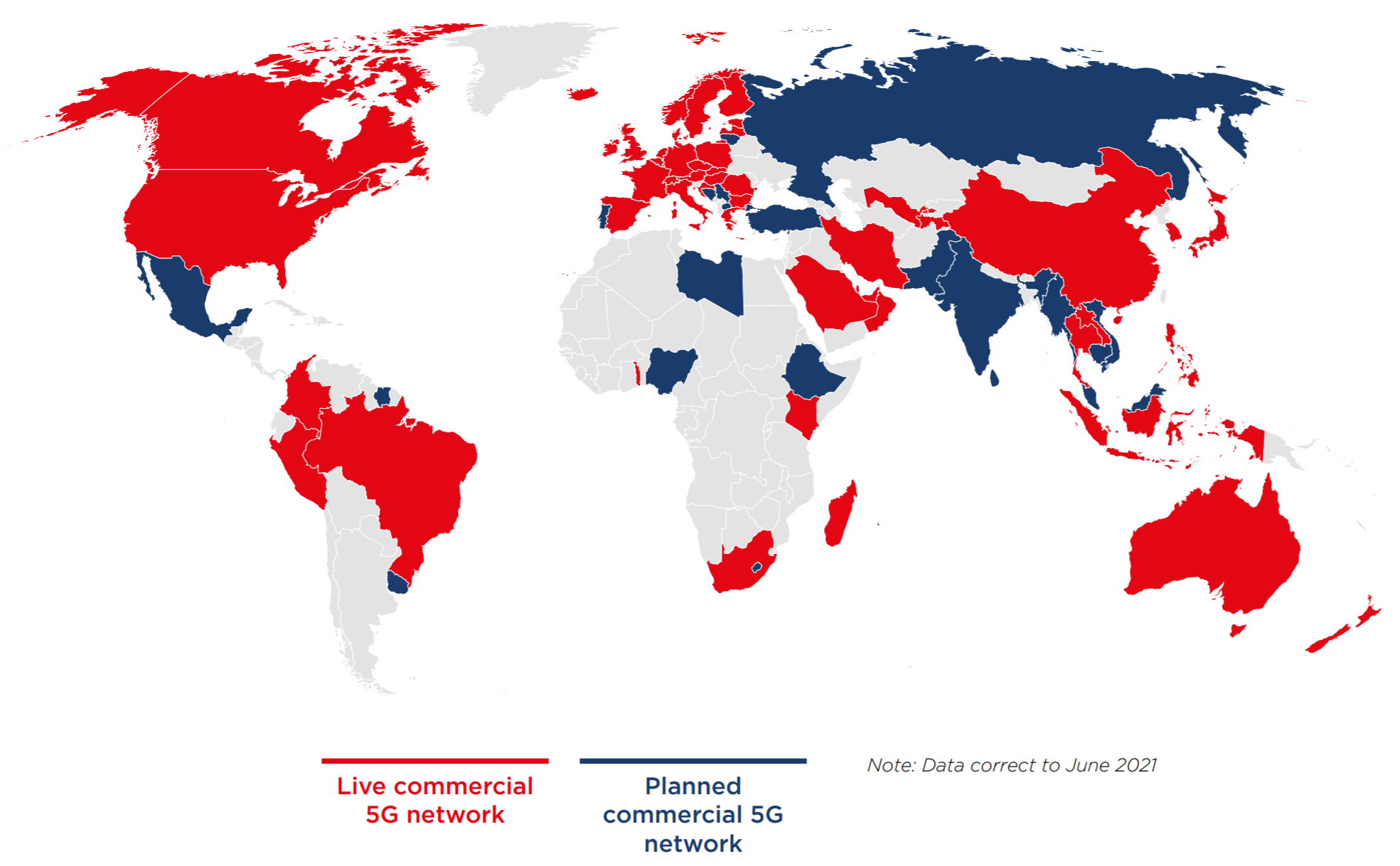 Figure 1: 5G Commercial Networks (Ref: GSMA Intelligence 2021 Mobile Network Economy, June 2021)
5G Technology Drivers
5G will provide three different types of connectivity services, summarized below, each targeted at specific categories of use cases and applications. These require various levels of network performance that will be provided by different technologies and network architectures.
Enhanced Mobile Broadband (eMBB) – ex. video streaming
Massive Machine-Type Communications (mMTC) – ex. smart cities
Ultra-reliable Low-Latency Communications (urLLC) – ex. Industry 4.0 automation
eMBB is the first 5G service type offered by Mobile Network Operators (MNOs), as it's easier to be initially deployed, and is a top consumer mobile network use case, made possible by connecting 5G New Radios (NRs) to existing 4G Evolved Packet Core (EPC) networks in what's referred to as 5G Non-Stand-Alone (5G NSA).
As MNOs evolve their existing 4G EPC to a highly virtualized 5G Core, more advanced mMTC and urLLC services can and will be made available. These service types are facilitated by the advent of Edge Cloud, which helps provide the very low latency required by new and emerging applications.
5G is not a static technology and it will continue to evolve, as the entire ecosystem from 5G Core to 5G User Equipment (UE), and everything in between, evolves. This means ongoing innovation across wireless and wireline network domains will only accelerate in years to come. No one vendor can possibly invest and innovate in all areas of the 5G network ecosystem and still deliver best-in-class network technologies and products. Thus, cross-vendor collaboration via partnerships is required to ensure that the end-to-end 5G network ecosystem maintains pace with the frantic innovation timelines associated by applications and use-cases in both the consumer and enterprise markets.
5G Network Trends Towards Openness
There's much talk (and debate) in the industry related to opening 5G networks to migrate from traditional closed and proprietary vendor solutions. Reasons to open the network include a broader and more secure vendor supply chain leading to increased competition, best-in-class network designs, and improved costs. I personally think the question is not if, but when, 5G networks will open because the openness movement is an unstoppable industry juggernaut.
Of course, it will take time, effort, and a desire to solve inevitable challenges along the way. Similar challenges of open, standards-based solutions were faced in other parts of the global network, but the benefits of openness are simply too strong for wholesale and mobile network operators to ignore. Open designs have come to other parts of networking, such as open submarine cables, standards-based 400ZR coherent optics, Application Programming Interfaces (APIs), and others. The openness juggernaut will not spare 5G, nor should it.
The openness juggernaut will not spare 5G, nor should it.
Contrary to popular belief, open 5G networks are not just about freeing operators to choose 5G NRs from one vendor and 5G Baseband Units (BBUs) from another vendor, although this is a key benefit. It's also about leveraging open physical and software interfaces (APIs) across the entire end-to-end ecosystem including Distributed Units (DUs), Centralized Units (CUs), and xHaul transport networks interconnecting everything. Also included are storage and compute resources that host virtualized 5G network functions, as well as enterprise and consumer applications.
5G networks will be far more virtualized compared to previous generations, with Centralized/Cloud-RAN (C-RAN) architectures becoming increasingly important, as they offer numerous benefits such as improved spectrum control, smaller footprint at cell sites, easier virtualization of network functions on cloud resources, improved economics, and optimized energy consumption.
The combination of traditional Distributed RAN (D-RAN) and C-RAN requires new xHaul (fronthaul, midhaul, backhaul) capabilities for transport networks that are more open, scalable, and automated. Highly instrumented xHaul networks supporting open APIs allow automation to be analytics-driven, which can be a gamechanger, to facilitate end-to-end Network Slicing 5G to support application-specific service levels for each 5G service type.
No one vendor can possibly invest and innovate in all areas of the 5G network ecosystem and still deliver best-in-class network technologies and products. Thus, cross-vendor collaboration via partnerships is required to ensure that the end-to-end 5G network ecosystem maintains pace with the frantic innovation timelines associated by applications and use-cases in both the consumer and enterprise markets.
Openness for Best-in-Class End-to-End 5G Network Solutions
For 5G to be more than just faster 4G, a change in how networks are designed, deployed, and managed is required. 5G will adopt a broad set of new technologies such as 5G New Radios, core virtualization, analytics-driven automation, machine learning, artificial intelligence, coherent optics, FlexEthernet, stringent time and synchronization techniques, Segment Routing, and others.
Will all these be adopted day one? Of course not, but over time, these technologies will find their way into 5G networks at a pace dependent upon each MNO's unique build-out strategy and target use-case applications. It will take a broad and diverse ecosystem of vendors to deliver these technologies.
Paving the Way to Openness
When Ciena and Samsung announced their collaboration last year, it was an important step for advancing 5G networks that provide best-in-class wireless and wireline components. Ciena provides our best-in-class Routing & Switching Portfolio, which is the infrastructure foundation of Adaptive IPTM, and our Manage, Control, Plan (MCP) domain controller. Samsung provides their 5G RAN, which includes their leading vRAN solutions, and cloud-native 5G Core. Together this creates a best-in-class, end-to-end 5G network solution that spans both the wireless (Samsung) and wireline (Ciena) domains.

Figure 2: Combined Ciena + Samsung end-to-end 5G network solution
Openness Enabler: Pre-Integrated and Pre-Tested Solutions Wireless and Wireline Domains
An often-stated question of open networks is: How do network operators (mobile and wholesalers alike) address the challenge of balancing complexity, innovation, and best-in-class designs comprised of more than one vendor? It's one thing to select best-in-class components, but another to get them to work together well. Plus, when a network is purchased from a single vendor, that vendor performs the interop to ensure all the components work together. However, this does not yield a best-in-class network design.
To address this important challenge, Ciena and Samsung have combined forces to ensure all components work together through pre-integration and pre-validation of their combined solutions. The result is a best-in-class 5G network design that "just works" and is highly scalable in aggregation, interfaces, and switching capacity. It supports multiple wireless spectrum options, architecture choices, and network performance requirements.
Going forward, our two companies are discussing other important areas for joint collaboration, including technology combinations to advance network slicing and private network solutions for B2B markets.
"This is a natural collaboration for Samsung and Ciena – with Samsung providing best-in-class RAN and Core solutions and Ciena providing best-in-class xHaul solutions," said Amresh Singh, Director of Partnerships, Networks Business, Samsung Electronics America. "Having a pre-integrated, pre-validated end-to-end solution from radios to transport enables faster time-to-market and accelerates the delivery of a new generation of 5G solutions to consumers and enterprises."
Since 2020, Samsung and Ciena have performed interoperability tests of various fronthaul options between the Radio Unit and Fronthaul Switch in Samsung's labs in Suwon, Korea. Each test was conducted over six months to validate both functional and performance tests with end-to-end set-ups that included multiple UEs, RU, DU, and Fronthaul Switches. Both companies now plan to expand the integration test in Ciena's premise from 2022.
Our joint solution offers a low-risk path to evolve to a more open, disaggregated, and virtualized architecture that leverages best-in-class 5G xHaul components from Ciena, and best-in-class 5G RAN/vRAN and 5G Core components from Samsung.
The best part? It's available today, pre-integrated and pre-validated, that accelerates the rollout of differentiated 5G services and performance, now and into the future.