Celebrating our families
Ray Gabriel, Senior Intellectual Property Counsel, shares his story of starting a family through surrogacy and what it meant to him to become a father.
Deciding to start a family is an exciting time for many – from the anticipation of meeting your new child to wondering what you will be like as a parent. But many also wonder if they will be able to provide everything that the child needs and if they will be able to take that crucial time off to bond with their child. As the structure of families has evolved, so have many workplace policies to accommodate the needs of parents and their children.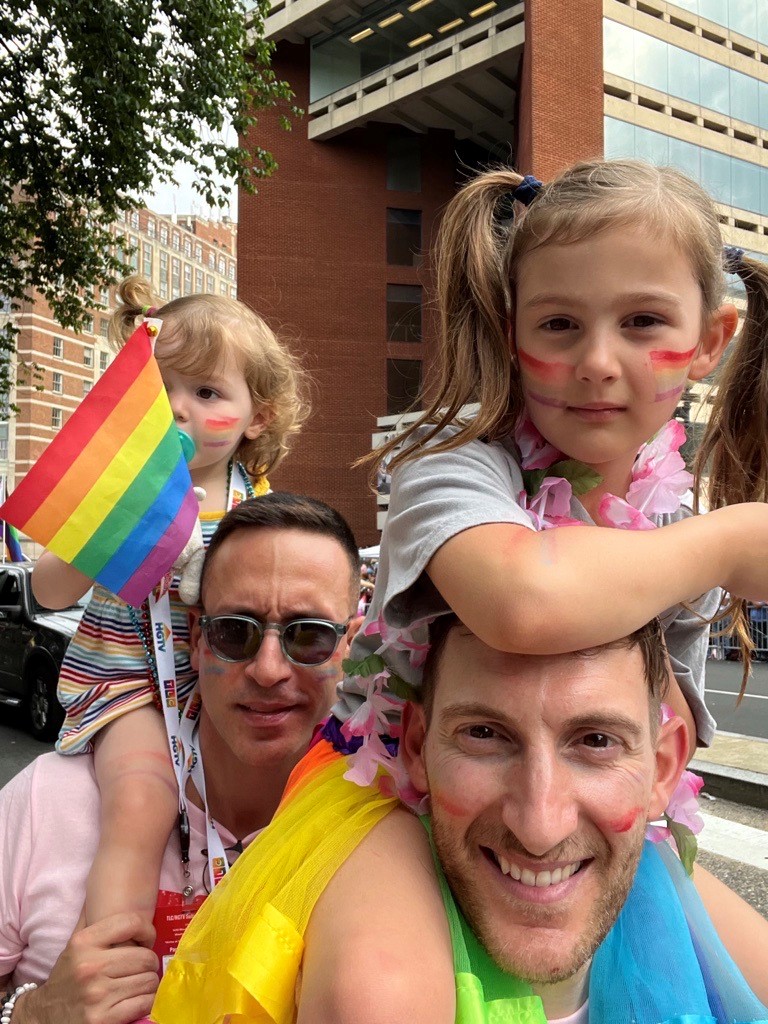 Ray Gabriel, Senior Intellectual Property Counsel, is one parent who has experienced what it was like to start a family via surrogacy with his husband. Having welcomed two of their daughters through surrogacy, Ray and his husband have witnessed the changes in workplace policies over the years as companies have become more inclusive and aware that parents need more time for bonding with their children.
"Becoming a parent is the greatest joy and challenge. But it is easy to take for granted the acceptance shown by my community at home and at work. I hope more people come to realize that a family like mine is worth fighting for." - Ray Gabriel, Senior Intellectual Property Counsel
As Ray was expecting his oldest daughter, he was thrilled to learn that he would receive 10 weeks of paternity leave paid at 100 percent so he could care for and bond with his newborn child. We are pleased to give our employees time with their new child, including 18 weeks paid time off for maternity leave and 10 weeks paid time off for adoption and paternity leave. We also offer a 'Phased In Return to Work' arrangement which allows employees returning from maternity leave to work 80 percent of their full time work schedule while being paid at 100 percent of their base pay for a maximum of 6 months from an employee's return to work date.
At Ciena, we understand how important this time is for parents to connect with their children and to navigate their new responsibilities as a parent. Especially those who are a part of the LGBTQ+ community, who may be unsure of their rights as a new parent. For all who are planning to start a family whether it is through childbirth, surrogacy, or adoption, Ciena has policies to include everyone through our Global Family Leave and Adoption Assistance benefits. Ciena also recognizes the sometimes difficult or uneasy experience that people in the LGBTQ+ community have faced when sharing their identities in the workplace. It is in Ciena's People Promise that we are committed to fostering a culture of diversity, inclusion and belonging, where everyone can bring their whole selves to work.
"It's great to be in a work environment where everyone is open to celebrating family, however your family is structured." - Ray Gabriel, Senior Intellectual Property Counsel
When Ray's oldest daughter was born in 2015, he was happy that his team did not treat him any different than someone else who was having a child. In fact, his team held a baby shower for him too. "I felt no different and it felt good," said Ray, "I didn't feel out of place among everyone which was great and very welcoming." Ray even had the chance to bring his eldest daughter into the office when she was just two months old and his coworkers took her around and introduced her to everyone. It's this culture of acceptance and inclusion that we strive for at Ciena. A place where everyone can feel like they belong and their voices are heard and included in every conversation.