Beyond broadband: Monetizing your fiber investments
With new demand and investments, broadband service providers must ensure they get the most out of network investments. Ciena's Francisco Sant'Anna explains how to maximize your network flexibility to adapt and capture new business opportunities.
Broadband network investments face unprecedented momentum. Years-long technological and behavioral shifts in work, education, and entertainment have radically accelerated, making high-performance broadband connectivity essential to everyday life, and a highly coveted resource. This demand growth has been met by a surge in private funding, coupled with massive public stimulus, creating an extraordinarily favorable environment for Fiber-to-the-Home (FTTH) expansion.
However, access to capital and strong market demand are far from assuring a fail-proof business case. The market holds plenty of challenges, and service providers must be prepared to make the most of every business opportunity.
The evolving competitive scenario should leave no broadband provider too comfortable
From alternative technologies to new entrants, even remote regions are likely to see some level of broadband competition. As 5G coverage expands, fixed wireless access (FWA) can be a viable alternative in some use cases. New satellite constellations promise to deliver good broadband performance at competitive prices, with broad coverage. And the unstoppable hyperscalers could become a force to disrupt the residential access market through innovative approaches and high-value bundles – only time will tell.
While FTTH will likely continue to offer unmatched performance for years to come, "good-enough" lower-cost alternatives promise to leave no room for inefficiencies in the market. The sustained success of broadband service providers will require them to seize every opportunity to monetize their investments and keep their competitors in check within their regions. But what are these opportunities, and how can you prepare to capture them?
3 business and wholesale demands that will create new opportunities for broadband service providers
Demand to connect businesses and governments exists in urban, suburban, and even in rural areas, and can represent a significant upside opportunity for fiber-based broadband service providers. With stronger ties to their communities, regional players are often well-positioned to capture this demand from small or local businesses, schools, local administration, and healthcare providers. While a part of this demand can be met through business broadband services, much of it will require more sophisticated active ethernet connections. These can be further enhanced by value-added managed services such as cloud-based SD-WAN with a security software stack, in a Secure Access Service Edge (SASE) offering, which can be enabled by a Virtualized Edge Solution.
Branches, stores, and units of large businesses and organizations are also potential drivers of high-performance connectivity demand. However, most still procure services through a centralized approach, which, if you are a service provider limited to a regional footprint, makes it impossible to tackle it directly (although the growth of SD-WAN is increasingly decentralizing access procurement). That does not mean you cannot capture this demand – with the right feature set and service levels, you can secure these connections as wholesale last mile through the tier 1 carriers who own these national contracts.
Every cell site needs to be backhauled to the core, and mobile network operators often leverage fiber from regional service providers to get it done. With continued 4G expansion and increased 5G coverage and densification, not only is the number of cell sites growing, but transport capacities are increasing substantially. Besides backhaul, modern centralized/cloud-based RAN architectures are giving rise to new opportunities in fronthaul and midhaul, which further boost xHaul needs. Market analysis firm ACG Research forecasts the global xHaul wholesale services market to reach $11.6 Billion in 2025 – too much to be neglected. You can learn more about xHaul and new mobile transport challenges, in this video.
A better way - designing broadband networks for sustained profitability
New opportunities require a different set of network capabilities than traditional broadband ones, but it does not mean you should redirect investments to additional infrastructure or take your focus away from your broadband priorities. Fortunately, you don't have to choose between the cost-efficiency of a purpose-built broadband network and the feature-richness and simplicity of converged infrastructure. Through a smarter residential broadband network design you can have it all, with no compromise.
The next-generation approach to broadband networks leverages XGS-PON pluggable μOLTs in highly open, modular, and scalable Universal Aggregation hosting platforms orchestrated by an advanced domain controller. Together, this allows you to optimize your broadband investments while seamlessly enabling robust business and wholesale service capabilities. It also offers a clear path to 25Gb/s PON to protect your investments and enhance your competitive edge.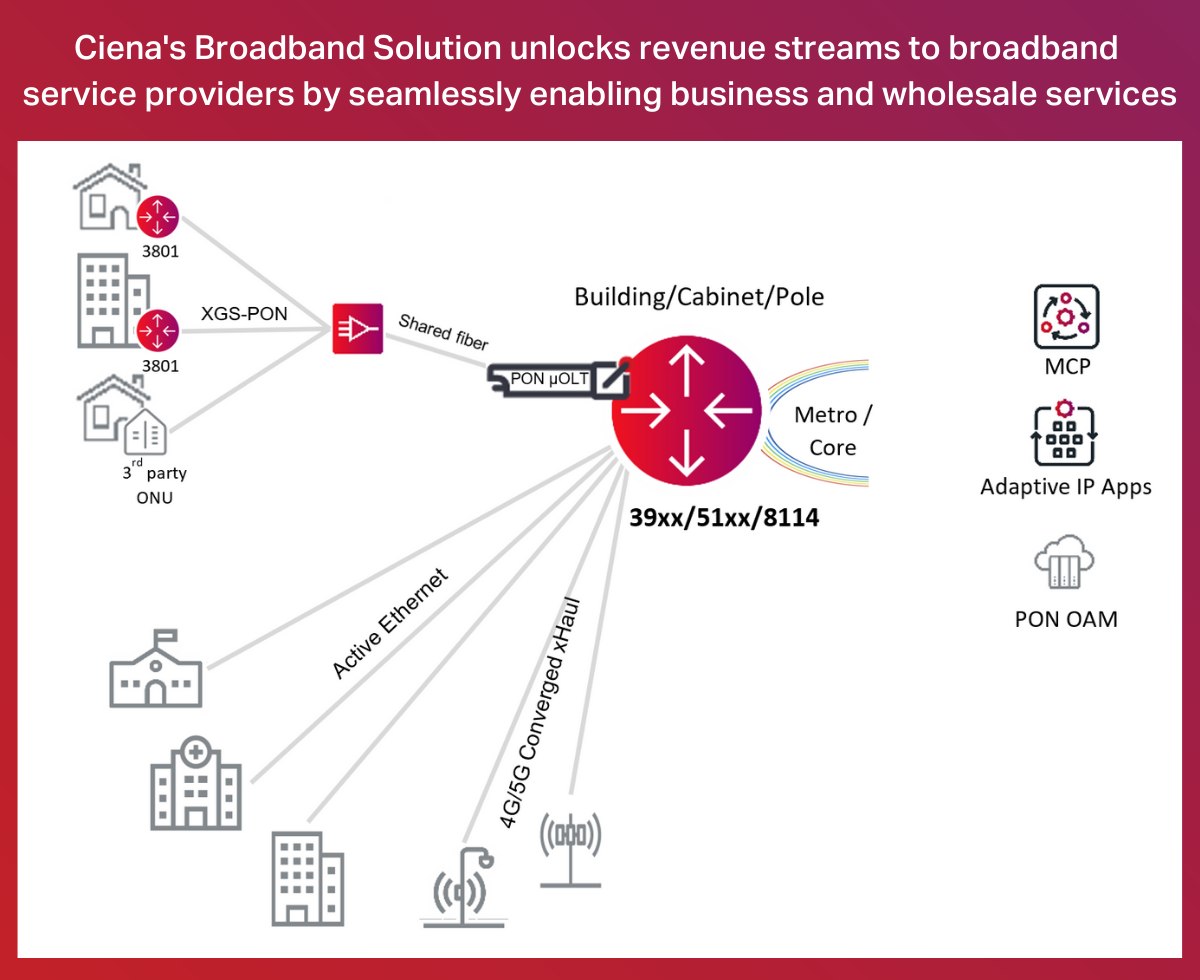 This new approach adds flexibility to the network in several ways when compared to traditional chassis-based solutions. First, its openness allows for the integration of multiple vendors, so that you are free to select best-of-breed components from your vendor of choice. Second, pluggable XGS-PON μOLTs enable a modular approach to infrastructure allocation, so that you minimize startup costs by gradually growing user capacity as you turn up new subscribers. And third, the highly scalable and feature-rich routers that host the μOLTs future-proof your metro aggregation with up to 400GbE NNIs.
On top of enabling an optimized broadband network, this very same solution fully supports advanced business and wholesale services – with no added costs. The router port that can accommodate the XGS-PON μOLT plugs can alternatively deliver 1/10/25GbE active ethernet business services – and these compact and energy-efficient platforms offer up to 32 of these ports.
This architecture also supports the most stringent service levels for business and wholesale services, and even the advanced requirements of 5G xHaul transport, including comprehensive support of soft and hard network slicing that creates further capabilities for optimal resource allocation. It is an avenue for unrestricted monetization opportunities, with no compromise to an optimal broadband design. Ciena's Residential Broadband Solution is the easy button to get there.