2020 will test networks' resilience and reliability. Are you ready?
2020 will pose challenges to networks in the Asia Pacific region. Ciena's Rick Seeto details how network operators can use Ciena Services to maintain network reliability and capture related revenue.
What is your reputation worth to you?
This year, the Asia Pacific region will host many tests of network reliability—with potential financial consequences—including:
World sporting events—with a high population watching
Skyrocketing capacity demands, from 5G deployments to expanding smartphone adoption in developing Asia
The ongoing threat of seasonal and geological natural disasters
For example, world sporting events, such as the upcoming summer games in Tokyo, remind service providers of the business criticality of network stability, reliability and resilience. Outages during past major events have resulted in giving away free services in efforts to hold onto subscribers—at great revenue cost. With your country watching the games in real time over your network, how can you ensure guaranteed end-to-end network performance?
When looking into these resilience and reliability needs, we hear from customers across the region that their concerns extend past the evolution of the network itself, encompassing IT and business considerations.
To help ensure your network will deliver and exceed performance requirements in 2020, there are several factors to check now. For example:
Does your network operations center (NOC) have the necessary tech support in place?
Are any new infrastructure investments integrated with your IT systems (OSS/BSS) and your mission-critical business processes?
Are all your relevant employees adequately trained in recent or upcoming hardware and software you've incorporated into your network?
Are all employees bought into any changes to your network, to maximize your return on investment?
With network performance and reliability so financially critical, you'd be bringing all the resources needed. One such resource is a trusted partner with a consultative approach and the right expertise to navigate any complexities.
This is the role of Ciena Services. We know networks like nobody else. Across the layers of your network, our globally local team in Asia Pacific and beyond brings the most experienced field-proven technical personnel, best practices, and processes—along with most effective tools for handling network complexities. We work side by side with our customers during every step of building, operating, and improving networks.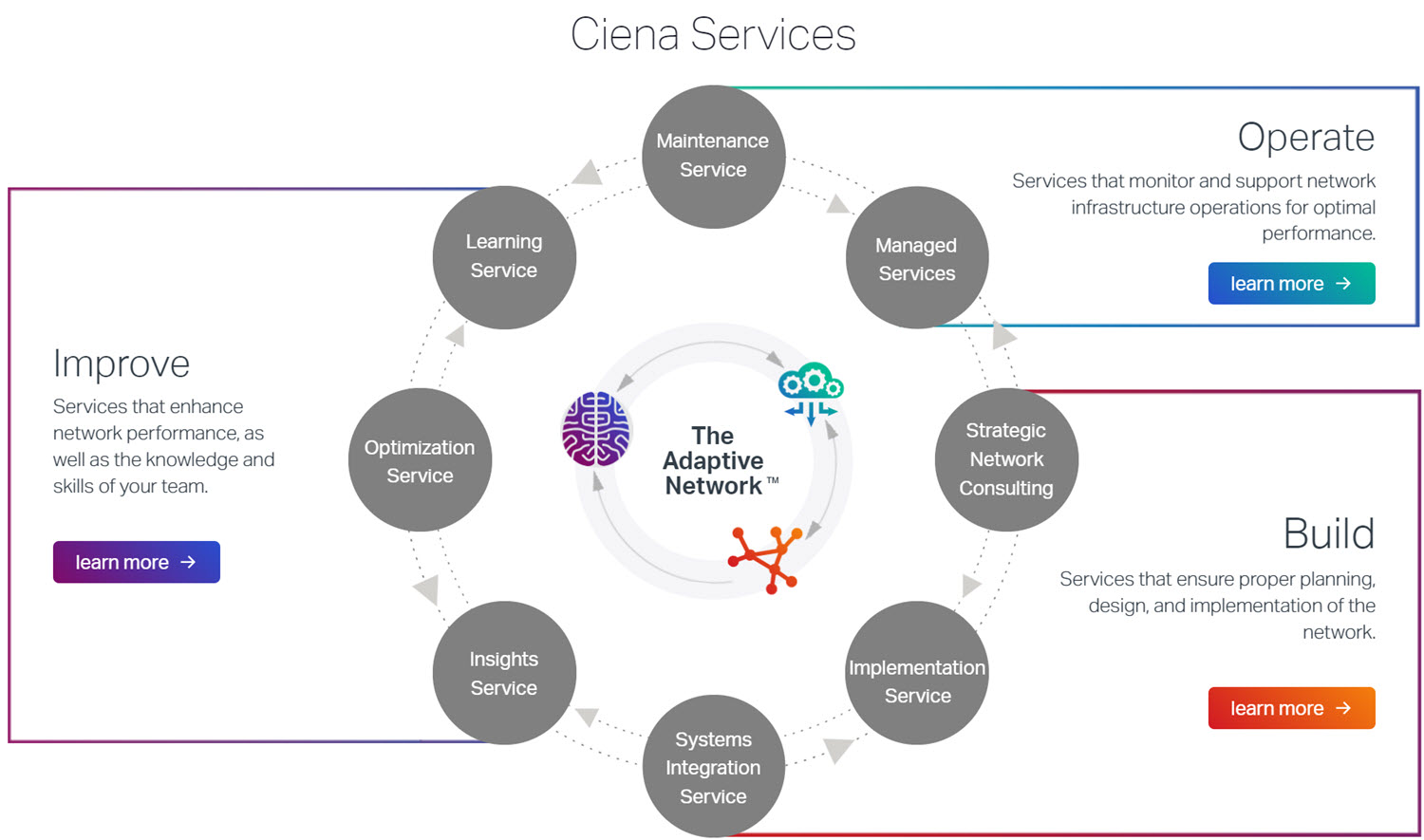 You can ensure your success by tapping into Ciena's comprehensive services portfolio. Serve your current, urgent, and emerging needs with our Strategic Network Consulting, Insights, and Optimization services, designed for the newest network use cases.
To meet unrelenting business pressures and customer demands, you need to evolve your networks so they become more intelligent and agile every day. At Ciena, we call the ideal network end-state the Adaptive Network. It doesn't happen overnight, and everyone has a different starting point, investing in technology to address network needs, market dynamics, and business objectives. But in addition to the right technology, a trusted, reliable services partner that's right for your journey is critical to success. Ciena is that services partner. Check out ways can help.