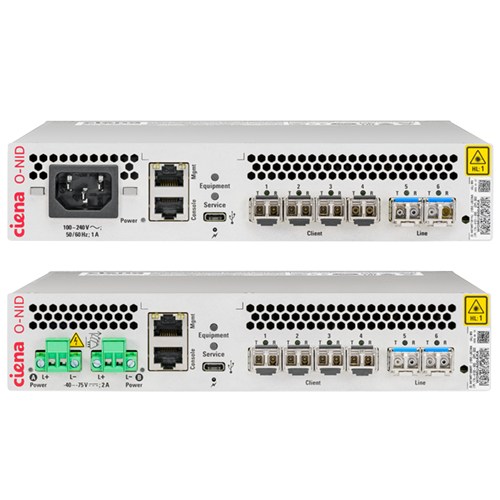 O-NID
Cost-efficiently extend OTN to the edge

Extend your OTN network closer to the edge with Ciena's O-NID, a hardened, simple to deploy network demarcation device that allows you to modernize your OTN network at a fraction of the power and space of traditional devices. O-NID cost-efficiently delivers GbE, 10GbE, and OTU2/2e services all the way to the customer premise, across flexible configurations that seamlessly interwork with your existing 6500 network.
Features and benefits
Energy-efficient OTN NID

Extend your OTN network to the edge with a hardened network demarcation device that reduces cost, space, and energy consumption compared to traditional solutions.

Flexible applications

Address multiple applications with AC or DC powering and flexible configuration options, including transponder, muxponder, and add-drop-mux.

Operational simplicity

Simplifies deployments and management with a compact plug-and-play design and a range of easy-to-manage options, including in-band communications.
Ciena Services
is here to help
Ciena Services partners with you to plan, design, and implement your OTN network, enabling you to quickly turn up services while minimizing risk. We help you rapidly extend your OTN applications closer to the edge with our experienced teams and field proven processes ensuring accuracy, efficiency, and cost-effectiveness with every project. In addition, we provide a family of lifecycle Services, including Maintenance, Managed Services, Optimization, and Learning to ensure you get the most from your network investment.