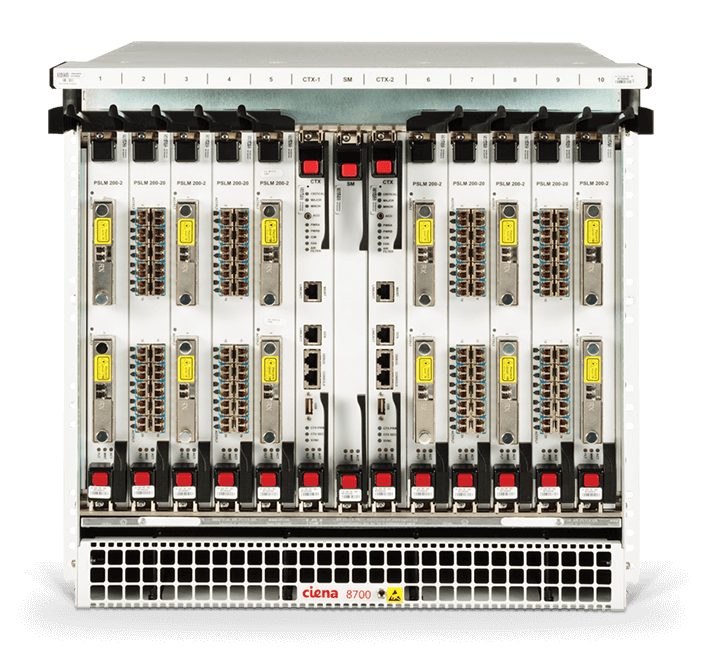 8700
It's hard to keep up in a content-crazed world where the patterns, dynamics, and scale of traffic within your metro or regional network are constantly shifting. Addressing surging bandwidth demands cost-effectively is easier said than done—unless the 8700, the standard-bearer of the Packetwave® Platform, is part of your plan. Our multi-terabit, programmable, coherent DWDM packet switch revolutionizes the capital and operational economics of 10GbE and 100GbE services. How? We're glad you asked.
Features and benefits
Exceptional 1GbE, 10GbE, 40GbE, and 100GbE density to address space constraints

Flexible port configurations up to 300 x 1GbE, 300 x 10GbE, 80 x 40GbE, 20x 100G DWDM, or 60 x 100GbE

Low power consumption to keep operating expenses in check

Multiple configuration options with fully modular 4-slot or 10-slot chassis variants

MEF CE 2.0-certified for E-Line, E-LAN, E-Tree, and E-Access for improved service offerings; E-Line and E-Access up to and including 100GbE

Hardware-assisted packet OAM capabilities for guaranteed SLA differentiation

Zero-Touch Provisioning (ZTP) for rapid, secure, and error-free turn-up of packet services

Ciena's Blue Planet MCP multi-layer provisioning support for end-to-end network management control and planning

Integrated Service Activation Testing capabilities

Industry-leading 10GbE and 100GbE—to help you lead, too.
The 8700 is specifically optimized for 10GbE to 100GbE switching and aggregation, allowing you to deliver higher rate ports, services, and connections to meet market demands. It starts at 800 Gb/s and scales to a massive 6.8 Tb/s—just what you need to gain a competitive advantage as the dynamics of metro and regional networks shift.
The same compact shelf, now with up to 3-times the density—so it saves you space and money.
Space is limited and expensive so the 8700 is available in fully modular 4-slot and 10-slot variants. It also provides multiple port configurations with 1GbE/10GbE/40GbE/100GbE and coherent 100G DWDM OTN-based ports with up to 680 Gb/s per slot.
Insights
Data sheet
8700 Packetwave Platform data sheet
The 8700 is purpose-built to provide seamless, MEF-compliant services, together with ...
Download
White Paper
Expanding Demands Need Routing and Switching Performance—from Edge to Core
This paper shows how to gain the most from metro transformation initiatives with a si...
Download
Infobrief
Three Steps to the New Packet Edge
Metro networks are growing and changing and require new thinking to capture new reven...
Download
It's energy-efficient—which gives you the power to protect your bottom line.
Requiring only half the energy of standard units, the 8700 achieves industry-leading high energy efficiency and low energy consumption. It's better for the environment and for your bottom line.
Integrated with our award-winning WaveLogic Photonics—for a smarter, simpler network.
The 8700 Packetwave platform combines the advanced packet-networking capabilities of our Service-Aware Operating System (SAOS), which supports advanced OAM, QoS, and MPLS features and protocols, with the latest award-winning WaveLogic Photonics and WaveLogic 3 Nano technologies. So, you can build intelligent, packet-optimized photonic networks that are both simpler and economical.
Unified with Manage Control and Plan (MCP)—so you can be in control of your network.
Ciena's Manage Control and Plan (MCP) system offers a unique and comprehensive solution for the administration of mission-critical networks that span across access, metro, and core domains. The system provides unprecedented multi-layer visibility from the photonic layer to the packet layers. With this innovative management approach, Ciena MCP returns control of the metro packet network and services directly to the network operator. By providing a unified view to the network from the photonic to the packet layer, network operations are simple, secure, and highly cost-effective.
The new 8700... by the numbers
more
1/10GbE interfaces

more
40GbE interfaces

more
100GbE interfaces
5 Diamonds for 8700 Packetwave Platform
BTR Diamond Technology Review awarded Ciena 5 Diamonds for the 8700 Packetwave Platform, plus the platform was named a Diamond Technology Review Innovation Award Winner. This video discusses the game-changing technology attributes of the 8700 Packetwave® Platform and why BTR offered the platform its highest honor.