Vodafone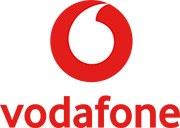 Vodafone is one of the world's largest telecommunications companies and provides a range of services including voice, messaging, fixed and mobile communications services. Vodafone provides services to small, medium, large and multi-national organisations including SaaS, Private Cloud, Internet of Things, Unified Communications and Contact Centres. Vodafone has mobile operations in 26 countries, partners with mobile networks in 57 more, and fixed broadband operations in 17 markets. As of 30 June 2016, Vodafone had 465 million mobile customers and 13.7 million fixed broadband customers. Vodafone has a global work force of almost 108,000 employees and in 2016 reported revenue of approximately £41 billion.
For more information, please visit
http://www.vodafone.com/business/contact-us
.