Bahrain Tele-communications Company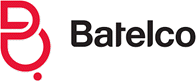 Batelco (Bahrain Telecommunications Company) the leading digital solutions provider in the Kingdom of Bahrain continues with its commitment to enhance customer experience.

Batelco serves both the corporate and consumer markets through the delivery of cutting-edge fixed and wireless telecommunications solutions. Its comprehensive portfolio of solutions for the residential, business and government segments in Bahrain include all IP fixed and 4G LTE wireless Home Internet networks and MPLS based regional data solutions.
For more information, visit http://batelco.com/.