White Paper
Broadband Success Partners: Cable Operators & Edge Computing - Drivers, Opportunities & Challenges
Broadband Success Partners interviewed 24 cable executives from network engineering and business services to capture their insights on the move to edge computing—including the drivers, opportunities, and challenges.
This report summarizes the quantitative and qualitative findings from this unique research, including:
Headends and hub sites are the preferred locations for edge computing equipment.
Improved customer experience and enablement of new revenue streams are the most important drivers to move to edge compute.
Beyond video caching near the edge—cloud gaming is viewed as the next big use case for edge compute.
Operational support for monetizing new services is seen as the greatest challenge in the move to edge compute.
Programmable infrastructure and network automation are top investment areas in order to move to edge compute.
Edge computing will require that networks transform to dynamic, programmable environments driven by analytics and intelligence – Ciena's vision is the Adaptive NetworkTM.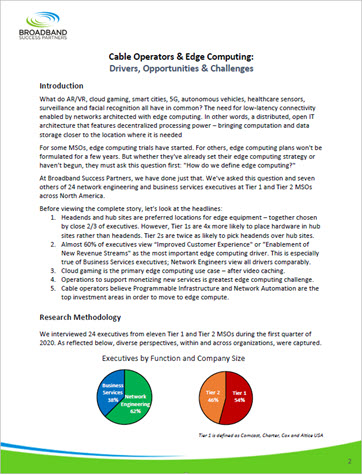 Preview