What is IP/Optical convergence?
At its most basic, IP/Optical convergence refers to the streamlining and simplification of networking layers, in particular optical (Layer 0) and IP (Layer 3).
Although IP/Optical convergence is not a new topic in the industry, the confluence of new market dynamics, the resulting need for IP network modernization, and new technology innovations are bringing it to the forefront of architecture evolution discussions.
From a communications perspective, the landscape is fundamentally changing. Market dynamics associated with the changing enterprise services mix, 5G, cloud—as well as residential and data center connectivity—are creating new use cases and exciting revenue growth opportunities for service providers. Consumer traffic flows are shifting heavily toward the home to support Small Office Home Office (SOHO), gaming and e-learning. Enterprises are accelerating their digital transformation and moving toward Virtualized Network Functions (VNFs) and cloud applications, including Software-Defined Wide Area Network (SD-WAN), to reduce costs. Deployment decisions for 5G are beginning to pick up as providers evaluate xHaul upgrade options and plan their evolution from 4G to 5G.
These market shifts are driving traffic toward the edge of the network. From an applications perspective, this means computing power will need to move from being centralized to becoming distributed. Applications will continue to become virtualized and move closer to end users, both human and machine, for reduced latency and improved QoE. This will require cloud service termination and peering points closer to the edge of the network. As a result, many service providers are in planning discussions now about the creation of new metro and edge cloud on-ramp access points. They're also evaluating new technologies to be ready to support new traffic flows—and the potentially exponential number of new services—expected over the next several years.
The need to evolve the network to capitalize on these new opportunities is driving IP network modernization. Key elements of IP modernization include the evolution of access and aggregation networks from L2 to L3 infrastructure, extending Layer 3 control plane into the access, and transitioning to simplified end-to-end network service delivery using Ethernet VPN (EVPN) for single service and Segment Routing (SR) for single transport. Another important aspect under evaluation is IP/Optical convergence. In fact, according to a recent study, 87 percent of providers view IP/Optical convergence as important or critical for their next-generation networks.*
There are both hardware and software tactics to IP/Optical convergence, and some or all of these can be employed to achieve network simplification. From a hardware perspective, new technology innovations in coherent DSP and the miniaturization of electro-optics are facilitating the integration of coherent optics in router platforms through compact coherent pluggables that fit into the same form factor as client grey optics, such as 100GbE and 400GbE. Two popular form factors are being considered:
QSFP-DD for high-capacity Ethernet aggregation and transport with no impact to router switch density
CFP2-DCO for higher performance and simple operation over existing ROADM infrastructure
As optics will make up more than 80 percent of the router cost moving forward, it's important to select the coherent plug whose capacity and performance is right-sized to match the specific network use case.
Although the coherent QSFP-DD is equivalent in physical size to client 400GbE optics, there are important differences. Coherent QSFP-DDs enable DWDM transmission over long distance and the ability to achieve 60x increase in fiber capacity; they also consume 5W+ more power due to the more sophisticated DSP used for advanced modulation and electronic compensation of impairments associated with propagation. For this reason, coherent QSFP-DD pluggables are only supported on routers that have been designed to support the additional thermal dissipation requirements.
Modern router and coherent pluggable examples

The 60x increase in fiber capacity is only achieved when the coherent pluggable is combined with the appropriate photonic line system. An appropriate line system design is selected to deliver the right flexibility and cost points for the specific use case in the network. Integrated intelligence in these platforms is important to accelerate and simplify service turn-up and operations.
From a software perspective, a cornerstone of next-generation architectures will be a centralized, SDN multi-layer controller that provides a Path Computation Engine (PCE) and advanced network applications. Streaming data telemetry and network analytics must be used to guide the PCE and enhance operations. Together, these elements provide advanced visibility, analysis, and service optimization as well as automated path computation and provisioning. Open APIs are required to expose network functionality to developers to allow for rapid innovation and the introduction of new services. They also enable easy access and integration with third-party devices which is essential for practical deployment. Lastly, software convergence involves multi-vendor, multi-layer management and resource optimization through a unified interface, including planning, fault correlation, service resiliency and capacity optimization.
Multi-layer management and resource optimization through a unified interface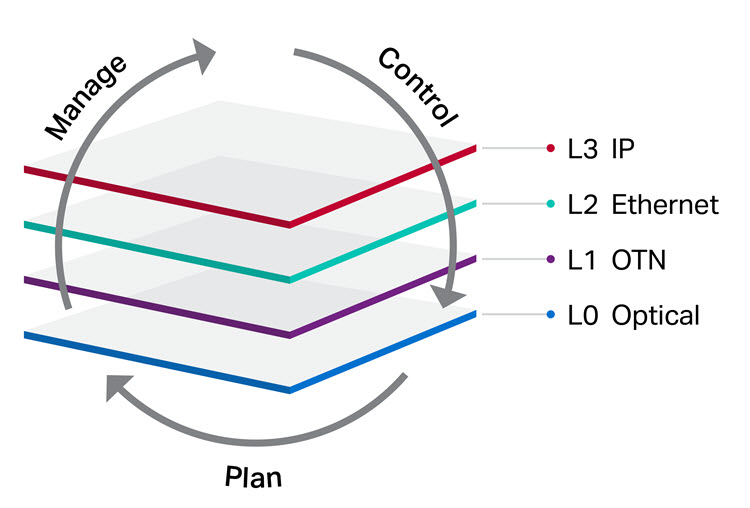 We expect IP/Optical convergence to remain a strategic topic of discussion for many service providers as they evaluate the benefits of this architecture evolution. In fact, based on a recent global service provider survey*, the following are selected as the top three benefits service providers are seeking to achieve through IP/Optical convergence:
More streamlined operation across IP and Optical layers (61 percent of respondents)
Full convergence of IP and Optical functions including a common control plane (47 percent of respondents)
Multi-layer optimization using software optimization/automation (47 percent of respondents)
The path to IP/Optical convergence, and realizing the above benefits, will be dependent on a service provider's current network reality and environment. But it's clear that IP/Optical convergence is set to play a key role in IP network modernization moving forward, holding the promise of more cost-efficient, resilient, and unified networks.
Ciena's approach to IP/Optical convergence is grounded in the Adaptive Network™ vision and starts with Adaptive IP™—an automated, open, and lean way of delivering IP differently, combined with WaveLogic™ 5 coherent optics that can be use case optimized to match specific network requirements. Ciena's intelligent, self-configurable photonic underlay enables flexible management of IP traffic flows while Ciena's Manage, Control and Plan (MCP) and Blue Planet® software provide intelligent network control to simplify and automate multi-layer and multi-vendor operations using an open, cloud-native approach.
*Heavy Reading, "IP and Optical Convergence Survey", May 2021, n = 220