What is Edge Cloud?
Today's centralized cloud is comprised of more than 10,000* data centers scattered across the globe. In the next five years, driven by a need to get data and applications closer to end-users, both humans and machines, tens of thousands of additional scaled-down data centers will sprout up at the edge of the network to form the Edge Cloud.
Why Edge Cloud?
Cloud services are pervasive. From individual users binge-watching Over-The-Top (OTT) video content to enterprises deploying Software-as-a-Service (SaaS), cloud services are increasingly how we consume content and data. For years, large, centralized data center and cloud architectures have provided access to our content.
Now, a new generation of cloud-native applications is emerging in categories such as entertainment, retail, manufacturing, and automotive, which, in many cases, will be more compute-intensive and latency-sensitive. Traditional centralized cloud architectures will not meet Quality of Experience (QoE) expectations for these applications and will require a more dynamic and distributed cloud model. As a result, compute and storage cloud resources need to move closer to the edge of the network, where content is both created and consumed, to meet the expected QoE. This new approach is referred to as Edge Cloud.
This shift to a distributed Edge Cloud model will result in an estimated three times as many data centers at the network edge as exist today and will require the entire cloud ecosystem to think differently about the role of network connectivity.
Ciena defines the Edge Cloud as an interchangeable cloud ecosystem encompassing storage and compute assets located at the edge and interconnected by a scalable, application-aware network that can sense and adapt to changing needs, securely and in real-time.
Ciena's Adaptive Network™ vision can provide an effective framework for the evolution to a distributed Edge Cloud architecture.
Driven by a need to get data and applications closer to end-users, the Edge Cloud will be composed of orders of magnitude more data centers—scaled down and located in closer proximity to end-users, humans and machines, that create and consume content.
The rationale is pretty simple: Numerous emerging applications require much lower latency than can be serviced by traditional centralized data centers. The initial applications with the largest revenue drivers requiring Edge Cloud come from video/content delivery networks, cloud gaming, and automotive applications.1
The Edge Cloud will be a unique ecosystem of open and interconnected data centers, and includes data center operators and carrier partnerships allowing Edge Cloud to achieve critical mass. Edge Cloud can reside at any number of network locations, depending on the QoE expectations and resource requirements/availability for a given application. The location of the Edge Cloud will vary depending on the perspective of an end-user, network operator, or application provider.
Who are the Edge Cloud providers?
In addition to application developers, several providers will leverage the Edge Cloud, including Hyperscalers, Global Content Network (GCN) operators, Data Center Operators (DCOs), and Communications Service Providers (CSPs). All will need to form new business relationships, and as the race to build out the Edge Cloud expands, ecosystem providers will need to work together. Partnerships are already emerging and will continue to play out in the coming years.
How Ciena's Adaptive Network™ approach will enable the Edge Cloud
The key challenge for edge providers is to efficiently and intelligently manage the network and application resources for Edge Cloud data centers during peak periods of usage. Ciena's Adaptive Network vision provides a framework for Edge Cloud that allows providers to collectively achieve an end-to-end network that grows smarter and more agile every day, with the scale required to respond dynamically to the constant and ever-changing pressures being placed upon it.
The Adaptive Network enables Edge Cloud providers to optimize their existing infrastructures while incorporating new technologies and ways of working to meet the new requirements of Edge Cloud. The Adaptive Network is built on four key foundational elements—Programmable Infrastructure, Analytics and Intelligence, Software Control and Automation, and Services—that enhance network and business outcomes independently. When working together, they're a force multiplier.
Programmable Infrastructure: A programmable edge packet and optical infrastructure is one that can be accessed and configured via common open interfaces, is highly scalable and instrumented with the ability to export real-time network performance data to the application layer of the Edge Cloud, and can adjust its resources as needed to meet the demands of the application layer.
Analytics and Intelligence: Edge Cloud is an extension of cloud computing and operation practices, which rely heavily on automation informed through interpretation of massive telemetry/Key Performance Indicators (KPI) streams from underlying resources. Leveraging these insights will deliver an application-aware network that can sense and adapt to edge applications' needs securely, and in real time.
Software Control and Automation: Automating the placement of Edge Cloud workloads to meet the demands of applications in near-real time will be critical to meeting the key constraints and goals of Edge Cloud. Through the implementation of Software-Defined Networking (SDN), Network Functions Virtualization (NFV), and open Application Programming Interfaces (APIs), providers can simplify the act of managing, securing, and automating their networks end to end for delivering Edge Cloud services across multi-vendor, multi-domain hybrid networks.
Services: Technical and professional services are required to help providers determine their best strategy and architecture for Edge Cloud, and to build, operate, and continually improve their networks, accelerating their journey to the Adaptive Network.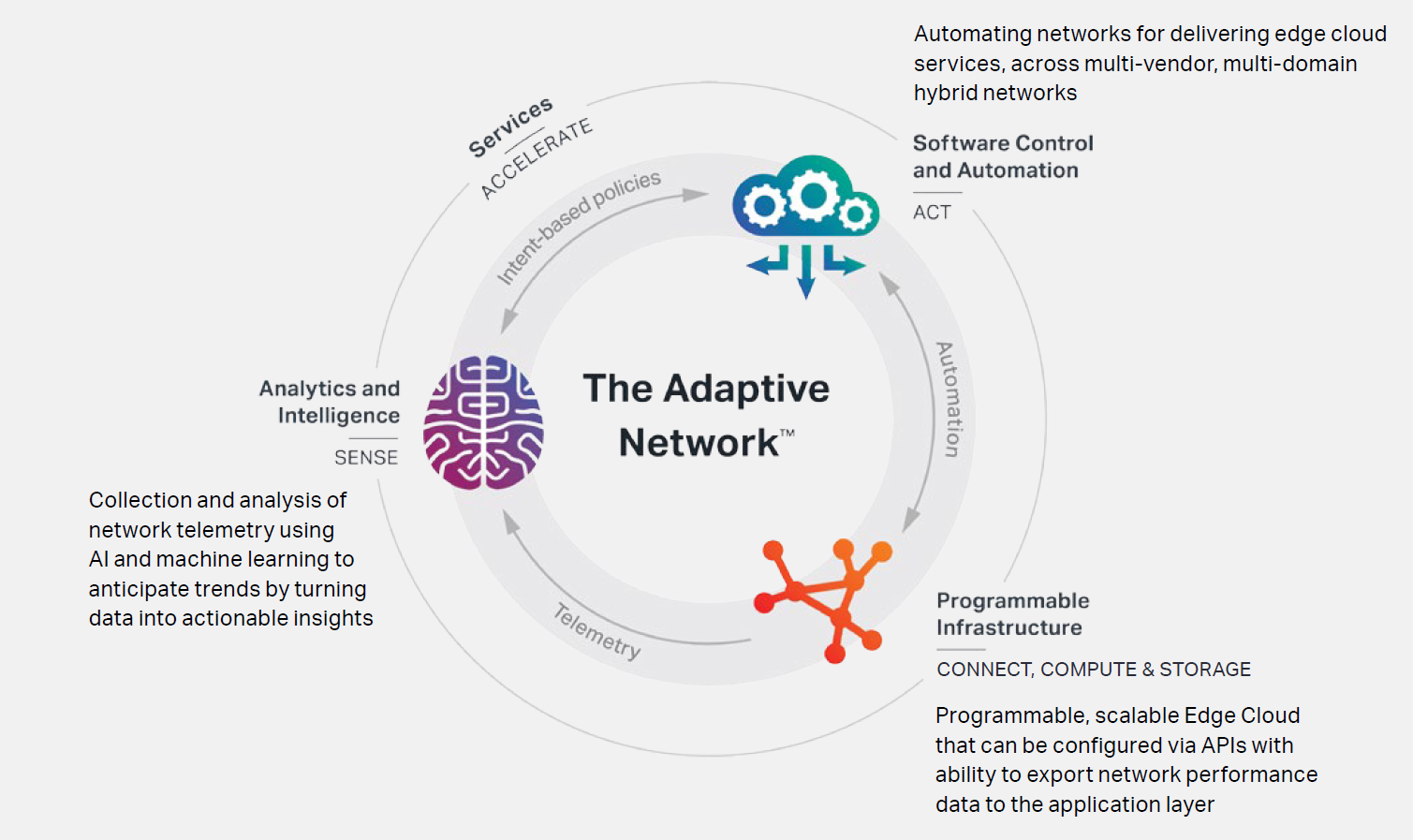 Figure 1. Ciena's Adaptive Network
Ciena's Adaptive Network solutions play a critical role in some of the largest inter-data center and cloud architectures in the world. With the number one market share in both Global Data Center Interconnect (DCI) and Metro DCI, Ciena is well-positioned to bring its depth of experience and leadership in the cloud and DCI markets to the edge.
The Adaptive Network provides a further framework for all edge ecosystem providers by addressing the challenges of the dynamic Edge Cloud model. This framework leverages a highly programmable and scalable infrastructure, analytics, and automation to dynamically scale both network and application cloud resources as required to meet end-user expectations. Following the Adaptive Network framework can help ensure that the performance of an Edge Cloud model can scale and adapt to meet the ever-changing demands of the network edge.
With more than a quarter century of industry leadership in networking, Ciena supports more than 1,300 of the world's largest, most reliable networks. Over the years, Ciena has been at the forefront of innovation, with many industry firsts across all areas of communications infrastructure. The advent of the Edge Cloud will be another in a long line of focused accomplishments for Ciena.
1 Mobile Experts: "Edge Computing for Enterprises 2019", July 2019.