1.6 Terabit wavelengths. 800G everywhere. 800G pluggables delivering 1000 km reaches. Seems impossible? Don't ever tell that to a Ciena engineer! Scott McFeely, Ciena's SVP of Global Products & Services, explains how Ciena's new WaveLogic 6 coherent optical technology is making all this possible.
Today we are revealing the next generation of Ciena's coherent optical technology - WaveLogic 6 - which will deliver the most compelling performance, economic and sustainability benefits to support your network needs today, and into the future. I'm excited to pull back the curtain and share with you the world-first innovations behind this boundary-pushing technology.
There is nothing better than helping solve our customers' challenges and opening up new opportunities for their business. It all starts with understanding their needs. Our world-class engineers then figure out how to make it happen. This is what Ciena's innovation pedigree is built on, and you can see it throughout our history. To help our customers stay ahead of the curve, we delivered the industry's first coherent solutions for 40G, 100G, 400G, and 800G, not to mention the lowest power 400ZR pluggable, and so much more. But your business doesn't stop evolving, and neither do we.
So, we are doing it again.
WaveLogic 6 provides massive 1.6Tb/s, single-carrier wavelengths for metro ROADM deployments, maximizes network coverage for 800G connectivity, and enables fit-for-purpose 800G pluggables to meet diverse customer and application requirements, from 10 km to 1000 km. All of this adds up to more world firsts from Ciena.
These technical achievements are possible because of our team's unmatched coherent optical networking expertise, and the strategic investments Ciena has made that give us full ownership of all the critical intellectual property and technology building blocks required to bring these solutions to market. These include: the industry's first 200Gbaud coherent DSP based on state-of-the-art lowest power 3nm CMOS, the industry's first 200Gbaud analog and electro-optics, and unique high-speed packaging.
WaveLogic 6: Answering your network demands
Every step of the way to WaveLogic 6, our focus has been: what do you, our customer, need to move your business forward? Based on conversations and understanding of global network requirements, several key needs have risen to the top. You need a network that can deliver a massive amount of bandwidth in an automated, flexible way – not just through the core of the network or across the ocean, but closer than ever to the network edge and the end customer. Your network needs to have the right economic and power dynamics so that you can make a business out of providing the critical connectivity society needs, while being responsible to the environment.
WaveLogic 6 pushes the envelope and will help us execute on our network evolution plans and climate change goals by providing the most reliable, energy efficient and fastest connections possible. With WL6e performance simulations showing 1Tb/s wavelength transmission across 12,000 km links in our network, we are already looking forward to announcing another networking world first.
With our performance-optimized WaveLogic 6 Extreme providing unprecedented fiber capacity and spectral efficiency, and footprint-optimized WaveLogic 6 Nano delivering power-efficient 800G from 10 km to 1000 km, we've got these needs covered. But that's not all. We are also delivering WaveLogic 6 with ease of adoption in mind, so you can reap the benefits of the technology quicker and with reduced operational expenses.
Let's take a closer look:
WaveLogic 6 Extreme (WL6e): First solution to deliver 1.6Tb/s per wavelength technology and ubiquitous unregenerated 800Gb/s connectivity across networks. It provides double the capacity within the same footprint, 50% power per bit reduction and 15% increase in spectral efficiency compared to the previous generation.

WaveLogic 6 Nano (WL6n): Integrates specialized DSP/electro-optic designs and high-speed packaging to deliver fit-for-purpose 800G pluggables supporting applications from 10 km to 1000 km. That's right, an 800G pluggable with 1000 km reach! And on the other end of the spectrum, with WL6n we are bringing coherent inside the data center campus for the first time with a viable 10 km 800G LR alternative to conventional IMDD products.

Drivers behind our WL6 design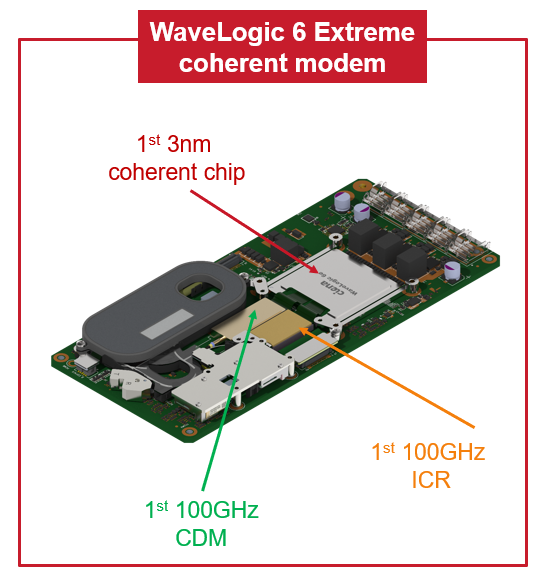 Our industry's need to innovate never stops. As we developed WaveLogic 6, our engineers and scientists relentlessly worked to achieve the design targets needed to meet the networking requirements of the future; targets that provide the ROI our customers are looking for to balance the effort associated with adopting new technology.
Just as WaveLogic 5 Extreme pushed technology boundaries to deliver ubiquitous 400G connectivity across terrestrial and submarine links that is required for network evolution to 400G routers, WL6e delivers against the bold design targets needed to deliver ubiquitous 800G connectivity and unprecedented wavelength capacity up to 1.6Tb/s.
In fact, our modeling of a backbone terrestrial network shows that WL6e 200Gbaud operation closes twice as many network links at 800Gb/s speeds or higher, compared to a solution operating at 140Gbaud. We knew that stopping at 140Gbaud in the design just wasn't going to cut it for our customers.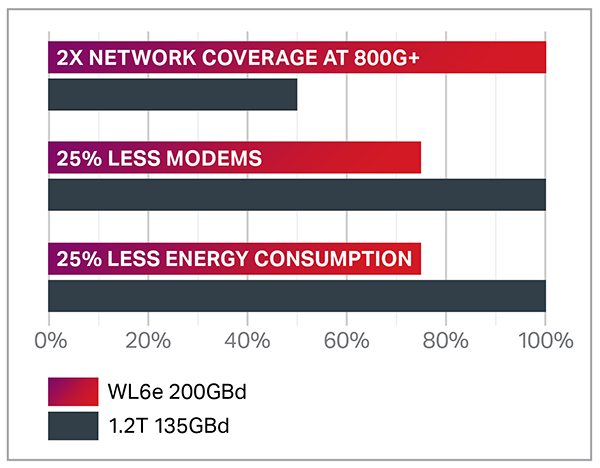 WaveLogic 6 Nano solves a separate set of challenges. For cloud and content providers that need to upgrade to 800G routers, WL6n delivers interoperable, low power 800ZR to address 800G metro DCI applications. For service providers focused on power and space efficiencies looking to extend 400G pluggable reach to long haul applications, WL6n delivers a high-performance product that meets the requirement for "400G anywhere" and extends 800G pluggable reach to 1000 km for the very first time.
But this isn't the only industry breakthrough for WL6n. It also positions coherent inside the data center campus for the first time ever. Addressing the technical challenges of IMDD technology for 800G in this application, WL6n implements specialized DSP and electro-optics to deliver the higher link loss budgets required for new optical switched data center fabric architectures, while delivering the requisite cost, footprint and power needed for this application. Above and beyond traditional 800G LR, WL6n addresses DC campus fiber exhaust scenarios with a WDM-based offering for efficient capacity scaling.
The true innovation behind WL6n is the unique design implementation that allows for multiple fit-for-purpose product offerings that deliver the optimal performance and power required per application.
Network efficiency has been a big part of our DNA since we started designing our first data center facility in Oregon over a decade ago. At OFC 2021, we challenged the suppliers to deliver a 50% power/bit reduction and a doubling of bandwidth/channel in Gen 6 transponder by 2024/25. These advances are critical to support our future network expansions. Based on Ciena's announcement today, it looks like they are on track to meet these targets with WaveLogic 6.
Simplest adoption to maximize return on your investment
While coherent optical innovation brings excitement about new opportunities, we also understand the challenges involved with introducing new technology in existing infrastructure, alongside earlier product generations, and integrating it into existing back-office systems.
At Ciena, we take pride in providing ultra-reliable long term solution investments. And we are doing it again with WaveLogic 6. WL6e transceivers will be supported in Ciena's existing 6500 and Waveserver 5 platforms, simplifying certification and integration. With WL6e, you gain double the capacity, within the same footprint, for each wavelength deployed. The new hardware is supported in the same chassis that are servicing end users today, with no changes required from a power perspective. And you can deploy WL6e wavelengths over existing flexible grid line systems, including 6500 and RLS, alongside earlier generations of wavelengths. This means the same flexible grid line system you deployed from Ciena for 100G will now also support 1.6T wavelengths!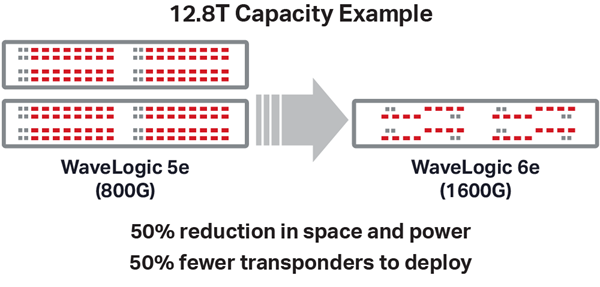 Cost, power, and space benefits of moving to new technology with WL6e
WaveLogic 6 Nano 400G-800G pluggables also support functions needed for ease of deployment in specific configurations – from compliance to standards for 800ZR DCI, to simple adoption in existing ROADM infrastructure with high performance pluggables, to low cost and power for applications inside the data center campus.
Ciena's WaveLogic 5 technology has enabled Bell to offer 400GE services to its wide range of customers and provide them with the ability to move massive amounts of data to the cloud. Bell's national network is WaveLogic 6 ready and we look forward to the service delivery efficiencies that come with 800 Gigabit per second connectivity.

Don't settle – your network demands the best
At Ciena, we take bold risks, learning from the challenges put in front of us, and never settling until we have the technology that best meets our customers' needs today and into the future. We don't think you should settle either. The optical technology decisions you make today will affect your network and customers for years to come, which is why WaveLogic 6 Extreme and Nano are designed to give you the biggest bang for your buck and deliver long-term value. I, for one, am excited to see how this next generation of WaveLogic technology will push the boundaries of what your network can do and enable your business to achieve. Once again, we are making the impossible, possible.
Welcome to WaveLogic 6 – the new standard for optical networks.