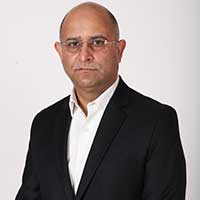 Sumeer Kher
Senior Director, Global Services, Ciena India
Sumeer Kher
Senior Director, Global Services, Ciena India
Sumeer Kher is a Senior Director of Global Services for Ciena India where he oversees service delivery, technical support, and network operations for local customers.
Kher has more than 25 years of experience of professional and consulting services in optical, enterprise, wireline and wireless domains. During initial stages of his career, Kher worked in various roles with Lucent Technologies and Nortel in APAC region. Before joining Ciena in 2015, Kher led the Consulting Service Practice of Oracle Inc. (CGBU group) in JAPAC region.
Kher holds a bachelor's degree in electronics with a specialization in telecommunication from Bangalore University in India. Additionally, he received project management certifications from North Carolina State University and The George Washington University in the USA.