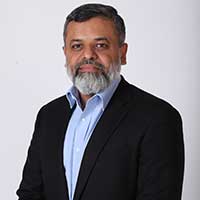 Amit Vijh
Senior Director, Regional Commercial Management, Ciena India
Amit Vijh
Senior Director, Regional Commercial Management, Ciena India
Amit Vijh is a Senior Director of Regional Commercial Management for Ciena India. In this role, he manages contractual negotiations. Vijh has decades of finance experience in the telecom space. Pervious to Ciena, he worked at DEN Networks, Nortel, PricewaterhouseCoopers as well as a startup media company.
Some of Vijh's key areas of expertise include short term and long term budget preparation, controllership functions involving book preparation, tax adherence, audit and reporting, and commercial negotiations and closures.
Vijh earned degrees from Shri Ram College of Commerce and The Institute of Chartered Accounts of India.