When it comes to IP/Optical convergence – can you see the forest for the trees?
Are you finding yourself getting stuck in all the noise and details surrounding IP/Optical convergence? Not sure where you should start? Ciena's Brodie Gage shares his learnings from talking with customers and the keys for developing a successful convergence strategy.

Brodie Gage is Product Line Management and Solutions Leader for Ciena's Global Products and Services organization. He is responsible for the global business performance, product lifecycle and strategic direction for Ciena's Converged Packet Optical, Routing and Switching, and Off-Box Software portfolios. Brodie is based in Montréal, Canada.
On a regular basis, I have the privilege of talking to our many service provider customers around the world. From my recent conversations, I can tell you that the discussions around next gen metro and edge networks have really taken off. As usage intensifies at the network edge, providers are quickly evolving their network strategies to remain competitive in a fast-changing market.
A key focus of this discussion has become IP/Optical convergence. Service providers are seeking to simplify their networks to become more agile and cost efficient – it's the competitive edge they need in today's market. Unfortunately, there are many opinions out there about IP/Optical convergence which is creating a lot of noise – and confusion – in the market. Some strongly believe IP/Optical convergence is about a router with a coherent plug. But I am here to tell you that's only part of the story. In fact, to understand the story we need to take a step back… way back…
The truth is IP/Optical convergence must be evaluated in the context of your larger modernization vision for metro and edge networks – which doesn't start by just looking at a few select technologies designed to collapse layers of the network. You need to think about the bigger picture and see the forest for the trees.
Let's start by examining the challenges and opportunities service providers are trying to address with the next generation of metro and edge networks. These challenges and opportunities drive the key requirements for architecture evolution.
First, we are seeing applications in the network becoming increasingly distributed and virtualized. Applications and compute are increasingly getting pushed closer to the edge of the network to deliver the low latency and the high quality of experience that end users are demanding. At the same time, residential services need to accommodate the new "home office." Enterprises are increasingly moving workloads to the cloud and demanding flexible, multi-cloud connectivity. And 4G/5G is enabling new applications leveraging the proliferation of intelligent devices along with vast amounts of data associated with these. So, what does all this mean when it comes to network modernization?

Key application and consumer trends happening in the market
For our customers, metro and edge network modernization boils down to three key factors, all of which require an element of IP/Optical convergence.
1) There is a huge growth in IP service end points in the access, and these all need to be efficiently handled and managed. This in turn is driving Layer 3 control plane deeper into the network, along with the need to simplify L2/L3 operations. Converging to a common set of transport and service protocols with segment routing and EVPN is the ideal approach to streamline operations and allow for better hooks in the automation ecosystem through a centralized path computation engine. At the same time, service providers are not starting with a clean slate. A consultative approach is required to determine the appropriate path to segment routing and EVPN based on a service provider's existing network reality and their specific starting point.
2) The requirements of residential/enterprise/mobile networks are starting to blur. This is driving access network evolution from separate distinct networks to one common, universal aggregation network that requires greater scale. Multiservice routers supporting a wide range of pluggables – TDM, PON, Ethernet – are required here. As capacity grows, integrated coherent pluggable line optics along with a simple-to-deploy, access-optimized photonic system will be needed to deliver the capacity, flexibility and cost efficiencies required for this part of the network.
3) In this new world, the network needs to be more programmable and automated than ever before to dynamically provide connectivity to any location, including new service/cloud on-ramps in the metro as well as those shifting to new edge locations. Simplification is key. But here's the catch - there is no one size fits all. For example, routers supporting modern IP protocols and integrated coherent optics allows for best footprint and power efficiencies but deploying optics with the performance matched to specific network needs is also critical in controlling costs and eliminating regeneration, latency, and touch points in the network. For high bandwidth data center connectivity, native wavelength transport bypassing the L3 topology altogether may be most efficient. The lowest cost architecture will also depend on the ability to leverage deployed assets.

Future Mode of Operations – ideal end state
What's the secret ingredient to successful IP/Optical convergence?
Up until this point, we have been talking a lot about the technology and architecture considerations for IP/Optical convergence. But the secret ingredient to successful IP/Optical convergence is actually automation. I hear this time and again from our customers. Why?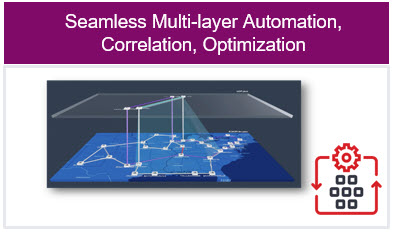 Multi-layer, intelligent network control is needed to tie all the elements together. It provides the centralized PCE function, spanning the entire network to deliver optimized routing between the different service end points in the access. It needs to abstract information, not just from the IP layer, but also from the optical layer, to deliver end-to-end visualization, cross-layer constraint-based routing, multi-layer correlation and resource optimization.
In order to streamline and automate operations, the modernized network requires all these functions to be supported within a unified open interface, not through disconnected software applications. You can converge the technology, but without automation you are really only halfway to realizing effective network evolution.
You can converge the technology, but without automation you are really only halfway to realizing effective network evolution.
Hang on… where does hop-by-hop fit in?
You may be thinking this all makes a lot of sense – but whatever happened to hop-by- hop as an IP/Optical convergence strategy? Well, there has been a lot of debate about the benefits of hop-by-hop vs ROADM in the industry, and what we have seen in the field is that ROADM wins on overall lowest total cost of ownership, ease of network evolution and end user quality of experience.
A flexible, intelligent photonic layer with ROADM allows for network simplification and cost reduction via router bypass and improved resiliency with optical restoration. Just as important, it allows for reconfigurability, enabling service providers to support unpredictable traffic demands, both today and in the future. A programmable optical foundation allows for simple expansion of the network to new locations, and the ability to accept new coherent technologies in the future, all without the need to deploy new fiber.
With hop-by-hop, new fiber and associated photonic equipment would be required for every network upgrade to new sites or new technology. As a result, many of our service provider customers are realizing the constraints of a hop-by-hop approach and are placing more focus on selecting the right photonic layer as part of their IP/Optical convergence strategy.
So, what's Ciena's approach to IP/Optical convergence?
Ciena's approach to IP/Optical convergence is grounded in our Adaptive Network™ vision. We take a holistic approach to IP/Optical convergence so we can support the network evolution path that best meets our customers' needs. Ciena is heavily investing in leading innovation across all areas required for IP/Optical convergence – IP, optical and software:
At Ciena, we believe you need to see the forest for the trees when it comes to IP/Optical convergence. Start with the larger vision for your next gen metro and edge architecture and then determine the path to IP/Optical convergence that's right for your network reality and business needs.