Uncovering the path to 5G connectivity
The race to deliver new, high value 5G services is all about how quickly you can evolve your existing 4G infrastructure into a scalable, ultra-reliable, high-performance 5G network. This is the first post in a three-part series from Dave Parsons, Packet Networking Solutions and Enablement Director for EMEA at Ciena, where he covers key strategies to accelerate and de-risk the path towards 5G, deliver new services, and stay ahead of your competitors.
We've all heard it. In the 5G era, the number of mobile devices is expected to significantly increase and support as high as 100x faster data rates, and 10x lower latency, when compared to today's 4G LTE. This combination of capacity and latency improvements will unleash a lucrative new range of augmented/virtual reality, IoT, gaming, trading, and industrial applications (such as manufacturing applications and control and monitoring applications for utilities companies).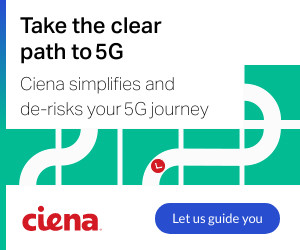 The race has already begun to migrate existing 4G networks to 5G-capable networks, initially based on the 5G Non-Standalone (NSA) infrastructure, where 5G New Radios (NR) will leverage existing 4G Evolved Packet Core (EPC) infrastructure until the 5G Core network is fully standardized and rolled out.
To keep pace with your competitors, and embrace emerging 5G services, you need to accelerate and de-risk your planned network evolution and bring profitable new services to market as fast as possible. The question is, how?
There are various strategies you can adopt for a successful 4G to 5G network migration. In this series, we'll explore the paths you can choose from.
Unlock bandwidth-on-demand with scalable cell-site infrastructure: Networks that backhaul 5G traffic must scale by an order of magnitude – typically from 1G to 10G – and even higher in some cases. Backhaul networks are expected to carry existing 4G traffic as well for improved economies of scale via a simpler, converged transport network where high capacity backhaul links can benefit from the very latest in coherent pluggable optics.


Accelerate your 5G infrastructure rollout with Zero-Touch Provisioning (ZTP): Slow, manual, and error-prone installation and configuration of network infrastructure can significantly delay an operator's 4G to 5G evolution and increase costs. Solutions offering ZTP overcome these challenges by automating network equipment deployments in a rapid, reliable, and error-free manner, providing a faster 5G service rollouts for significant competitive advantage as the race to 5G intensifies.


Optimize your network capacity and service performance with 5G phase synchronization: To ensure traffic from high-bandwidth and low-latency 5G applications and use-cases can be effectively delivered in line with performance SLAs, you need network equipment with precise 5G phase synchronization capabilities. By rolling out phase sync across your network infrastructure, you'll be able to ensure optimal performance of high-bandwidth, low-latency applications across the mobile network, even as users move between cells.


Streamline operations to speed up new service activation with intelligent automation: Network slicing will be a key feature of 5G Standalone (SA) networks, allowing operators to support differentiated service levels, such as ultra-low latency, at different price points. To enable this, networks must become more open and intelligent, with Software-Defined Networking (SDN) used to create virtual network slices with differentiated performance profiles based on specific users, applications, and use-cases. In this way, resources can be orchestrated, and service activation processes can be automated to enable fast, reliable provisioning and delivery of new 5G services, with minimal manual effort and in the shortest possible time. Intelligent automation can also help you streamline routing network management tasks in complex 5G networks, delivering further operational cost savings.


Open xHaul (fronthaul, midhaul, backhaul) transport networks for 'best-in-class' 5G networks – The industry is learning from experience. For 4G, CPRI attempted to standardize fronthaul connectivity between the Remote Radio Heads (RRHs) and Baseband Units (BBUs) configured in a Centralized/Cloud Radio Access Network (C-RAN) architecture. However, as CPRI implementation deviated from the open CPRI specifications over time, RAN vendor lock-in resulted. To ensure you're not locked into proprietary solutions in your fronthaul network, choose a solution built upon open industry standards (eCPRI, RoE, O-RAN), which are able to support multi-vendor environments. That way, you can choose best-in-class RRHs, BBUs, and the transport network that interconnects them, without vendor-imposed restrictions or limitations. Open, standards-based xHaul networks will stimulate the market for fronthaul and midhaul wholesale connectivity services, in the same way that many operators lease backhaul services today.
The path to 5G is more than a simple network upgrade. Ultimately, scalability, automation, and openness will help ease the transition. My second post in this series looks at 5 more key strategies for optimizing your 4G to 5G network evolution, and the final post explores why Zero-Touch Provisioning (ZTP) is critical for 5G success.