The big easy – how Colt scores as the most customer-centric service provider in the business
It still feels incredible how life suddenly became very different for everyone, and how people quickly changed the way they work. With Colt's vision to be the most customer-centric business in the connectivity industry, Jim Crum looks at how Colt has adapted since COVID took hold, and the part Ciena plays.
Meeting changing times head on
Some organisations struggled to adapt to changing business needs and demands, while others – like Colt – managed to pivot and divert resources to focus on different markets – thanks to its connectivity portfolio – and Ciena's robust supply chain.
With Colt's Business Continuity Plan, it has managed to deliver against extraordinary spikes in demand for:
high bandwidth services from Global Cloud Network (GCN) clients for their social, collaboration, streaming virtualised Cloud platforms
agility to meet critical wide area IT infrastructure needs for safety, operations, and multimedia communications
increased bandwidth and connections for corporate users to access apps from home instead of the workplace, across much wider geographies.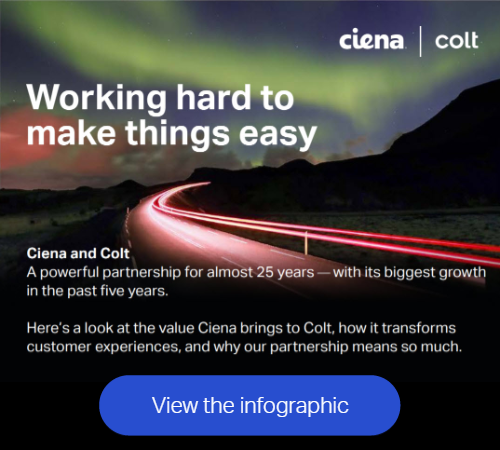 A clearer picture
A recent survey showed that 35% of Colt employees are happy to continue working remotely, with only 30% expecting to spend 1-2 days per week in the office.
For a bigger picture, 28% of Fortune500 employees say the same.
To enable workforces to work more freely at any location – particularly from home, organisations are not only looking for the agility to manage and control connectivity but also to easily divert resources where they're needed.
Making the new normal that bit easier
Maintaining the right mix of employee productivity and wellbeing is a high priority for every organisation. Preparing for the new normal presents service providers like Colt, a raft of opportunities.
With remote working becoming the norm and more people collaborating across different geographies, there are productivity gains to be had. And behind the scenes, Ciena is busy helping Colt deliver the adaptive network to make this happen.
Customers demand services that are responsive to change, resilient, and easy to control. For Colt, this means creating an agile network platform that has a single pane of glass, for customers' CIOs to view and control their connectivity.
Enhancing the customer journey
The robust nature of Ciena's supply chain has been fundamental to Colt's ability to continue delivering sustainable services to customers that required massive capacities, across many geographies.
Colt has always been one of — if not the most — customer-focused service provider in the business. And Ciena's Network Health Predictor analytics pilot — with advanced analytics, and AI functionalities — will help Colt enhance customer experience by proactively predicting and repairing network faults – before they occur.
We are also extending and enhancing the capabilities of the IQ network and bringing these closer to customers and the cloud, to enable a better immersive cloud experience for Colt's customers.
Transforming the legacy, supercharging the network
Organisations want to work with service providers that are easy to do business with, quick to respond to their changing needs, and who offer them long-term stability.
This means simplicity and resilience are key to today's network. That's why Colt is working with Ciena to transform its complex legacy infrastructure and shift toward a modern streamlined network that offers scalability, agility, and real-time insights.
Because it must be seamless for Colt's customers, Ciena's mission is to cut down the friction caused by multiple layers of legacy technology and simplify the network, making this evolution as easy as possible.
Colt is also leveraging Ciena's latest WaveLogic programmable coherent DWDM innovations, to supercharge the IQ Optical network, to deliver even higher bandwidth services and boost the capacity of their core network.
Building an exciting future made easy
Colt has a truly fresh and global perspective on delivering digital enterprise strategies for its customers. With great energy, both Ciena and Colt are co-innovating and growing our partnership to be globally successful together.
Shared values, shared vision, and strategies that align mean dialog channels are always open and both our teams work together across multiple technical and commercial functions to deliver better experiences for Colt's customers.
With continued efforts to help its customers overcome the challenges of the changing world of work, and with one eye on future innovations, Colt is set to deliver an "Amazon-like" experience to its customers — whether they're service providers, large enterprises, or GCNs
Colt has to focus on making it easy for:
end users to work in any location
teams to collaborate across wide geographies
customers to find the connectivity services they need, deploy them where they're needed, and have confidence in their resilience
customers to access the cloud
customers to control connectivity and divert network resources in line with demand.
Hey Colt, you're doing great but there is more to do as the world continues to change and how people work continues to evolve. And with Ciena's ongoing support, I'm sure you'll stay at the top of the Net Easy Score leaderboard.