Spotlight on automation, scaling networks, and getting closer to the edge for MSOs
While SCTE Expo 2020 is over, the valuable information shared lives on. Did you miss any of the important sessions or discussions? Well don't worry, we have you covered.
Society changed and adapted the way we do so many things during 2020 as a result of the pandemic, SCTE Cable-Tec Expo pivoting to a virtual event was just another example of that. While different, Expo was very valuable for sharing insights – and the virtual platform enabled these insights to be shared more broadly.
During Expo there was a lot of discussion on how our industry has been an essential contributor keeping society connected during the pandemic – something everyone in the cable industry should take pride in.
The pandemic has also put a spotlight on, and increased the urgency for:
Automation – supporting the scale of 10G networks, automating service lifecycle management, improving the customer experience, reducing OPEX (e.g. truck rolls, manual processes)
Scaling Networks – more distributed network usage, need for more upstream bandwidth, low latency
Edge & Convergence – service convergence with network evolution, the cloud is getting closer to the edge
Ciena was excited to once again be a very active participant at SCTE Cable-Tec Expo with experts speaking on several exciting topics including automation, scaling networks, service convergence and edge cloud/computing.
The best part of a virtual event? The sessions live on after it is over.

Fernando Villarruel (Chief Architect, MSO Practice, Ciena) authored a paper for SCTE on the Framework for Convergence of Services on the MSO Network Using the Principles of Network Slicing. The digitization of the cable access network enables the promise of end-to-end convergence for different lines of service over shared resources. The promise, however, does not come with a framework and this leads to trepidation on how to proceed. Fernando presented highlights and key takeaways during the I'd Like a (Network) Slice, Please: Current Events in Multi-Network Convergence session, which is available on demand.

Tim Maenpaa (Consulting Regional System Engineer, MSO Practice, Ciena) authored a paper for SCTE on Addressing Unrelenting Growth in Backbone Fiber Systems Using Next Generation Photonics and Automation. As core backbone bandwidth requirements continue to increase and as photonics and transponder capacities "ride the curve" due to the realities of Shannon's limit, cable MSOs are using deployment principles, hardware innovation, and software automation to make the most of their fiber assets.

Tim discussed this and key takeaways during the Adventures in Fiber Operations: Switched Optics, Automation and DevOps session.

Marco Naveda (Senior Director, CTO Office, Ciena) authored a paper for SCTE on Delivering Cloud-Native Operations Agility in Compute-enabled Distributed Access Architectures. The networking software industry is experiencing an accelerating technology shift from centralized, cloud application delivery models to a distributed edge computing paradigm. This new software paradigm is enabled by cloud-native application containerization and orchestration technologies. Existing cloud-based management and control systems were not designed for network distributed cluster computing.
Marco presented highlights discussing emerging edge cloud infrastructure architectures, available open-source software to enable network distributed edge computing, and key technical considerations to accelerate adoption of new operational methods, during the I'd Like a (Network) Slice, Please: Current Events in Multi-Network Convergence session.

Tom Dimicelli (Senior Product Marketing Advisor, Blue Planet a division of Ciena) authored a paper for SCTE on Unleashing Managed SD-WAN with Closed-Loop Automation. Managed SD-WAN adoption continues unabated, taking a preeminent role in enterprise SaaS, cloud and digital transformation initiatives. In order to capture this high-growth market opportunity, many cable operators are expanding their SD-WAN portfolio to improve their market appeal, increase service differentiation, and better address diverse customer requirements. This paper provides details on how cable operators can now implement an open, modular and standards-based automation framework that addresses the entire SD-WAN service lifecycle.
Tom presented highlights and key takeaways during the Creative Ways to Create Value for Lit Services: Enterprise Cloud, Beyond the Pipe, with SD-WAN session.
If you are interested in any of these papers please reach out to msoinfo@ciena.com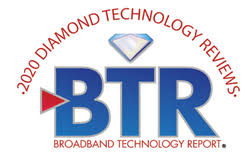 At SCTE Cable-Tec Expo we were also honored that Ciena and Blue Planet were recognized with outstanding scores in the BTR 2020 Diamond Technology Reviews from an independent panel of judges composed of cable industry veterans and other experts. Ciena received a perfect 5/5 score for WaveLogic 5 Extreme and 4/5 for the recently launched Universal Aggregation and Access 10G PON solution. Blue Planet also received a 4/5 score for Route Optimization and Analysis.
We are looking forward to SCTE Cable-Tec 2021 in Atlanta. Hard to predict where we will be regarding the pandemic; however, it is easier to predict that automation, scaling networks, service convergence and the edge will continue to garner lots of discussion. Stay safe – we hope to see you in Atlanta in Oct 2021.